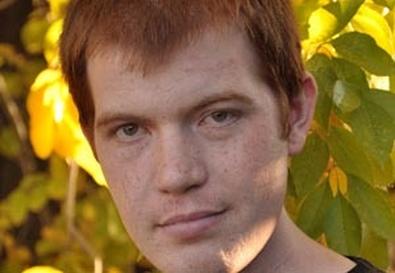 "I decided to really take my acting career seriously, so I resubscribed with BackStage.com," says Ryan Satterfield. That night, he found a casting notice for a music video, "Hey 14," and submitted himself for it. The next day he was offered a part in it as a background extra.
Satterfield started acting in sixth grade and fell in love with the craft. "You can be goofy, you can be evil, whatever the script calls for—something you can't be in real life," he says. "I can't go down the street sounding like a bird. Everyone would think I was insane and send me to an insane institution. But in voiceover, I get asked to sound like a bird, and I can do it easily. So you be something that you can't be in normal society."
"Hey 14" was Satterfield's first onscreen acting job after 12 years of theater and voiceover. When he saw the casting notice, he was intrigued because he recognized some of the members of the band from other bands he liked. "And I thought that it sounded like a really good new band, and I really would like to be part of that," he says. Even though he doesn't consider himself a professional singer, Satterfield has been in musicals, most recently a community theater production of "Oliver!"
In "Hey 14," Satterfield played a high school student in the background of the video. But, he says, he has learned that every part, no matter how small, is important. "You might just be one extra, but without extras the film's going to be boring," Satterfield says. The assistant director of the "Hey 14" music video, Richard Harper, says they were looking for actors who were older than 18 but who could play high schoolers, and Satterfield fit that description. Harper says, "He was a pleasure to work with, and I will absolutely keep him in mind for future projects."
Satterfield lives in Camarillo, Calif., and considers his close proximity to L.A. to be helpful to his career. He has found that many of his friends are involved in the industry or know people who are. He also found that "Hey 14" provided an excellent opportunity to network with other actors.
Even though Satterfield would love to do more on-camera work, he says he doesn't ever want to stop doing voiceover. He has done video games, commercials, and cartoons and enjoys the experience of being able to play characters that he might not be cast in for a film.
To view the "Hey 14" video, visit www.youtube.com.

Ryan Satterfield is currently seeking representation. His website is http://ryansatterfield.com.Has Back Stage helped you get cast in the past year? We'd love to tell your story. Be in the weekly column by emailing

[email protected]

for New York or

[email protected]

for Los Angeles with "I Got the Part" in the subject line.