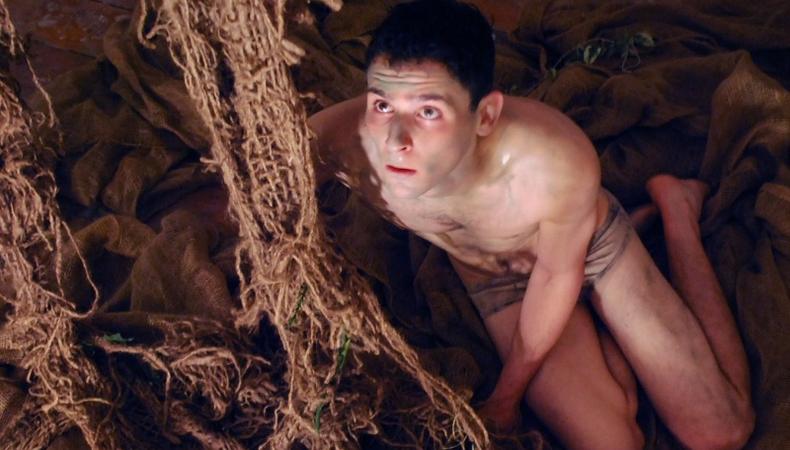 "S 16–Luna Nera" is not a show for the fainthearted, claustrophobic, insomniacs, or those with an aversion to the making of a big mess. For all others, though, it promises a stimulating 60-minute artistic adventure that knocks down the walls between expressive genres and amalgamates music, video, and acting into an adrenalizing, sometimes discomforting, dramatic experience. Loosely based on a Luigi Pirandello short story, this poetic multi-media production is an intense, heavily atmospheric theater art installation from Pioneers Go East Collective with concept, direction, and libretto by Gian Marco Lo Forte.
Demonstrating the psychologically traumatic effects that working in a Sicilian sulfur mine has on a young boy, the work "installs" spectators in a confining atmosphere and thrusts disturbing sights and sounds upon us. We are seated in a tight space, bounded by wooden planks and white screens. Live video of actors squashed together into a tiny box, which forms the centerpiece of the set, is projected above our heads. A clanging collage of stirring music and frightening noises booms out from speakers behind us. A piercing soprano and (later) another wailing female vocalist sing in front of our faces. Surprisingly, the effect is not at all off-putting, but rather stirring and welcoming in its portrayal of human strength in the face of hideous conditions.
The show's most powerful element is sound designer and composer Adam Cuthbert's richly textured musical score, which provides a thrilling soundscape that alternately energizes, engulfs, and steers the overall proceedings. Existing independently, yet not incongruously, among the colliding noises are attractive vocal lines put forth with icy resolve by soprano Ashley Windland and with a breathy warmth by Katherine Yew (who also composed the score's Sicilian folk passages). One only wishes their English lyrics were more clearly discernible; in the absence of super-titles or program notes, it was difficult to follow the details of the narrative they were conveying.
Ian Cherry gives a marvelously affecting performance in the role of Ciaula, the young miner. In one particularly well-calibrated scene he carefully arranges a bed of rugs on which he desperately tries to rest, squirming, tossing, turning, flipping, and ultimately going crazy with increasing agitation. It's a chilling illustration of the building anxiety that robs a soul of the vital peace of sleep.
Crammed into the coffin-like structure that represents the underground shaft, Ciaula and a quartet of miners—Matthew Curiano, Michael Hughes, Michael Lapinsky, and Giacomo Rocchini—relentlessly chop, chop, chop away at the front side of the box as large chunks of it spew out at us, forming a pile of debris and resulting in bags of the precious mineral that are then poured down from on high. Though Ciaula eventually emerges from the darkness in which his job as a miner has cast him, Lo Forte's bracing work forces us to confront the human costs of industrial labor.
Presented by La MaMa at La MaMa Galleria, 6 E. 1st St., NYC. Nov. 15–Dec. 2. (212) 475-7710 or www.lamama.org.
Critic's Score: B+