It's a testament to Sadie Sink's status as a rising star that the Duffer brothers, the creators of "Stranger Things," tweaked the production schedule of the show's fourth season to allow the 20-year-old actor enough time off to shoot her first major film: Darren Aronofsky's "The Whale."
When Sink reprised her role as tough-talking tomboy Max Mayfield on the critically acclaimed Netflix sci-fi series three months later, her performance was so vulnerable, raw, and commanding that she completely stole the show. A coincidence? You do the math.
In "The Whale," she portrays the estranged teenage daughter of a grieving, binge-eating English professor (Brendan Fraser). "It was really important that I had that experience, because I pushed myself as an actor further than I ever had before," Sink says. The A24 film, which comes out Dec. 9, received a six-minute standing ovation at its world premiere at the Venice International Film Festival in September.
"When I returned to 'Stranger Things,' it was like I'd come back from boot camp or something," Sink says. "There was a shift; something clicked. It gave me a level of confidence that has stuck with me since."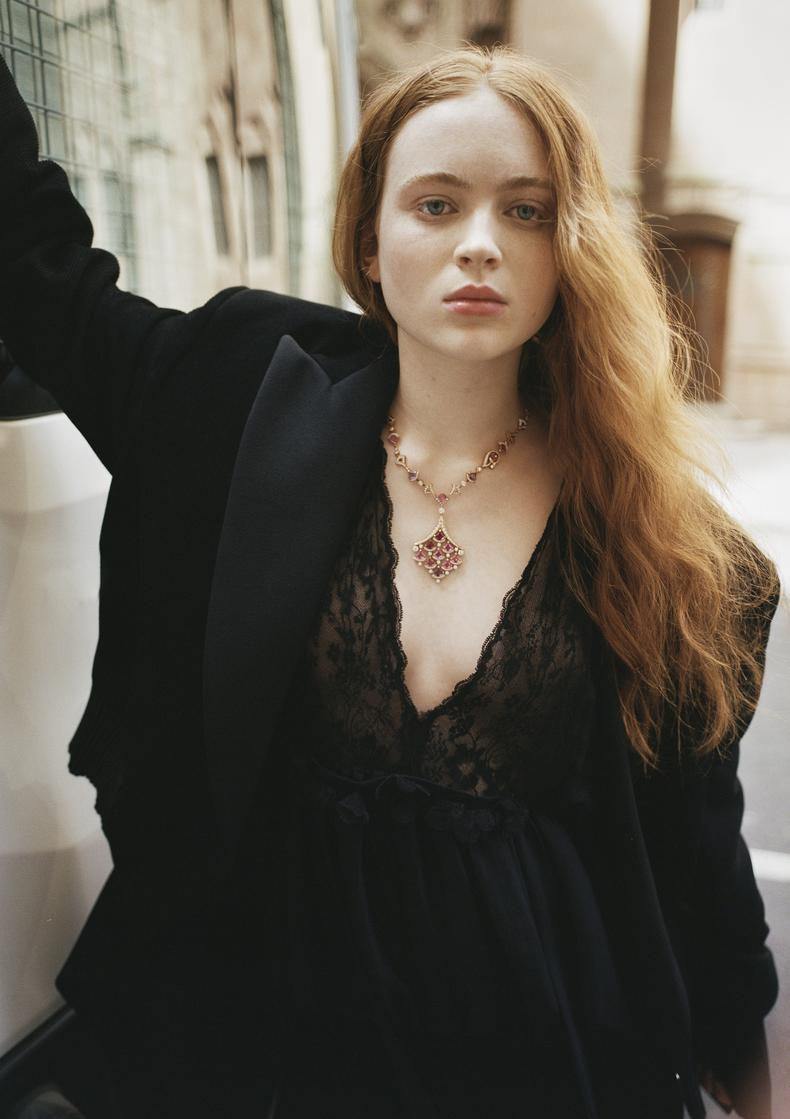 A starring role in a movie from the controversial, Oscar-nominated director of surreal films like "Requiem for a Dream," "Black Swan," and "Mother!" would be a monumental education for any actor. But for Sink, who only has a handful of small film roles under her belt, the experience wasn't just pivotal, it was transformative.
Sink describes "The Whale," which Obie Award winner Samuel D. Hunter adapted from his own 2012 play, as "a portrait of human grief and guilt and the many different self-destructive ways a person can cope with their pain." She isn't only alluding to Fraser's character, Charlie, but her own character, Ellie, who hasn't seen her father since he abandoned his family to be with one of his male students when she was a young child.
"I don't want to ever play a character who doesn't challenge me. If I'm just doing the same thing, I don't think there's a reason to do it."
Charlie might be hellbent on self-destruction in the wake of his partner's death, but Ellie's pain is equally palpable, manifesting itself as rage and cruelty toward a father who is desperate to reconnect with her.
"Her actions are so aggressive and violent at times that it was hard to justify and empathize with her," Sink says. "But that's the point of the movie—to find the humanity in these characters. On paper, it's so easy to write Ellie off as just another angsty teen with attitude, but I didn't really see her as evil. I just saw her as a very lost person. No matter how many times we'd rehearse a scene, by the time we'd finished filming it, I'd have learned something new about her and dug a little bit deeper into who she is."
The process was intense, especially considering the entire two-hour movie takes place in one apartment and features only five characters. So how did Sink do it? "Ellie has this armor on, and when she's interacting with Charlie, there are times when he'll crack it a bit," she explains. "There are subtle moments when she lets a little bit of vulnerability seep out, so it was about finding the right moments to sprinkle in a little empathy here and there.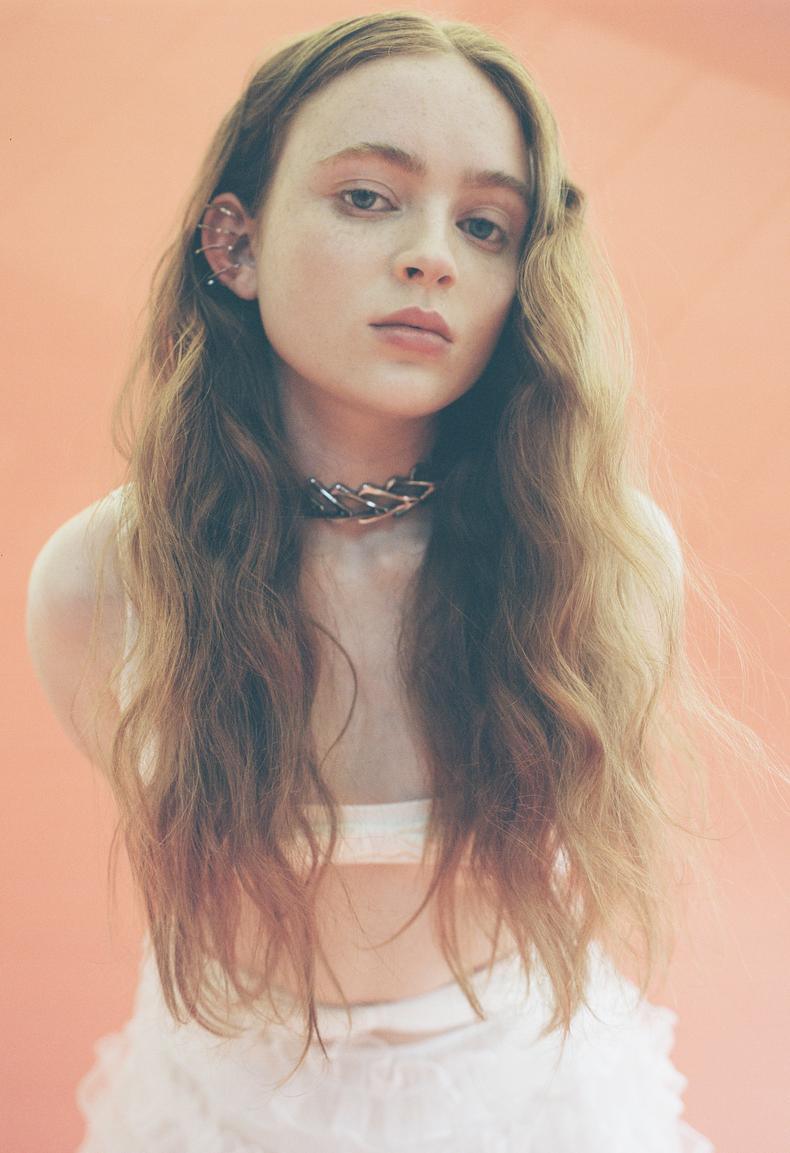 "That wasn't a challenge so much as a fun scavenger hunt. I think the most challenging thing was being so mean to Brendan," she continues with a laugh. "But then I was like, Get over yourself; you can do this."
Sink treated "Stranger Things" viewers to an equally emotional performance when Season 4 dropped earlier this year. Ellie may seem worlds apart from Max, but Sink has no doubt that the stamina she gained from her "boot camp" with Aronofsky enabled her to explore hidden depths of a character she's played since she was 14.
Max embarked on a whole new journey following the death of her abusive stepbrother, Billy (Dacre Montgomery), on the finale of the third season. "I was really excited, because I felt like I got to tap into the sides of Max I had daydreamed for myself," says Sink. "Based on how Season 3 ended, I had been thinking about it a lot on my own time. How is this trauma affecting her? How will she respond to this? Will Matt and Ross [Duffer] even put that into the script?"
Some of Sink's all-time favorite scenes to film, "because they are so character-driven," happened during Season 4—including her moving "Dear Billy" monologue at her stepbrother's grave. She says that tapping into that trauma "came pretty naturally. For me, it's never really about pulling from my own experiences. Max has been such a huge part of my life and is almost like this other voice in my head that I can turn on and off. It felt pretty natural to slip into that and to really feel the pain that she is in.
"I was pleasantly surprised, when it came to filming some of those scenes, that it wasn't hard to get into her head at all," she continues. "It was such a release for Max to have those moments because those sides of her have been simmering in the background for a few seasons."
In both projects, Sink relished "the freedom to discuss, shake things up, and try new things"—a far cry from how she started out. "Coming from a theater background, especially as a kid, you feel like you have to be perfect," she says. "You're in front of a live audience, and everything is so technical; so to do something where you have so much freedom has really helped me relax into it. Maybe that's part of growing up as an actor, too."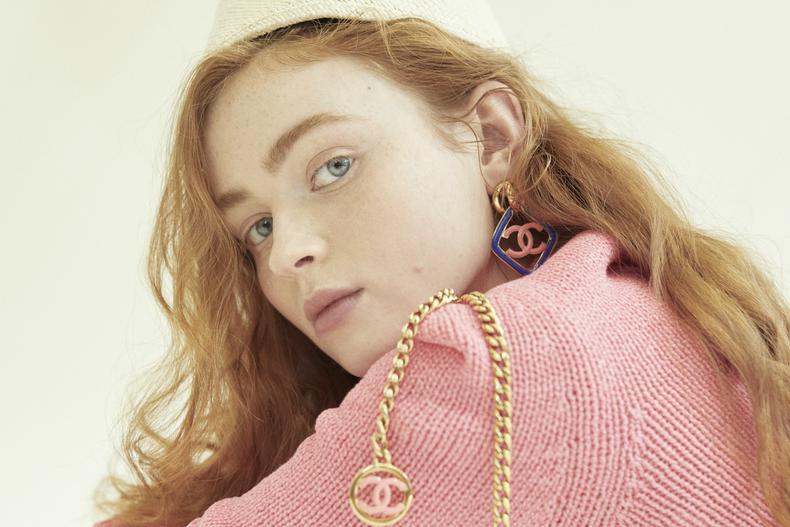 Sink was born and raised in Brenham, Texas, where she was one of five children; her father is a football coach, and her mother is a math teacher. Sink started performing in community theater alongside her older brother Mitchell at the age of 7; her first role was in a production of "The Best Christmas Pageant Ever." By age 9, she was regularly performing in Theatre Under the Stars productions in Houston.
"Growing up, we watched a lot of musicals like 'Hairspray' and 'The Sound of Music'—I wasn't allowed to watch 'Grease,' but I secretly did—and we would put on plays and musicals," she recalls. "We were a sports family, but I feel really lucky that my parents had the same mentality for us [with theater], which was: Go wherever you're happiest."
"On leaving Max and "Stranger Things" behind: "What's it going to feel like knowing I will never play this character again—this character who has set my life on a course I never thought it would go on? To never play that character again will be a very sad day."
When Sink made her Broadway debut in the 2012 revival of "Annie" at the age of 10, it cemented her acting ambitions. "Looking back, it was such a fun experience, but I was so, so little, and it did really give me that discipline," she says. "Performing eight shows a week at that age for a year and a half and still loving every second of it? That confirmed to me that this is what I want to do."
Sink's first TV role on Joseph Weisberg's Emmy-winning spy drama "The Americans" came a year later. "I was so scared, because I'd never been on a TV set before," she recalls. "They said 'rolling,' and I was like, What does that mean? When are they going to say 'action'? I had no clue what I was doing," she says with a laugh. "But what Broadway taught me was to stand on your mark, be consistent, and know your lines. That's what I needed, and that's what I did."
She continued to pursue screen roles, appearing on CBS police procedural "Blue Bloods" in 2014 and NBC action thriller "American Odyssey" in 2015. But returning to the stage in the 2015 Broadway production of Peter Morgan's "The Audience" gave Sink one of her most formative performing experiences.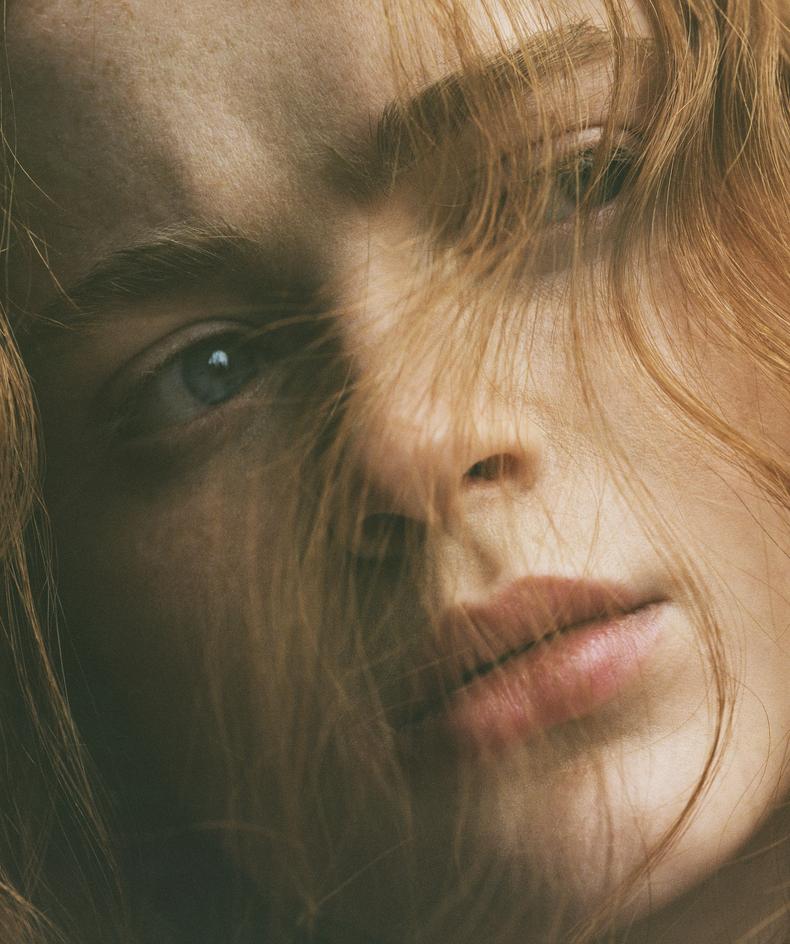 "It really changed the way I looked at acting," says Sink, who was 13 when she played a younger version of Helen Mirren's Queen Elizabeth II. "It never felt like a machine or that anyone involved in that production was on autopilot mode; it was spontaneous every night. The rehearsal process was so careful, and we had discussions that made me look deeper into the craft of acting. To me, working with [director] Stephen Daldry, Peter Morgan, and Helen Mirren was the greatest education I could have gotten."
During her time in "The Audience," Sink received the most useful advice of her career up to that point. "I had been home-schooled for a really long time, and the show was closing when one of the associate directors told me, 'Go and be a kid.' He said, 'You have to have life experiences in order to really understand characters in the future. If you're not living, what experiences do you have to pull from?' "
Sink took his advice and returned to school; it was then when the audition to play Max on Season 2 of "Stranger Things" came along. By then, the whole world was obsessed with the slick, supernatural homage to the 1980s, and the actor was no exception. "I remember leaving the screen test with Caleb McLaughlin and Gaten Matarazzo and thinking, I just had so much fun. I can leave this experience and be really happy about it, regardless of the outcome."
Three seasons in, Sink need only step into Max's Vans to get back in character. "It's like greeting an old friend, and there is something very special and beautiful about that," she says.
Season 5, which goes into production in 2023, will be the show's last. "I've been thinking about that a lot recently," she says. "What's it going to feel like knowing I will never play this character again—this character who has set my life on a course I never thought it would go on? To never play that character again will be a very sad day."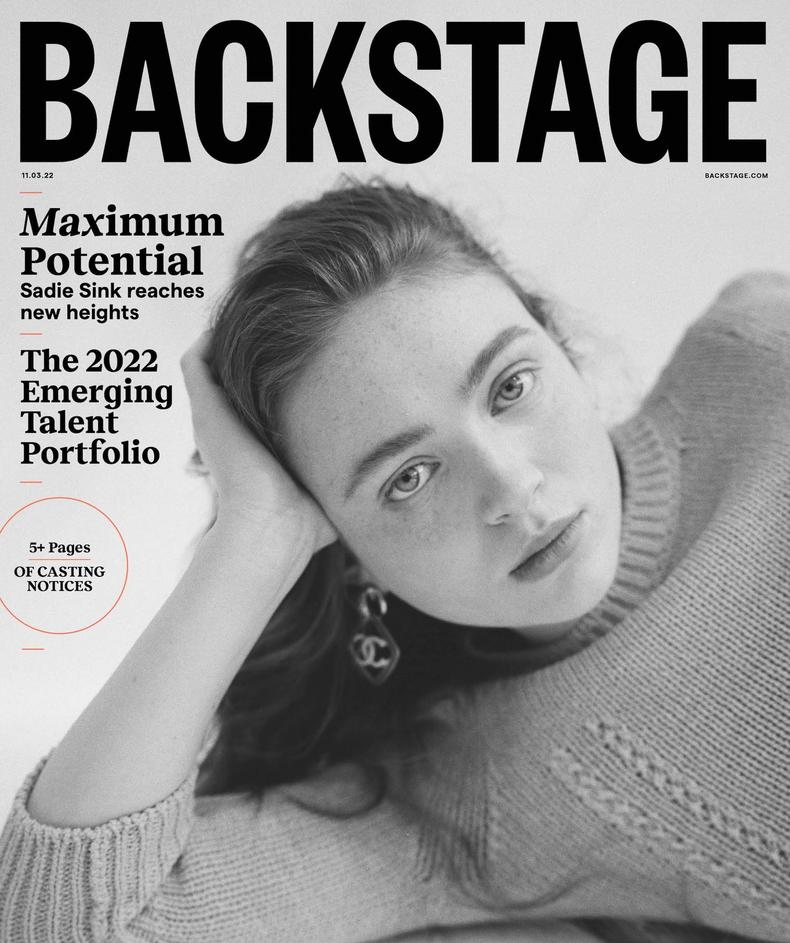 Sink recently joined the cast of "Berlin Nobody," an adaptation of Nicholas Hogg's 2015 novel "Tokyo" written and directed by Jordan Scott, which is currently filming in Berlin. "I'm calling it my semester abroad," she says. "With my character, Mazzy, I saw a different color than I think I've brought to anything I've done before."
Of her career strategy going forward, the actor says, "I don't want to ever play a character who doesn't challenge me. If I'm just doing the same thing, I don't think there's a reason to do it. I'm looking to the people who came before me—I really admire Cate Blanchett—and learning a lot. [I'm] treating their careers like a master class, looking at the roles they choose and when they choose them.
"You have to trust yourself and your intuition," she adds. "Know what's going to make you excited to get up and go to set. At the end of the day, that's how it started for me, and that's how it should remain."
Where does she see herself in 10 years? "I would love to step back into the theater scene; that would be the ultimate dream for me. Beyond that, I really don't know. I hope I'm still approaching my career and craft with the passion and drive I've had since I was 8 years old in the sunroom with my brother, singing karaoke!
"I hope in 10 years, I've not lost touch with that and the little spark hasn't fizzled out. I don't think it will any time soon."
This story originally appeared in the Nov. 3 issue of Backstage Magazine.