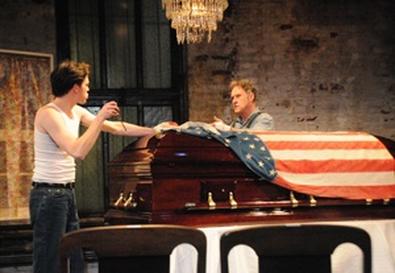 Sean Cullen's "Safe Home" has an "Arthur Miller lite" feel to it. We're in the early 1950s, where a working-class, tough-love dad (Michael Cullen) and mom (Cynthia Mace) raise three sons, the oldest of whom (Eric Miller) is off to Korea, mainly to search for something, anything, to be a part of. (Today, he'd be a rootless high school dropout bound for Afghanistan.) The Hollytree family curses, bickers, and, most of all, withholds affection from one another. They're a difficult bunch and seldom pleasant company. But you believe in them.
Cullen, who says in his program note that the Hollytrees are based on his family and that he's been writing this play for 16 years, tells his simple story out of sequence, in eight short scenes stretching randomly from 1951 to 1953. I'm not sure why he scrambled the order, unless it's because "Safe Home" is so straightforward and gimmick-free that he felt he needed to mix things up a bit. We get filial and parental conflicts, period music, a sad sweetheart for the G.I. (Katy Wright Mead is heartbreaking), and characters who spend most of their time in denial, only to light very occasionally on a moment of self-insight. Cullen might have fleshed out the other sons more—the youngest is so sketchily developed he feels like an afterthought—and could have provided more local color (though this is Buffalo, it could be anywhere). Even Lucky, the eldest, is a little generic, and the tone can feel relentless: Even in mourning, the Hollytrees are expert at hiding their grief and seizing on petty arguments. Cullen is wise to end on a rare note of hope and sweetness, which Miller and Mead play beautifully.
Director Chris Henry serves up a fussy physical production, with audio-visual elements we don't really need, and at this preview the cast tripped up here and there on dialogue. But Michael Cullen's gruff, bewildered patriarch is exactly right, and Mace's disheveled, disappointed matron isn't far behind. As kitchen-sink melodrama goes, "Safe Home" isn't unfamiliar, but it's heartfelt, and its sincerity goes a long way. What's more, its examination of war's toll on an already-stressed family feels distressingly current.
Presented by Chris Henry and Royal Family Productions as part of the Interart Theatre Development Series at Women's Interart Center, 500 W. 52nd St., NYC. Jan. 14–Feb. 13. Mon., 7 p.m.; Fri. and Sat., 8 p.m.; Sun., 5 p.m. (Additional performance Sun., Jan. 31, 8:30 p.m.) (212) 868-4444 or www.smarttix.com.