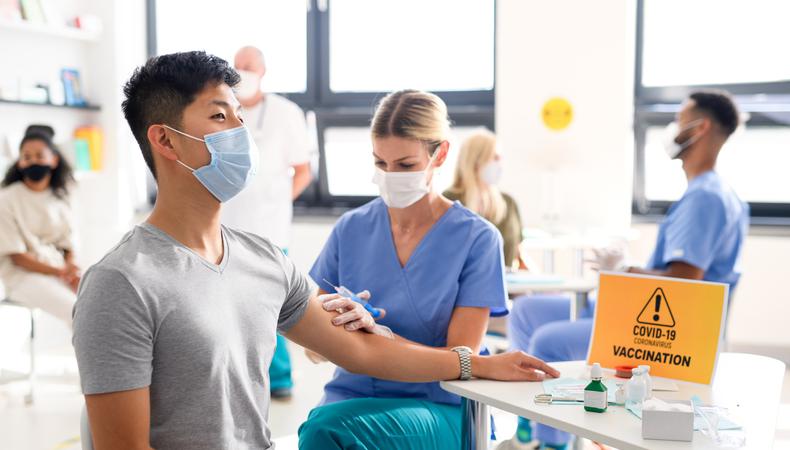 Commercial producers will now be able to mandate COVID-19 vaccinations, with exceptions for medical, religious, or age reasons, according to SAG-AFTRA. The union reached an agreement with the Joint Policy Committee, LLC, which represents advertising agencies and advertisers. The new policy is an addendum to the union's existing COVID-19 safety protocols.
In a statement to the Hollywood Reporter, a SAG-AFTRA representative said, "We are pleased that we were able to reach [an] agreement on a policy that permits employers to require mandatory vaccinations for cast and crew on commercial productions. This policy is in addition to our current protocols on testing and set safety, all of which continue to help ensure the safety of our members on sets. Similar to other policies permitting producers to require mandatory vaccinations, performers must be notified at the earliest point in the process, as well as notified about the procedure to trigger the interactive process if there is a request for a medical or religious accommodation."
Previously, SAG-AFTRA was approving mandatory vaccination policies on a case-by-case basis.
Under the addendum, commercial producers can mandate vaccines on set if they announce it early on in the production process, preferably during the casting phase. Producers must notify SAG-AFTRA if they plan on mandating vaccines. Producers are allowed to ask for proof of vaccination, such as a photo of a physical vaccine card or a digital vaccine card provided by a government agency.
On productions in which a mandatory vaccination policy is put in place after the performers have been cast, any actor who chooses to leave the production because of the policy must be paid for the days they were booked.
As part of the existing COVID-19 safety protocols between SAG-AFTRA and the JPC, actors are also required to take a COVID-19 test two days before they begin shooting. They must also be tested two days after they begin work on a commercial.
The vaccination policy is consistent with current SAG-AFTRA policies around film and television production, in which the union leaves it in the hands of producers to determine whether or not to mandate vaccinations on set.