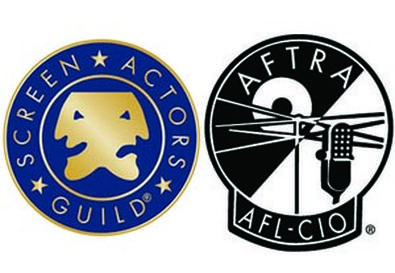 Many performers favor merger of SAG and AFTRA – to judge by member feedback and by the last three years' SAG election results – and an apparent minority are opposed, but rank and file of all persuasions, and industryites generally, might be wondering how merger came to be on the agenda now – what and who have brought the issue front and center?
It's not as though these discussions are new. SAG and AFTRA's pre-television predecessor AFRA were founded in the 1930's – against a backdrop that already included the stage performers' union Actors Equity – and even then, merger was in the air: why should there be three performers' unions, people asked. There have been on and off merger discussions, studies and attempts ever since. The most recent effort was in 2003.
The story of this year's merger campaign can probably be traced back many decades, but a compact summary can start with a series of bumpy events that began around 1997, when a group of SAG board members involved in that year's commercials negotiations formed an organization that opposed low residuals in basic cable commercials. That group's leaders included, among many others, David Jolliffe and Kent McCord. A 1998 attempt at merger polarized the guild; then, a 2000 SAG-AFTRA commercials strike which began with united support ended in divisiveness.
The following year, SAG voted down a move to amend the "franchise agreement" between the union and talent agents, leaving SAG members even now without protections enjoyed by members of AFTRA, DGA and WGA. Then, in 2003, SAG rejected another proposed merger attempt with AFTRA. The SAG vote in favor fell just shy of the required 60% – whereas AFTRA achieved that threshold – but a miss, as they say, is as good as a mile.
MembershipFirst Emerges, and Takes Control
The architects of the 2002 and 2003 "no" votes were a Hollywood-based group that became known as MembershipFirst, whose key leaders included Jolliffe and McCord. Energized by its success, MF ran a slate of candidates in the 2005 SAG elections, including Alan Rosenberg for president and Anne-Marie Johnson for first vice-president., an office based in the Hollywood division.
Rosenberg and Johnson both won, as did MF's secretary-treasurer candidate Connie Stevens and a host of board candidates. That gave MF a majority vote on the national board (as well as in the Hollywood divisional board), despite the near-uniform opposition of the New York and regional branches. A year later, SAG hired the MF-supported Doug Allen as its national executive director, solidifying the group's control of the union.
In 2007 – and in anticipation of upcoming 2008 contract negotiations – SAG began a vigorous campaign against AFTRA. The two unions had jointly conducted studio negotiations since 1981 under the "Phase I" agreement – so called because it was intended to be the first step towards merger – which gave SAG and AFTRA equal representation on the joint bargaining committee. However, MF bitterly opposed that 50-50 arrangement in light of the fact that the bulk of television work, and all feature film work, was performed under SAG jurisdiction.
MF also argued that AFTRA too often compromised with television producers, either by granting waivers or by offering contracts (such as in basic cable) that MF contended were less favorable to members than SAG's deals; AFTRA countered that without such compromises, work was likely to go non-union or flee to Canada. In addition, MF asserted that AFTRA's health and retirement plans were less desirable than SAG's, a claim that AFTRA disputed.
In late 2007 and early 2008, MF began a series of efforts to marginalize AFTRA by seeking to modify the Phase I mandated equal split and by engaging in an unusually public campaign against the other union. Articles in the SAG magazine laid out in detail the MF case against AFTRA; the latter union, in turn, responded in its magazine. Some months later, in a sign of how heated the passions had become, a SAG board member publicly referred to AFTRA as "a scumbag union." The blogosphere seethed with resentment, and the split widened between SAG Hollywood on the one hand and AFTRA plus SAG's New York and Regional Branch Divisions on the other.
AFTRA Does a Deal but SAG Stalemates
The MF effort to marginalize AFTRA backfired and that union, led by president Roberta Reardon and national executive director Kim Roberts Hedgpeth, ultimately "suspended" Phase I and made its own primetime TV deal with the studios in May 2008, leaving SAG out in the cold. In response, SAG began an extraordinary attempt to defeat ratification of the other union's deal, urging AFTRA members – including the 44,000 "dual cardholders" who were members of both unions – to vote "no."
SAG argued, among other things, that the new media aspects of the deal were inadequate, despite parallel provisions having been agreed to by the DGA, the WGA (in settlement of the 2007-2008 writers strike) and AFTRA itself in its recently-signed daytime deal (an agreement that is always negotiated separately from SAG).
The SAG campaign failed. AFTRA ratified its deal and received the immediate benefit of a contractual 3.5% salary bump, while SAG continued to reject the studio offer on the table. The guild objected to a miscellany of new media and other provisions, but offered no overarching theme that seemed to connect with the membership sufficiently to support a strike authorization vote. MF's explanation of this was that opposition by board members from the New York and regional divisions undercut what otherwise would have been a supportive membership and would never be willing to strike, despite this being the only source of a union's leverage. New York board members and others countered that SAG members had no appetite for a second strike and that MF was seeking to take the union out on strike with a compelling reason. Certainly, the membership was battered by wages lost during the WGA strike and wary of the rapidly declining national economy.
As a result, SAG leadership never called for a strike authorization vote, evidently unsure they could achieve the 75% supermajority required under SAG rules to authorize a strike. Unwilling to do a deal on the same terms as the other unions but unable to muster a second strike, SAG leadership stalemated. Meanwhile, feature film work stalled, and although SAG television work continued, it did so without benefit of the wage increase that AFTRA had achieved.
Unite for Strength Emerges, and Takes Control
The guild's membership – even in Hollywood – became more and more unhappy with this state of affairs. In the July-September 2008 SAG election cycle, a new Hollywood-based slate emerged: Unite for Strength, led by Ned Vaughn and Amy Aquino, and built on a platform emphasizing merger with AFTRA.
The slate won a number of board seats – just enough to give MF opponents (UFS, Hollywood independent Morgan Fairchild and the New York and regional branch divisions) a narrow majority in the boardroom. By the end of January 2009, the new majority had fired the national executive director, hired former SAG general counsel David White in his place, and dissolved and reconstituted the MF-dominated contract negotiating committee. In June 2009, SAG finally reached a deal with the studios.
The Aftermath – SAG Weakens, while AFTRA Strengthens
Meanwhile, though, AFTRA, operating under its new contract and unencumbered by infighting, had been organizing new television work. Whereas pilots in recent years had been primarily made under SAG jurisdiction (by a margin of about 90% to 10%), the 2009 pilot season was a 180-degree turnabout: about 90% of the new pilots went AFTRA. That figure essentially held true for 2009 pilot pickups (i.e., new series) as well, and has continued to be the case in 2010 and 2011.
Since union dues, and pension and health plan contributions, are calculated based on wages, these AFTRA successes strengthened AFTRA and its health and retirement plans and weakened SAG and its corresponding plans. Likewise, the virtual halt to major feature work in 2008-2009 also weakened SAG and its pension and health plans.
In addition, with television work more heavily tilted towards AFTRA while feature work remained under SAG jurisdiction, actors more frequently experienced a "split earnings" problem: with wages divided between two unions, actors can find themselves falling short of both unions' qualifying thresholds for pension and/or health coverage even if they would have qualified had all work been under a single umbrella. The problem had existed pre-2009, but it appears to have become even more prevalent as AFTRA gained more television jurisdiction.
The 2009 SAG elections provided further victories for UFS: in addition to the slate picking up more board seats, UFS candidate Ken Howard won the presidency and Aquino the secretary/treasurer position. In 2010, the group won in a rout, wresting control of even the Hollywood board from MF and electing Vaughn as 1st VP.
Merger Moves Forward
In both years, UFS continued to emphasize merger, and after the 2010 results even MF's Johnson publicly conceded that guild voters were now overwhelmingly in favor of uniting the two unions. In fall 2010, SAG and AFTRA – once again negotiating jointly – reached a deal with the studios for the 2011-2014 contract cycle, almost eight months before the existing contracts were due to expire.
That early deal left the unions free to spend 2011 focused on merger. Starting with cautious steps such as resolutions of intent, the process has accelerated, and a joint committee referred to as the Group for One Union, or G1, held its first formal talks several weeks ago, parceling out assignments to a half-dozen subcommittees tasked collectively with preparing a merger plan.
Advocates for merger say their case is strong: elimination of overlapping jurisdiction in television (and, now, in new media), elimination of the split earnings problem, possible increases in operating efficiency and a decrease in the sort of open warfare that advantages only the studios. Opponents fear, among other things, that the merged union will be too moderate – that is, unwilling ever to strike and thus without leverage at the bargaining table.
In any case, the merger plan will need to address a myriad of factors: dues, governance structure, admission requirements, collective bargaining, staff, and more, not to mention the name of the new union and who the executive director, president and other officers and board members will be. What's more, a big issue – unifying the pension and health plans – is beyond the unions' direct control, since those plans are legally separate organizations governed by boards split equally between management and labor.
Complexity notwithstanding, the merger plan is scheduled to be developed over the next five or six months and go to the unions' boards for approval in January, which is expected, and then to the unions' memberships for ratification. By March 2012, if the plan is ratified, the two unions could be starting the actual process of merger. That in itself will take time, but probably not more than 18 months, since leaders will want merger to be complete before the 2013-2014 contract negotiations with the studios. Merger of the P&H plans might not take effect until the 2014 contract commences.
Conclusion
So – again – how did merger come to be front and center today? Credit not only the advocates, but also MembershipFirst. Under their watch – and despite their intentions – the events of 2007-2008 weakened SAG, strengthened AFTRA, accentuated the split earnings problem, allowed the studios to play one union off against the other, and led SAG members to reject intra- and inter-union battles and seek merger instead.
Thus, surprisingly, merger's staunchest opponents may have made the case for uniting the unions more emphatically than any proponent. Seventy-five years after the concept first arose, merger may just happen this time around – and if it does, don't be surprised if union leaders raise an ironic toast to the SAG Hollywood faction that hated AFTRA so much that merger became seemingly inevitable.
– The Hollywood Reporter