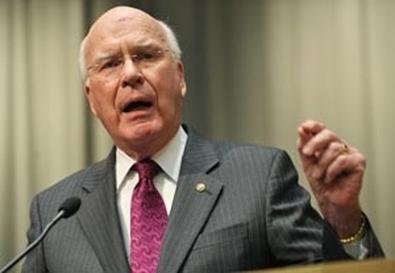 A bipartisan group of lawmakers introduced new anti-piracy legislation in the U.S. Senate today, prompting praise from performers' unions and criticism from digital-rights advocates.
Senators Patrick Leahy, D-Vt.; Orrin Hatch, R-Utah; and Chuck Grassley, R-Iowa, unveiled the Preventing Real Online Threats to Economic Creativity and Theft of Intellectual Property Act (aka the PROTECT IP Act), a bill that largely resembles the failed Combating Online Infringement and Copyright Act that ran aground in the Senate last year. The bill would empower the U.S. Department of Justice to eliminate domestic websites that host copyright-infringing content.
The Screen Actors Guild and the American Federation of Television and Radio Artists joined four other entertainment unions in issuing a joint statement of support for the new legislation.
"As the Guilds and Unions that represent 400,000 creators, performers and craftspeople who create the multitude of diverse films, television programs and sound recordings that are enjoyed by billions of people around the world, we unequivocally support this bill which, by providing protection for our members' work, clearly shows that our government will not condone or permit the wholesale looting of the American economy and American creativity and ingenuity—regardless of how that looting is disguised on the Internet to fool the American consumer," the unions' statement read.
Digital-rights advocates, however, were quick to condemn the bill, which was drafted to address concerns raised by COICA's Senate opponents. Electronic Frontier Foundation attorney Abigail Phillips, writing at the organization's Deeplinks blog, called the PROTECT IP Act "no improvement" over its predecessor.
"Despite some salient differences... in the new version, we are no less dismayed by this most recent incarnation than we were with last year's draft," Phillips wrote.
COICA last year won unanimous approval from the Senate Judiciary Committee, which Leahy chairs, but the bill was scuttled when Sen. Ron Wyden, D-Ore., placed a hold on it.