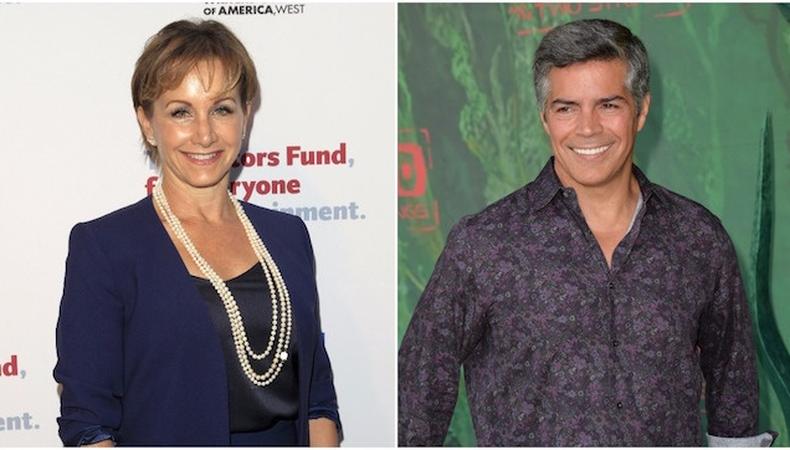 Tomorrow, SAG-AFTRA, the nation's largest union for media artists, will announce the results of what has been a lively and, at times, tense election for union leadership.
Incumbent Gabrielle Carteris, representing Unite for Strength, is running against Membership First's Esai Morales and independent candidates Pete Antico, Robert B. Martin Jr., and Marilyn Monrovia. On the heels of a new film and television contract, escalating campaign rhetoric has moved between passionate and accusatory.
Running as Unite for Strength's candidate, Carteris' platform is focusing on what her supporters see as accomplishments for the union during her service, from unifying the union's previously separated healthcare plans and expanding tax incentives for filming, to toting new contract earnings.
Morales with the opposition slate, Membership First, is running a campaign that attempts to harness the frustrations of an inner-union political culture that some members have grown to resent. With accusations of spinning hot button issues and not allowing for sufficient transparency, Morales' campaign is hoping to reel in votes by pushing a plan to shift contract approval power from union board members to relevant members.
Former Membership First member, Pete Antico, a longtime stuntman, is running as an independent. Propelling his campaign are frustrations with claims that union leadership is not paying sufficient attention to the diversity of professions covered under the organization's umbrella and a lack of fiscal transparency. He also highlighted examples of what he believes to be the union's reckless financial management, such as its over $24 million, country-wide spending on rent for union offices, including headquarters in Los Angeles and New York.
Independent, Robert B. Martin Jr., is running an unorthodox grassroots campaign; neither relying on endorsements nor fundraising, Martin is campaigning on a platform for a more rigorous focus on expanding technological accelerations in the field including augmented and virtual reality.
A singer and improv artist, Marilyn Monrovia, whose name pays homage to Marilyn Monroe, is running a long-shot, independent campaign after her unsuccessful 2013 bid. Monrovia is campaigning on a platform of making the union more accessible to members and more enticing to potential joiners. Monrovia would also like to see the slate campaigning and platform structure come to an end saying it's too reminiscent of national political parties.
Monrovia's assessment of SAG-AFTRA elections being similar to strained national political discourse might be one of her more popular points. With mud-slinging, heated regional meetings, and threats of filing complaints with the U.S. Department of Labor, some say this union presidential election feels more like Washington than Hollywood.
With roughly 144,000 eligible voters, SAG-AFTRA reports that it will announce election results the evening of Aug. 24 along with the results of the NYC and L.A. local elections. Other local and regional elections have already been conducted and tabulated with Unite for Strength supporters winning most positions, some running unopposed. Voter turnout is typically below 50 percent.
Editor's note: This post previously stated Carteris was running for re-election. She served as the intermitent president in 2016 after the passing of Ken Howard. This is the first year she ran for the position and won with SAG-AFTRA membership votes.
Check out our article on how to join SAG-AFTRA!