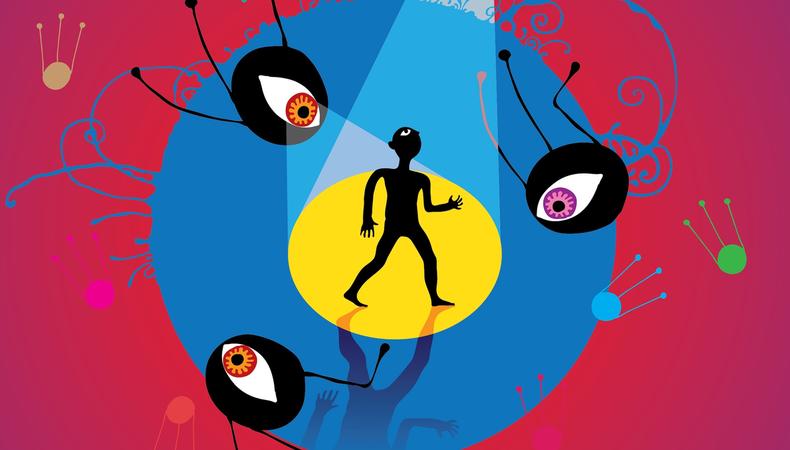 Googling an actor's name and finding their IMDb page and all their credits is commonplace for any industry professional. The Internet Movie Database and its subscription-based platform, IMDbPro, are some of the most accessible resources for media information, often serving as a digital résumé for actors working in film and television. However, for trans actors and industry pros who are gender fluid or nonconforming, the popular online database may be violating their rights, says SAG-AFTRA, the nation's union for screen talent.
IMDb has reportedly published the assigned-at-birth names of trans actors without consent. The practice, known as deadnaming, is denounced within trans and ally communities due to the psychological and social effects it can have on actors reclaiming their identity. "It just seems like an infringement of privacy," trans actor Jake Graf told IndieWire, which first reported the news. "It seems like you're outing someone. On so many levels, it seems wrong."
Near the end of national Pride month in June, SAG-AFTRA announced that the labor union had joined forces with several organizations, including the Transgender Law Center, the National LGBTQ Task Force, and GLAAD to amplify pressure on IMDb and ensure that trans actors aren't misidentified onsite.
The union has been battling with and lobbying against IMDb since 2016 when the California State Assembly passed a bill designed to protect actors from ageism. Bill AB 1687 mandates that subscription-based websites like IMDb give actors an option as to whether their age is listed publicly or not. However, in 2018, a judge halted enforcement of the law, challenging the bill's constitutionality. With SAG-AFTRA appealing the ruling, the battle will likely land in the 9th Circuit Court of Appeals by the end of the year.
"The court has so far failed to understand or recognize the massive impact the publication of this personal information can have on the careers and lives of working performers," said Duncan Crabtree-Ireland, SAG-AFTRA's chief operating officer and general counsel, in a joint statement alongside its partnering advocacy organizations.
The practice of revealing this sort of information without permission has already proven unnecessary. Subscription-based platforms like Backstage create space for actors to build and showcase their résumés to book industry work. Backstage, however, doesn't publish actors' exact ages but instead categorizes users within a general age range for casting purposes. Backstage editors also remove age specifications from casting notices in certain instances. For actors who wish to change the name listed on their profile, the modification is easy.
AARP has also joined the fight to collaborate with SAG-AFTRA to give more identity autonomy to actors. "This is a case about the human rights of all performers," said SAG-AFTRA President Gabrielle Carteris. "I want to thank these groups for signing on and showcasing how damaging the unregulated publication of performers' personal data can be."
This story originally appeared in the July 11 issue of Backstage Magazine. Subscribe here.