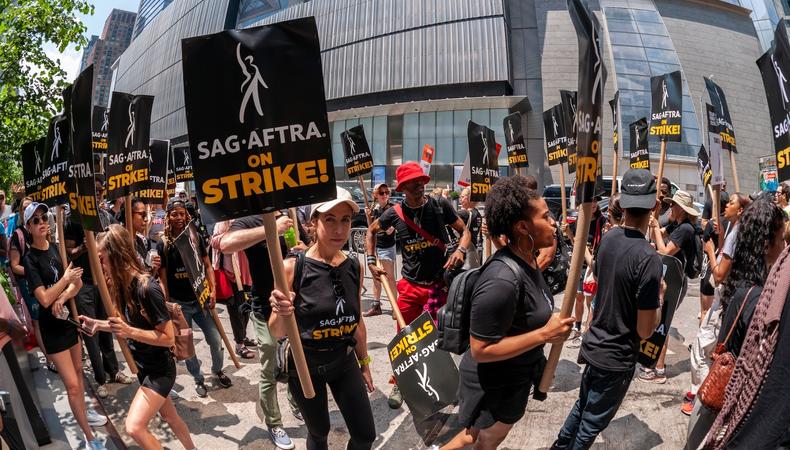 For the first time since 1980, SAG-AFTRA is on strike. The union's contract with the Alliance of Motion Picture and Television Producers ended on July 12; and at a press conference on July 13, the SAG National Board announced that the union would go on strike following a month of failed negotiations.
The union released a statement before the conference explaining: "After more than four weeks of bargaining, the Alliance of Motion Picture and Television Producers—the entity that represents major studios and streamers, including Amazon, Apple, Disney, NBCUniversal, Netflix, Paramount, Sony, and Warner Bros. Discovery—remains unwilling to offer a fair deal on the key issues that are essential to SAG-AFTRA members."
The AMPTP responded with its own statement, saying, "We are deeply disappointed that SAG-AFTRA has decided to walk away from negotiations. This is the union's choice, not ours. In doing so, it has dismissed our offer of historic pay and residual increases, substantially higher caps on pension and health contributions, audition protections, shortened series option periods, a groundbreaking AI proposal that protects actors' digital likenesses, and more."
The actors' union action overlaps with the ongoing WGA strike, a double whammy for the industry that hasn't happened since 1960. (SAG alone went on strike alongside the writers' union; at the time, SAG and AFTRA were separate entities.)
Here's everything you need to know about the news and its immediate impact on Hollywood and beyond.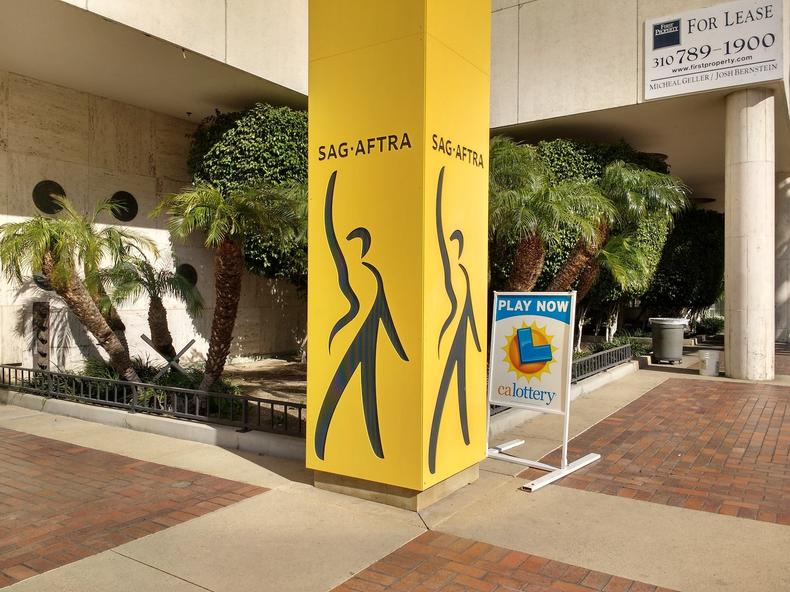 Alex Millauer/Shutterstock
The SAG-AFTRA National Board authorized a strike to commence at 12:01 a.m. PT Friday, July 14. The Negotiating Committee, along with union president Fran Drescher and executive director Duncan Crabtree-Ireland, joined members on the picket lines on the first day of the strike. Picketing is taking place at the following locations in and around Los Angeles:
SAG-AFTRA Headquarters


5757 Wilshire Blvd, Los Angeles

Netflix (Sunset Gower Studios)


1456 N Van Ness Ave, Los Angeles

Paramount Studios


5433 Melrose Ave, Los Angeles

Warner Bros. Studios


3772 W Olive Ave, Burbank

Walt Disney Studios


500 S Buena Vista St, Burbank
The regular picketing schedule is Mondays through Thursdays from 9 a.m.–12 p.m. and 11 a.m.–2 p.m. PT, and Fridays from 9 a.m.–1 p.m PT.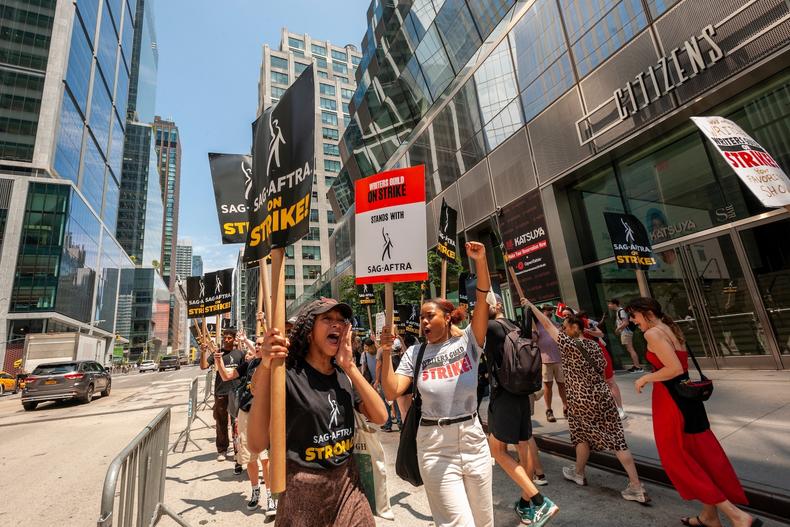 rblfmr/Shutterstock
Members may not perform or promote work for companies that are members of the AMPTP. According to a statement released by SAG, "All covered services and performing work under the TV and theatrical contracts must be withheld, including but not limited to":
Principal on-camera work, including:

Acting

Singing

Dancing

Performing stunts

Piloting on-camera aircraft

Puppeteering

Performance-capture or motion-capture work

Principal off-camera work, including:

ADR and looping

TV and theatrical trailers

Voice acting

Singing

Narration, including audio-descriptive services (except as the services may be covered by another collective bargaining agreement referred in the Notice to Members Regarding Non-Struck Work)

Stunt coordinating and related services

Background work

Stand-in work

Photo and/or body doubling

Fittings, wardrobe tests, and makeup tests

Rehearsals and camera tests

Scanning

Interviews and auditions (including via self-tape)

Promotion of and publicity services for work under the TV/Theatrical Contracts, including:

Touring

Personal appearances

Interviews

Conventions

Fan expos

Festivals

"For your consideration" events

Panels

Premieres and screenings

Award shows

Junkets

Podcast appearances

Social media

Studio showcases

Negotiating, entering into, and/or consenting to:

Any agreement to perform covered services in the future

Any new agreement related to merchandising connected to a covered project

The creation and use of digital replicas, including through the reuse of prior work

Performing on a trailer for a struck production or other ancillary content connected to a struck production
These stipulations mean that everything from the viral "Barbie" press tour to actors' appearances at Comic-Con International: San Diego are canceled, effective immediately. In a sign of how seriously actors are taking these stipulations, the cast of "Oppenheimer" walked out of the film's U.K. premiere when the strike was called.
However, SAG agreed to sign interim agreements with truly independent producers that will let them commence or continue production while the strike is ongoing. To qualify for the allowance, producers must:
Have no affiliation with the AMPTP

Not be working on a

WGA-covered project

Agree to the SAG-AMPTP contract stipulations when the strike is over
Apply for an interim agreement by contacting their assigned business representative
Productions at the lowest budget agreements—including short projects, micro budgets, student films, and independent new media—may continue production without an interim agreement.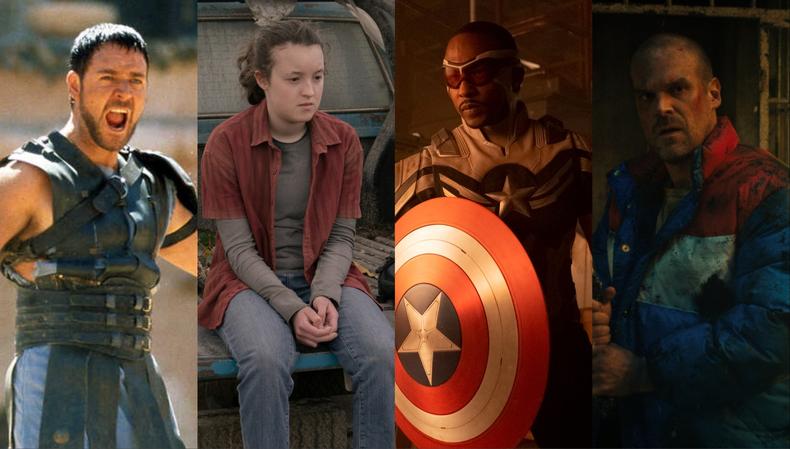 DreamWorks Distribution/Liane Hentscher/HBO/Marvel Studios/Netflix
The double WGA and SAG strike will have a profound effect on the industry, as work on all scripted series and films will be halted. Here are just a few examples of major projects impacted by the strike.
TV shows:
"Alien" (FX):

The series adaptation of Noah Hawley and Ridley Scott's "Alien" franchise is currently in preproduction in Thailand. The show's cast includes both SAG and Equity members, so filming will likely need to be delayed—or the plot overhauled to focus on characters portrayed by nonunion actors.

"The White Lotus" (HBO):

The third season of Mike White's award-winning comedy has already been delayed by the writers' strike, and the actors' strike will likely hold up production further.

"Emily in Paris" (Netflix):

Filming for Season 4 of the Netflix rom-com was pushed back due to the writers' strike and will likely continue to be postponed due to the SAG strike.

"Stranger Things" (Netflix):

Creators Matt and Ross Duffer announced that filming on Season 5 would be delayed when the WGA strike began. On May 6, they

posted

on Twitter, "Writing does not stop when filming begins."

"The Last of Us" (HBO):

The show's first season just received a whopping 24 Emmy nominations, but work on the second season is on hiatus. Co-creator Craig Mazin

said

that his "philosophies are aligned with the guild."
Viewers likely won't see the effects of the joint strike right away on streaming services like Netflix and Hulu, since they often have production backlogs. However, studios and networks will likely need to push back any projects currently scheduled for the fall.
Films:
"Wicked":

No defying gravity here—although the film adaptation of Stephen Schwartz and Winnie Holzman's Tony-winning musical is shooting in the U.K., many of its stars are members of SAG.

"Gladiator 2":

Filming in Morocco on this long-awaited Ridley Scott sequel starring Paul Mescal is expected to be put on pause.

Marvel Cinematic Universe films:

Production on

many Marvel movies

, including "

Captain America: Brave New World," "Thunderbolts," "Blade," "Avengers: The Kang Dynasty," and "Avengers: Secret Wars" has been pushed back.

"Moana":

The upcoming live-action adaptation of the Disney hit has halted production.
Film festivals: Since SAG actors are barred from participating in promoting their movies, many festivals will lose their star power. Telluride doesn't hold press conferences, meaning it will likely feel the loss the least; the same cannot be said for the upcoming Venice, Toronto, and New York film festivals.
Award shows: Nominations for the 75th Emmy Awards were announced two days before the SAG strike began. Union members are not allowed to campaign for awards by participating in interviews, panels, and other events during the strike. The Television Academy told Deadline that the current voting schedule—ballots to be sent out Aug. 17 and returned by Aug. 28—won't change, but it's likely that the ceremony itself, which is slated to take place on Sept. 18, will be postponed.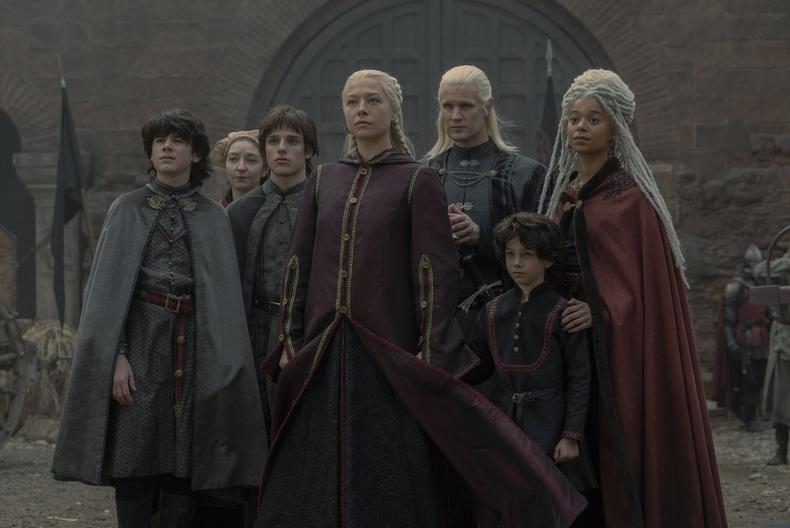 Liam Daniel/ HBO
While the strike primarily affects U.S. productions, its reach is international. Equity U.K., the union that represents both stage and screen actors in Britain, expressed solidarity with striking actors. It released a statement saying: "Equity U.K. stands in unwavering solidarity with SAG-AFTRA and its members in their effort to achieve a fair and equitable contract, and for the good of performers working around the world.
"Equity U.K. will support SAG-AFTRA and its members by all lawful means. Because of existing anti-trade union laws in the U.K., SAG-AFTRA members currently working under an Equity U.K. collective bargaining agreement should continue to report to work," the statement continued. "Equity U.K. will support SAG-AFTRA's refusal to issue new Global Rule One addenda that undermine the strike during the pendency of the strike. Standing together, we will work to achieve the wages and working conditions that all performers deserve."
However, while the strike is lawful for U.S. union actors, it isn't for those in Equity U.K. The organization warned its members that if they stop working, they may be liable for breaching their contracts.
"Consequently, a performer joining the strike or refusing to cross a picket line in the U.K. will have no protection against being dismissed or sued for breach of contract by the producer or the engager," the statement said. "Likewise, if Equity encourages anyone to join the strike or not cross a picket line, Equity itself will be acting unlawfully, and hence [will be] liable for damages or an injunction."
Still, those working on productions like HBO's "House of the Dragon," whose cast is largely made up of Equity U.K. members, are already facing backlash for continuing filming during the strike.