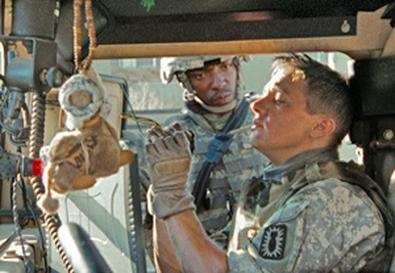 'An Education'
"An Education" is a wonderfully bittersweet coming-of-age story featuring a top-notch ensemble. Set in 1961 London, the film recounts what happens when Jenny (Carey Mulligan), a bright but bored high school student, falls in love with David (Peter Sarsgaard), an urbane older man who introduces her to chamber music, art auctions, late-night concerts, and sex. He is also a bit of a con man.
Mulligan doesn't hit a false note, conveying the emotional life of a highly intelligent yet profoundly innocent 17-year-old girl. In Jenny's eyes, David is the romantic outsider, more so as he slyly seduces Jenny's reluctant parents—especially Jack, her irascible, buffoonish dad (Alfred Molina). Conceived in broad comic strokes, Jack borders on caricature, yet Molina makes him plausible and, in the end, sympathetic. Jack is misguided but he loves his daughter. Sarsgaard is fine as a warm and loving guy who can't help being a bastard as well. As Marjorie, Jenny's mother, Cara Seymour is spot-on playing a sheltered middle-class woman. She lets us see how Marjorie, despite her better judgment, is aroused by David's Continental manners and cosmopolitan style. Matthew Beard as Graham, Jenny's awkward high school beau, is a delight, as are Rosamund Pike and Dominic Cooper as David's sleazy but not wholly rotten partners in deception.
Olivia Williams, as Jenny's English teacher, and Emma Thompson, as the headmistress, play feminists with views on women and education that are ahead of their time—and, paradoxically, of it. Williams' character is the more compassionate and sadder of the two; the actor evokes a woman who hasn't had much of a life and knows it. By contrast, Thompson's character seems to have little doubt about her choices. Indeed, she is a joyously steely and brittle figure whose opinions on many topics are horrifyingly quaint.
The cast's nuanced evocation of a time and place is especially successful. Credit has to go to screenwriter Nick Hornby and director Lone Scherfig for gently capturing an era in transition.
Carey Mulligan is also individually nominated.
—Simi Horwitz
'The Hurt Locker'
Many movies claim they deal with the realities of war, but few do so with the sincerity, lack of sentiment, and nonpartisan point of view of Kathryn Bigelow's "The Hurt Locker." To imbue her landmark action-drama, about a team of young soldiers charged with defusing improvised explosive devices on the streets of Iraq, with a sense of lived-in realism, Bigelow wisely chose to cast relatively unknown actors, including Anthony Mackie, Brian Geraghty, and Jeremy Renner. Using unknowns in the lead roles helps to maximize uncertainty in the audience: Any of these characters could die at any time; there is no expectation that any of them will live. Especially after the events that open the movie, all expectations of heroism and war-movie machismo fly out the door.
Some well-known actors show up as backup. Guy Pearce, David Morse, and Ralph Fiennes pop up in small yet pivotal roles, almost as a reminder that our heroes are the small players on this stage but also to underline the fact that their small part is high drama, worthy of our attention, and every inch as important as any other story in the Iraq theater of war.
And although "The Hurt Locker" features some of the most harrowing suspense scenes in recent memory—each a ticking bomb of its own—they merely serve to raise the stakes in the human drama, which unfolds among the soldiers, in their primal needs, as they grapple with bravery, masculinity, and futility. Even in her one short scene, "Lost" star Evangeline Lilly brings a painfully real character to the screen as the wife of Renner's Staff Sgt. William James, who seldom sees her husband as he clocks in hour after hour at a job he can't help but do.
Jeremy Renner is also individually nominated.
—Ben Rock
'Inglourious Basterds'
A Quentin Tarantino script comes with its own sense of musicality, and "Inglourious Basterds" is no exception. What sets this particular Tarantino ensemble cast apart is its international flavor. The actors play all sides of World War II, from Americans and Brits to Frenchmen and Germans, with the accompanying native tongue.
Christoph Waltz and Diane Kruger have received solo nominations for their turns as S.S. officer Hans Landa (aka "The Jew Hunter") and German film actor Bridget von Hammersmark. Waltz is a German actor who has earned raves for his work as the brilliant and menacing Landa. The titular "basterds" are led by Aldo Raine (Brad Pitt), a man with a very clear-cut motive. Pitt channels John Wayne's American grit with giddy aplomb. Accompanying him for the ride are Eli Roth, Til Schweiger, and B.J. Novak, just to name a few. Roth portrays "Bear Jew," Donny Donowitz, with sheer and imposing physicality. Schweiger's Stiglitz is a man of few words but he's intimidating nonetheless. Novak closes out the film as Pitt's comrade in arms, offering a comic foil to the life-or-death interactions between Landa and Raine.
Also shining is Melanie Laurent as the haunted Shosanna Dreyfuss, who escapes the Nazis as a young girl only to find herself drawn back into their world later. Laurent is impressive, particularly during Shosanna's interactions with the evil and sneaky Landa. Daniel Bruhl is also a standout as sniper hero and Nazi pride Fredrick Zoller, who courts Shosanna. Zoller is charming until Shosanna tells him no, at which point his character turns to reveal his true self. This wouldn't work unless Bruhl could play both the charmer and the wolf with equal aptitude.
Tarantino writes in a language all his own, but it is the international cast that provides both the quirk and realism necessary to make this film sing.
Christoph Waltz and Diane Kruger are also individually nominated.
—Jessica Gardner
'Nine'
Since 2002, when director Rob Marshall reinvigorated the movie musical with the Oscar-winning "Chicago," his second turn at the art form has been eagerly anticipated. For the lavish screen version of the 1982 Broadway musical "Nine," which is based on Federico Fellini's semiautobiographical film "8-1/2," Marshall assembled a highly pedigreed cast, including several Oscar winners. Most of the performers aren't generally known as musical talents, though several have a certain amount of song-and-dance experience. But "Nine" moves beyond a series of stellar cameos, affording its strong performers the opportunity to play colorful characters and to sing and dance a bit amid the fanciful episodes that make up the story.
In the lead role of famed film director Guido Contini, who in the original movie represented Fellini, Daniel Day-Lewis makes his musical debut. Day-Lewis portrays a tortured artiste suffering from creative block as he tries to come up with a film concept on a Rome soundstage. His characterization is bolstered by the droll sense of humor he brings to the role. Playing a man who stumbles through the bizarre corridors of his memory and imagination, Day-Lewis creates a credible and interesting character.
The luminaries supporting Day-Lewis play the various women in his crazy life. The casting was spiced up by the nostalgic inclusion of Italian cinema legend Sophia Loren as Guido's mother. Loren is glamorous and charming in her brief appearances. Kate Hudson, as a flirty journalist from Vogue, sparkles in the splashy new number, "Cinema Italiano." Nicole Kidman, as Guido's muse and frequent female lead, has too little to do but carries it off with class. The heftiest female roles are in the skilled hands of Marion Cotillard, as Guido's neglected wife, and Penélope Cruz, as his histrionic mistress. Judi Dench makes the most of her supporting turn as Guido's costumer and confidante, enjoying her moment in the spotlight in the peppy "Folies Bergère" number. The show's best and most widely known song, "Be Italian," is smashingly performed by Stacy Ferguson, aka Fergie of the Black Eyed Peas.
Penélope Cruz is also individually nominated.
—Les Spindle
'Precious: Based on the Novel "Push" by Sapphire'

Though Gabourey Sidibe, who plays the titular pregnant teen, and Mo'Nique, who portrays her abusive mother, are drawing most of the plaudits for "Precious," the entire ensemble creates the initially dark but ultimately bright world of the film with such verisimilitude, it doesn't seem like anyone is acting at all. The actors blend into their characters so fully that pop stars Mariah Carey and Lenny Kravitz and "The View" co-host Sherri Shepherd are hardly recognizable in supporting roles.
The scenes between Sidibe and Mo'Nique offer the showiest dramatic pyrotechnics and form the core of the film, but the classroom sequences in which Precious slowly discovers her academic gifts provide the necessary lighter moments and funny, joyful relief from her drab home life. As the compassionate teacher Ms. Rain, Paula Patton wisely avoids noble-benefactor clichés and makes her character a real person, who loses her patience with her students and boils over with frustration when having to deal with bureaucratic red tape.
Her class is equally multidimensional, with each actor bringing his or her character's backstory to bear in dealing with Precious' difficult journey. Chyna Layne employs a fierce Jamaican accent and a sassy, take-no-prisoners attitude as Rhonda. Xosha Rouquemore captures Joanne's self-involvement perfectly when she thoughtlessly laughs at the blood on Precious' baby. Amina Robinson, Angelic Zambrana, and Stephanie Andujar complete this realistically rendered classroom.
It's hard to believe that's Carey as the tough but tender social worker. The Grammy-winning singer has only a handful of acting credits, including the abysmal film "Glitter," but her character is understated and believable. The woman's professional yet horrified reactions as Precious' mother reveals the full extent of abuse that her child has suffered make the scene that much more powerful.
As Pete Hammond said in his review for Back Stage, "Although the film is at times unrelievedly bleak, the power and grit of its cast lift it emotionally into a place few movies achieve these days."
Gabourey Sidibe and Mo'Nique are also individually nominated.
—David Sheward