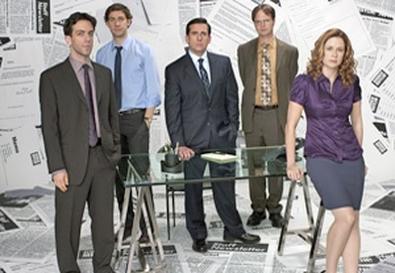 '30 Rock'
The cast that makes up Tina Fey's brainchild "30 Rock" is arguably the show's greatest strength. While characters like "TGS" staff members Frank (Judah Friedlander) or Pete (Scott Adsit) may not have whole story lines devoted to them the way Jack Donaghy (Alec Baldwin) and Liz Lemon (Fey) often do, they can effectively and hilariously set in motion any number of events to give the densely written show the comedic legs it needs to stand on each week. Supporting characters like Tracy (Tracy Morgan), Jenna (Jane Krakowski), and Kenneth (Jack McBrayer) have become integral to understanding the zany backstage universe, especially as the show added plot lines with an abundance of megawatt guest stars in 2009.
Whether Jenna is maniacally channeling her inner rock star in preparation for her unauthorized Janis Joplin biopic—tentatively titled "Jackie Jormp-Jomp" for legal reasons—or Kenneth is naively singing the praises of his hometown, Stone Mountain, with wide eyes, the strength of the supporting cast adds to the greater magic of "30 Rock." The show is stocked with a comically gifted cast, but it's the members' willingness to commit and create rooted, lovable characters inside the wacky world of Lemon's "TGS" that makes the performances shine. Morgan may be playing a slightly heightened version of his real-life self—as some could say of Baldwin and Fey, too—but the commitment to each character's neurosis and the staff's collective bond is the glue that holds the show together. For all the insanity and endless gags, the audience is never given a moment to doubt the reality of the "TGS" world and its madcap cast of characters.
Particularly strong performances by the ever-cheery McBrayer and increasingly endearing—and insane—Morgan strengthened the season, though few could outshine Krakowski as the fame-starved, neurotic foil to Lemon's brainy logical boss. Meanwhile, Baldwin's Donaghy continues to be the gift that keeps on giving, and the actor is smartly paired with performers who are able to match his rat-a-tat pacing, like Morgan and Fey.
In the latter half of 2009, the show has been less weighted by guest performers and able to give its ensemble members the spotlight they deserve.
This ensemble won a SAG Award in 2009 and was nominated in 2008. Alec Baldwin and Tina Fey are also individually nominated this year.
—Jessica Jardine
'Curb Your Enthusiasm'
Whereas Season 6 of "Curb Your Enthusiasm" took its cues from Larry David's personal life, turning his real-life divorce into fodder for fiction, Season 7 was all about wish fulfillment. Plotting to win back his ex-wife Cheryl (Cheryl Hines), onscreen Larry agrees to organize a "Seinfeld" reunion.
The setup yields an Easter basket full of rewards for fans of the classic NBC sitcom: restorations of the Jerry's apartment and Monk's Café sets, an imagined future history for George Costanza, and even Michael Richards tackling his infamous Laugh Factory implosion. But the best stuff comes in the many scenes that David shares with Jerry Seinfeld. It shouldn't be a surprise that David's old partner brings out the best in him. But what David and Seinfeld create onscreen is the sort of fantastic, natural improv that comes only when two performers trust each other completely.
For years, David and his principal actors have provided textbook examples of what it means for improvisers to play well together. Still, it would have been easy for them to find themselves overshadowed this season by the "Seinfeld" machine. No worries. Even the greatest TV cast of the '90s couldn't upstage Hines, Jeff Garlin, and Susie Essman. With her character separated from Larry, Hines was allowed to play more than nonstop exasperation. Cheryl seemed kind of charmed by her ex-husband. And Jeff and Susie continued to find new minutiae to create epic arguments over.
Which is not to say that Seinfeld, Richards, Julia Louis-Dreyfus, and Jason Alexander weren't great houseguests. There was good reason to worry that expectations would grow too tall, only to be felled by something as unsatisfying as that final episode of "Seinfeld"—a constant source of wisecracks throughout this season of "Curb." But what we got was something so much better than a pure reunion. What we got was something that lived up to the hype.

The ensemble was nominated for a SAG Award in 2006. Larry David is also individually nominated this year.
—Daniel Holloway

'Glee'
Don't be fooled by the shiny, happy exterior. Half a season in and "Glee" is already one of the most textured shows on television. This is largely due to the sprawling cast that brings the series' scenes and songs to beautifully realized life each week.
As show choir teacher Will Schuester, Matthew Morrison projects a refreshing sense of idealism and natural leadership (as well as a surprising adeptness with body-contorting dance moves). As for the members of his motley choir: Lea Michele perfectly embodies all of overachiever Rachel's aggressive, Type-A qualities while effectively hinting at the vulnerability lurking just beneath the surface. Chris Colfer (stylish Kurt) and Amber Riley (brassy Mercedes) create a touching, hilarious bond as the glee club's biggest divas, while Kevin McHale (wheelchair-bound geek Artie) and Jenna Ushkowitz (shy punky gal Tina) give many of the show's quieter moments an air of genuine poignancy. And Cory Monteith (vocally blessed jock Finn) brings layers to a seemingly shallow persona: a football hero just discovering his hidden talents. Diana Agron, Naya Rivera, Mark Salling, Harry Shum Jr., and Dijon Talton round out the club's roster and bring sparkling character nuance to every scene. Even when the "Glee" kids are fighting among themselves, we absolutely believe it when they come together on stage, united in song.
Thankfully, the adults on this high school–set series are also given plenty of chances to shine. Iqbal Theba gives put-upon Principal Figgins a nice sense of permanent weariness, while sunny Jayma Mays and oafish Patrick Gallagher bring one of the most awkward workplace courtships of all time to glorious comedic life. Jessalyn Gilsig, meanwhile, makes the oft-thankless role of Will's scheming wife surprisingly sympathetic.
And let's not forget the show's secret weapon: As brilliantly demented cheer coach Sue Sylvester, Jane Lynch invests every syllable with a fierce, competitive edge. Even when Sue is plotting against our heroes, we can't help but root for her a little bit. Lynch makes her one of the most hilarious, entertaining characters currently gracing the small screen.
—Sarah Kuhn
'Modern Family'
You would think the mockumentary sitcom would have run out of gas by now. When Ricky Gervais introduced a Yankeefied, Steve Carell–led version of his Brit hit "The Office" on NBC, the format seemed fresh and exciting, a quick-hit interpretation of Christopher Guest's movies. When "Parks and Recreation" debuted four years later, critics and fans moaned about how it too closely resembled its forebear. The show's low ratings (it has since slowly begun to climb in critical esteem) seemed to signal that there was only room for one sitcom in which the characters glance into the camera.
ABC's "Modern Family" has proved that the mockumentary sitcom is capable of much more. It has done this by trying to more closely mimic in purpose a real documentary, rather than the pseudo-reality TV approach of "The Office" and "Parks and Recreation." If a polished documentarian were trying to make the point that the American family no longer resembles old, pre-"Roseanne" models, it's possible that filmmaker would end up with something a lot like "Modern Family," though less funny.
And make no mistake, the show is hilarious. Just ask The New York Times' Gina Belafonte, who called it "the best new half-hour of funny television in a season rife with half-hours of funny television." That's thanks in large part to the cast, including Ty Burrell as the dad trying too hard to be hip, and his put-upon wife, played by Julie Bowen; Eric Stonestreet and Jesse Tyler Ferguson as a gay couple—the most realistic marriage on network TV so far; and Sofía Vergara as a trophy wife who squeezes more laughs out of her cuchi-cuchi act than you would imagine possible.
But the team MVP is Ed O'Neill, already a television icon thanks to "Married With Children," who has reinvented himself as a different kind of family patriarch—this time the "straight man," as Belafonte pointed out, to a gang of likable fools. It's good to see him back and surrounded by so many good actors doing great work.
—Daniel Holloway
'The Office'
Few ensembles are as strong and consistently hilarious as that on "The Office." And in a year when economic instability hit the Scranton office, the eccentricities and unique bonds of the paper-company employees continued to strengthen. This year, the lives of central characters Jim (John Krasinksi) and Pam (Jenna Fischer) have rocketed off with a baby and marriage, while the many crisscrossed relationships—romantic and otherwise—between office mates have created a minefield for interactions in each episode, allowing for a bevy of shining performances.
The cast functions like a well-oiled machine at this point, jam-packed with gifted performers able to wring countless laughs out of dialogue. But the show's documentary style remains key in giving each actor a moment with his or her audience. Jim's coy eyebrow lifts and Dwight's (Rainn Wilson) deadpan strangeness become all the more delightful alongside Angela's (Angela Kinsey) cross-armed judging and Andy's (Ed Helms) roosterlike chest-puffing.
2009 showed the characters navigating the rocky terrain of Michael's (Steve Carell) new, wholly inappropriate relationship with Pam's mom, exposing mild-mannered Stanley's affair, and reveling in a cartoonishly Southern murder-mystery game. And in each situation, the plot is advanced by the individual gifts the performers bring to the world of the Scranton branch. Just as Fischer's newly confident Pam clashes ever-so-slightly with new receptionist Erin (Ellie Kemper), Carell's needy vanity acts as the perfect contrast to Krasinski's furrowed brow and Wilson's steely-eyed strangeness.
Meanwhile, Kelly (Mindy Kaling), Toby (Paul Lieberstein), Creed (Creed Bratton), and Meredith (Kate Flannery) help remind viewers of the wide character spectrum a real-life office can house. Kaling's bubbly teen-speak and Lieberstein's Eeyore-like sad sack all but bookend the personality types one can encounter in a given room of cubicles.
With each week, the ensemble digs deeper into the reserve of unending awkwardness that the stuffy confines of a real office provides, all while giving viewers realistic relationships and clearly defined characters—like Dwight, who's as comfortable discussing beet farming as picking up on women while wearing a wolf T-shirt.

This ensemble won SAG Awards in 2007 and 2008. Steve Carell is also individually nominated this year.
—Jessica Jardine