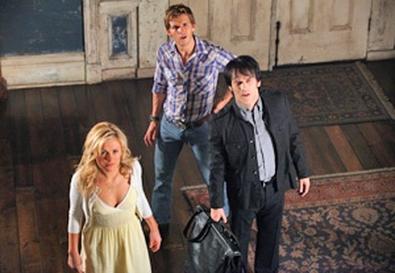 'The Closer'

Anything can get old after five years. And yet 2009 found "The Closer" in the midst of its best season yet, thanks to a crack team of writers led by creator James Duff and a crackerjack ensemble headlined by the oft-SAG-nominated Kyra Sedgwick.
Of course, Sedgwick is wonderful, never taking her professionally precise, personally scattered LAPD Deputy Chief Brenda Leigh Johnson too far into caricature. But what would be the point of watching without the personality dynamics in Johnson's Major Crimes squad? G.W. Bailey must be having a blast with his Lt. Provenza, whose attitude and fashion sense got turned around thanks to a new girlfriend—which gave Tony Denison's Lt. Flynn license to grouch even more. After his near-death from a shooting, Detective Sanchez now seems a tad unhinged, but Raymond Cruz grounds his character's random remarks, making Sanchez even more enjoyable. Corey Reynolds has shepherded with grace Sgt. Gabriel's coming-of-age as the character has tackled new duties, dealt with an Internal Affairs investigation, and studied to become a detective. J.K. Simmons adeptly balances the dramatic demands of Asst. Police Chief Will Pope's leadership duties with tongue-in-cheek comedy, as in this season's episode "Tapped Out," wherein a police impersonator nearly gets the better of him.
On top of things as always is the delightful Michael Paul Chan as the ever-enthusiastic Lt. Tao, while Phillip P. Keene's civilian surveillance coordinator Buzz has been in the background but never invisible. Robert Gossett is solid as Cmdr. Taylor, previously a source of divisional conflict, who this season has come to offer support and camaraderie. And Jon Tenney as Johnson's husband, FBI Special Agent Fritz Howard, keeps life in a role that could become tired. Crossover between their home and work lives is just one aspect of the spousal relationship that gives Sedgwick and Tenney's chemistry fodder.
Without exception, this seamless cast handles exposition, interpersonal relationships, stellar guest stars, high-stakes drama, and comedic irony better than any other procedural ensemble on TV.
The ensemble was nominated for SAG Awards in 2006, 2008, and 2009. Kyra Sedgwick is also individually nominated this year.

—Janelle Tipton
'Dexter'
The shocking conclusion to the fourth season of "Dexter" will keep white-knuckled fans clutching their couch pillows till Season 5 begins. This is all due to the superb and talented cast of the Showtime series about the likable Miami police forensics expert who moonlights as a serial killer of criminals who have escaped the justice they deserve. Led by Michael C. Hall as Dexter, the blood expert by day and bringer of deadly tidings by night, this underrated ensemble has finally earned recognition in its category.
Hall is foremost in his portrayal of the guy-next-door killer. He wears the skin of a troubled sociopath almost too convincingly. Julie Benz shed new light on trust and unconditional love in relationships as his wife, Rita, depicting her as a strong woman committed to family and fairness, and earnestly in the dark about her husband's inner demons. Jennifer Carpenter, as Dexter's sister Debra, played on point the ironic nature of sibling relationships made more intricate by shared tragedy. Debra's determination to always get at the truth is terrifically depicted by Carpenter, with well-timed eye and facial turns that draw viewers into her search.
Lauren Velez, David Zayas, and C.S. Lee bring credibility to the table as the primary people in Dexter's work world. Velez does a standout job as Lt. Maria Laguerta, the dedicated cop who rose up through the ranks and bends the rules. From her self-assured stance to her directed vocal choices, Velez has the boss lady down. Zayas gives a spot-on performance as a cop with as complicated a personal and work life as Dexter's. In a role that could easily be one-dimensional, Zayas brings a robustness and sincerity. Lee, as forensics co-worker Vince Masuka, rounds out the workplace in the best possible way, as the truth teller in a place full of secret keepers. Lee's hardly ever smiling, in-your-face depiction makes him as real as they come.
Of course, a hero is only as good as his villain, and John Lithgow was simply incomparable as the unforgettable Trinity Killer.

Michael C. Hall is also individually nominated.
—Laura Butler
'The Good Wife'
On CBS's freshman drama "The Good Wife," the procedural is second to the journey and relationships of the title character, Alicia Florrick (Julianna Margulies), re-entering the cutthroat world of defense litigation when her politician husband ends up in jail. All that adds up to new bosses, wary and competitive co-workers, and changed dynamics with her kids.
Though the show revolves around Alicia, Margulies needs a strong ensemble to help delineate the challenges of Alicia's new life. This one is more than up to the task, anchored by Christine Baranski and Josh Charles as partners in the law firm Alicia joins as a junior associate. Baranski is poised and secretly vulnerable as the high-powered Diane Lockhart, while Charles provides solid support and a necessary romantic spark as Will Gardner, an old friend of Alicia's. Not only do they give Margulies top-notch scene-partnering, but their scenes with each other reveal two people who don't pussyfoot around despite their mutual respect.
Bringing Alicia conflict and camaraderie as peers are Matt Czuchry as fresh-faced fellow junior associate Cary, competing with Alicia for a permanent slot at the firm, and Archie Panjabi as the firm's tough-as-nails investigator, Kalinda. The two layer on another level with a bit of a cat-and-mouse game, Czuchry giving Cary an earnest but proprietary charm as he is tantalized by cool Panjabi's dismissive, mysterious Kalinda. Meanwhile, Alicia and Cary form an uneasy alliance by pairing their strengths, depicted nimbly by the actors, and Margulies and Panjabi slide into an easy rhythm as their guarded characters hesitantly become friends.
The last part of the ensemble equation comes from Graham Phillips and MacKenzie Vega as Zach and Grace, Alicia's kids. Though it's easy to find a resemblance in manner among Vega, Phillips, and Margulies, their dynamic works on a deeper level, as all three characters find themselves adrift in new environs and cling to one another while the actors believably maintain the often rocky parent-teen relationship.
All in all, this is one big, happy, and highly skilled family.
Julianna Margulies is also individually nominated.
—Janelle Tipton

'Mad Men'
Enough with how "Mad Men" is a show about cigarettes and slick set pieces and how much better men and women used to look back in the days of hats and underwire. "Mad Men" is a show about actors. Good writing, too, but most of all actors.
Way back at the end of the 20th century, David Chase unleashed "The Sopranos," a series that took obscure and gifted actors and turned them into the recognized masters of TV's new golden age. "Mad Men" creator Matthew Weiner studied at Chase's feet, and he appears to share his mentor's appreciation for the science of casting, doing for Jon Hamm, January Jones, and Vincent Kartheiser what Chase did for James Gandolfini, Edie Falco, and Michael Imperioli. He also isn't afraid to play a little dirty pool to get what he wants.
The show's third season was easily its best so far, and not just thanks to the painfully, beautifully slow-boiling centerpiece story line about the disintegration of Don's relationship with his wife, Betty (Jones). Supporting cast members commanded our attention in key moments, such as when Roger Sterling (John Slattery) slips back into old habits, Peggy (Elisabeth Moss) smokes weed for the first time, Joan (Christina Hendricks) assaults her fiancé's skull with a doomed vase, and Pete (Kartheiser) transforms from prickly twit to lovable goof to rapist all in one episode. It's a testament to Kartheiser's work that he's able to win back the audience's affection by season's end, especially considering that Pete wasn't exactly the world's most likable guy even before he became a sexual predator.
"Mad Men" is a great television show, but one that requires patience to watch and appreciate. It's no doubt an even more difficult show to act on, but the rewards for audience and performer are many.
The "Mad Men" ensemble won a SAG Award in 2009 and was nominated in 2008. Jon Hamm is also individually nominated this year.
—Daniel Holloway

'True Blood'
At least the vampire trend has yielded one neck worth biting. Any viewer with half a brain could be forgiven for lumping "True Blood" in with the glut of entertainment jetsam that has surfaced in the wake of "Twilight"—not to mention "Twilight" itself. But Alan Ball's "True Blood" has hit its stride in the second season: a fun, lusty, smart piece of camp that is, in its own strange way, very much of its moment in history.
Any discussion of "True Blood" should begin with Anna Paquin, tasked with the most difficult job on HBO's most popular show: playing Sookie Stackhouse, the gravitational center around which all vampires, shapeshifters, demons, and ordinary weirdoes orbit. It's a bit of a thankless job. Sookie in many ways serves the same purpose as Carrie Bradshaw in "Sex and the City": to provide the viewer an entry to the series, someone to identify with—and thus someone whose personality just isn't quite as fabulous as those of her supporting players. But Paquin is a solid actor, able to hold her own with any of her cast mates.
And those are some damn good cast mates. Stephen Moyer and Rutina Wesley once again impressed as Sookie's vampire boyfriend Bill and nonvampire best friend Tara. But the two breakout performers of this season came from opposite ends of the show. As Eric, Bill's superior in the vampire hierarchy and new chief rival for Sookie's affection, Alexander Skarsgard provided more than a cool and distant alternative to Bill's brooding intensity, bringing a subtlety and dry humor to "True Blood." Subtlety had nothing to do with Ryan Kwanten's performance as Jason, Sookie's sex-addict brother who this season seemed to exist in a separate show parallel to Sookie's—one with a deceptively brilliant, self-aware comic actor at its center. Smart actors in risky roles—this pretty much sums up everything that was great about "True Blood" in 2009.
—Daniel Holloway