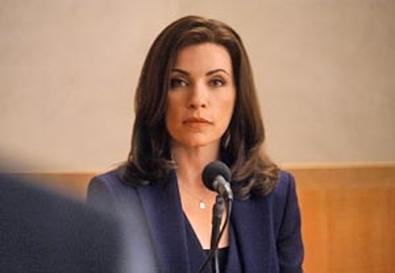 Patricia Arquette, 'Medium'
Howard Hawks once said that a movie is "three great scenes and no bad ones." A good performance is a similar thing: Nail the important scenes and don't bomb the rest. A great performance, however, is found in the details.
Allison Dubois is a wife and mother, as well as a psychic working with the Phoenix district attorney's office. Patricia Arquette plays not only these roles but also the spaces in between. Allison must remain confident in and dedicated to her ability, so as to withstand the skeptics, yet she also has doubts about the wisdom of her role. As a woman raising three daughters, she knows the immense danger she puts her family in and yet feels a calling to help that cannot be ignored. We may not all commune with ghosts and solve mysteries, but Allison's dilemmas are recognizable to anyone.
Procedurals will often focus on the crime-of-the-week at the expense of the characters' domestic lives, yet this is precisely where "Medium" packs much of its punch. Allison's husband and children are real people with distinct voices and their own problems. So while Allison may be trying to piece together last night to determine whether or not she killed someone—as she did in this year's "About Last Night" episode—the show still takes time to follow her daughter as she applies for her learner's permit.
In more than six years of playing Allison, Arquette has had to do the "dramatically waking up from a powerful, narrative-driving dream" thing countless times. One of the challenges of acting, especially in TV, is doing the same thing over and over without letting it feel repetitive and stale. It's to Arquette's credit that she has never allowed this to become rote. It is the mark of a seasoned pro that so much time and effort is put into so small a detail.
For this role, Patricia Arquette won an Emmy Award in 2005 and was nominated in 2007. She was nominated for Golden Globes in 2006, 2007, and 2008 and was previously nominated for SAG Awards in 2006 and 2007.
—Adam Stovall
Glenn Close, 'Damages'
In the first season of "Damages," Glenn Close crafted a fierce, shockingly ruthless portrait of sharky litigation attorney Patty Hewes. Half the fun of the show was watching Patty narrow her shrewd blue eyes and prepare to take down her enemies—and there was never any doubt that she'd succeed. In Season 2, the actor fine-tuned her performance to reveal more of the cracks in Patty's formidable armor. As Patty goes toe-to-toe with a worthy nemesis (Rose Byrne's Ellen Parsons, working with the FBI to destroy Patty once and for all), Close expertly shows us flashes of vulnerability and weakness—humanizing qualities that only add more depth to an already top-notch character.
In the most potent scene of the season, Patty and Ellen face off in a hotel room, Ellen holding Patty at gunpoint. As Patty finally confesses her various transgressions, Close opens the character up in a way we've never seen before. She shows us a depth of emotion and honesty we didn't suspect Patty was capable of. And yet Close's unflinching commitment to the scene means we buy it completely. Later in the scene, we learn that Patty is also in a good deal of physical pain—and we realize that Close's performance is even more masterful than it appeared at first glance. The moment is so uncompromising, so raw, that it's almost uncomfortable to watch. But the actor is so ridiculously compelling, you simply can't tear your eyes from the screen.
In Patty Hewes, Close has created a truly iconic character—a woman whose seemingly infinite layers are revealed in a way that continues to be as surprising as it is believable.

For this role, Glenn Close won Emmy Awards in 2008 and 2009 and a Golden Globe in 2008. She is also nominated for a Golden Globe this year. She was previously nominated for a SAG Award in 2008. She won a SAG Award in 2005 for "The Lion in Winter" and was nominated in 1998 for "In the Gloaming" and in 1996 for "Serving in Silence: The Margarethe Cammermeyer Story."
—Sarah Kuhn
Holly Hunter, 'Saving Grace'
It's been a rough year for Oklahoma City police detective Grace Hanadarko. And while it's tough to watch our beloved Grace get knocked around—physically and emotionally—her various trials and tribulations just keep giving Holly Hunter big, juicy opportunities to display her considerable acting chops.
Season 2 ended with a seminal moment for the series: the execution of convicted murderer Leon Cooley (Bokeem Woodbine), who shares a spiritual connection with Grace. Hunter makes Grace's final moments with Leon some of the most powerful the show has ever seen, perfectly conveying her character's need to present a façade of steel-willed strength even as she's falling apart on the inside.
In Season 3, the actor continued to bring new dimension to Grace's force-of-nature persona. As Grace helps best friend Rhetta (Laura San Giacomo) through marital difficulties, Hunter ably shows us the character at her most fiercely protective. When Grace brutally vandalizes the car of Rhetta's cheating husband, Ronnie, Hunter ensures that we feel every ounce of her out-of-control rage. She imbues the scene with such seething, simmering anger, we're shocked that she smashes up the car instead of aiming directly for Ronnie's head.
While these heavy scenes are at the heart of the series, the actor is equally adept when the show calls for comedy. As Grace and her detective colleagues engage in their endless prank war, Hunter displays a light touch and sense of easy fun. The fact that she alternates effortlessly between these moments and the more tragic, dramatically hefty bits makes her performance all the more impressive.

For this role, Holly Hunter was nominated for Emmy Awards in 2008 and 2009, a Golden Globe in 2008, and a SAG Award in 2008. She was also nominated for a SAG Award in 2004 for "Thirteen."
—Sarah Kuhn
Mariska Hargitay, 'Law and Order: Special Victims Unit'
After 11 seasons playing tough-as-nails New York City detective Olivia Benson, it's nothing short of astonishing that Mariska Hargitay is still finding prickly character layers to reveal. At this point, many actors would probably be content to phone it in and cash the paycheck every week, but Hargitay never makes us feel like we're watching a static performance. She continues to commit to every moment, every line, every word with fierce, unabashed passion.
But she also gives the character extra dimension and heart by always letting us know there are crippling doubts lurking underneath Olivia's relentless, crusading spirit. In a pivotal episode earlier this season, a sex offender frames Olivia for murder. As Olivia professes her innocence ("Captain, I didn't do this"), pure anguish plays over Hargitay's face: She shows us how devastating this is for the character, how the accusation completely violates her entire being. Yet Hargitay also gives the scene an impressively controlled quality: Even here, she knows Olivia can't break down completely. And later in the episode, when Olivia finally confronts the man responsible for framing her, Hargitay creates a powerful moment, a fiery sequence boiling over with rage and a black-and-white sense of right and wrong.
This multilayered performance represents a deep understanding of the character, an intimacy with the material that Hargitay has forged in her decade-plus with the show. And if she keeps turning in this utterly compelling work, we're more than willing to watch her play Olivia for at least a decade more.
For this role, Mariska Hargitay won an Emmy Award in 2006 and was nominated in 2004, 2005, 2007, 2008, and 2009. She won a Golden Globe in 2005 and was nominated in 2009. She was previously nominated for SAG Awards in 2004, 2006, and 2007.

—Sarah Kuhn
Julianna Margulies, 'The Good Wife'
In the freshman drama "The Good Wife," Julianna Margulies asks us not to judge a woman we think we all know: the abiding wife of the philandering politician. As litigator Alicia Florrick, re-entering the working world after indiscretions send her Chicago state's attorney husband to jail, Margulies shows us with elegant restraint the conflicted core of such a woman.
Waking up from the scandal into a new life, Alicia faces ugliness at every turn: indictments of her intentions, strained family dynamics, and suggestions of favoritism as she joins the firm of an old friend as a junior associate. With a quiet grace, the character and her portrayer offer us a poignant lesson in taking things as they come and focusing on the moment, whether it brings fresh joy or a new challenge.
Margulies has every emotion at the ready but overdoes none of them: frustration when Alicia's mother-in-law pushes her to forgive, uncertainty about other characters' intentions, anger and disgust at her husband merged with longing for the relationship that once was, compassion not limited to her clients.
Though Margulies easily carries the heft of the series on her shoulders, her interactions with the rest of the ensemble bring Alicia's world to life. The familiarity of a longtime friendship with her law-firm boss Will (Josh Charles) is juxtaposed against a hesitancy in the new dynamic of their personal and professional relationships, while she and her much younger on-the-job competition, Cary (Matt Czuchry), move from chafing discomfort to begrudging respect and teamwork. But most fraught with undercurrent are Margulies' scenes with Chris Noth as the disgraced husband trying to win back his life. The two are masterful with each other—his unsteady optimism and her tortured ambivalence.
For this role, Julianna Margulies has also been nominated for a Golden Globe. She won SAG Awards in 1998 and 1999 for "ER" and from 1996 to 1999 as a member of the "ER" ensemble; she was also nominated individually for "ER" in 1996 and as a member of the "ER" ensemble in 1995, 2000, and 2001.
—Janelle Tipton
Kyra Sedgwick, 'The Closer'
As deputy chief of a Los Angeles Police Department division handling high-profile major crimes on TNT's "The Closer," Kyra Sedgwick's Brenda Leigh Johnson wields her squad with precision, despite the chaos in her personal life. We can't speak to Sedgwick's home life, but professionally the actor wields her supporting cast in just the same way. She doesn't miss a single beat in her interactions with them, be it J.K. Simmons as Brenda's boss, Asst. Chief Pope; Jon Tenney as her FBI agent husband, Fritz; or the varied members of her sleuthing squad.
This season, the show's fifth, that squad happens to now be all-male, with the departure of its lone female detective. But it's business as usual for Brenda and Sedgwick; indeed, they have had more opportunity than ever for strong female interactions. The year brought a wedding (finally!) for the deputy chief, as well as a taste of motherhood when her niece Charlie (Sedgwick's daughter, Sosie Bacon) came for an extended stay. Sedgwick mixed exasperation with tenderness to limn a touching relationship with the semi-troubled teen.
At work, Brenda was a lioness protecting her cubs when she had to contend with an equally tenacious Internal Affairs investigator (Mary McDonnell) looking into a shooting involving Sgt. Gabriel (Corey Reynolds), Brenda's protégé. The scenes between the two women were electric, though the showdown seems far from over.
It's no coincidence that Sedgwick has been SAG-nominated for every year the show has aired. The shocker is that she's never won. This is one of the most consistent, precise, and entertaining performances on television. Balancing Brenda's sweet Southern demeanor with her checkmate interrogation skills is no mean feat. We love this ensemble, but Sedgwick seals the deal.
For this role, Kyra Sedgwick won a Golden Globe in 2007; she was nominated in 2006, 2008, and 2009 and is nominated again this year; she was also nominated for an Emmy Award from 2006 to 2009. She was nominated for a SAG Award individually and as a member of the ensemble of "The Closer" in 2006, 2008, and 2009. She is also nominated this year as a member of the show's ensemble.
—Janelle Tipton