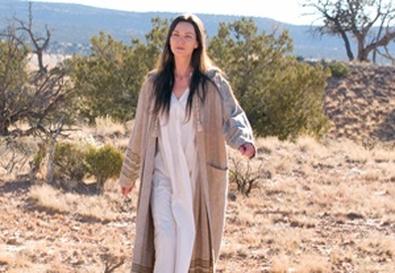 Joan Allen, 'Georgia O'Keeffe'
When you need a figure of strength and stamina stoically overcoming difficult odds, Joan Allen is the go-to lady. Whether trying to keep Matt Damon's character in line in the "Bourne" films, beating back a political smear campaign in "The Contender," surviving a colonial witch-hunt in "The Crucible," or dealing with alcoholism and the president's corruption in "Nixon"—a losing battle in that case, but still a valiant effort—her characters fight with steely determination and quiet but unshakable resolve.
As the title figure in the Lifetime biopic "Georgia O'Keeffe," Allen musters her considerable forces, allowing the great artist to overcome prejudice, sexism, and even the overbearing personality of her husband—photographer and gallery owner Alfred Steiglitz (fellow SAG Award nominee Jeremy Irons)—to realize her individual vision. It's a deceptively subtle performance, with few outbursts of emotion. Most of Allen's scenes involve O'Keeffe reveling in the New Mexico landscape, concentrating on a painting, listening to the chattering of other characters—such as patroness Mabel Dodge (Tyne Daly)—or reacting to the latest adulterous outrage committed by Steiglitz. Though she is silent, there is always something interesting going on.
In one amazing sequence, the painter has been hired to create a mural for the ladies lounge at the new Radio City Music Hall. Each step in her creative process is carefully re-created, with Allen skillfully conveying the emotional journey as O'Keeffe sketches in a giant beautiful flower, paints in the color, then finally breaks down in tears due to a recent conflict with her spouse.
In another moving scene, O'Keeffe is in the hospital, deeply depressed over Steiglitz's affair with a much younger woman, when he visits her and talks about an upcoming exhibition of her work. O'Keeffe merely lies in bed, not responding, but you can tell by her eyes that she is suffering. Her inner resolve to throw off Steiglitz's control is as clear as if she had spoken volumes.
For this performance, Joan Allen has also been nominated for a Golden Globe. She was nominated for SAG Awards in 2001 for "The Contender" and in 1996 for "Nixon" and as a member of the film's ensemble.
—David Sheward
Drew Barrymore, 'Grey Gardens'
From the minute "Grey Gardens" begins, with grainy footage of Drew Barrymore in odd garb twirling a small American flag to the strains of the Virginia Military Institute marching song, it's clear that the actor is going to be able to capture the eccentric physicality, mannered voice, and off-kilter persona of Little Edie Beale.
As the film progresses and the battle of wills between Little Edie and her equally strange mother, Big Edie, is re-enacted, this time as a work of historically inspired fiction rather than as a now-classic documentary, it becomes just as clear that Barrymore is more than up to the task of creating a three-dimensional portrait and not just an animate effigy from Madame Tussaud's. When Barrymore plays scenes from the documentary almost word for word, she provides her own effective subtext rather than creating a carbon copy. She's also adept as Little Edie in her debutante days, radiantly beautiful but with something ever so slightly off always hovering around the edges.
"Grey Gardens" broadens out from the documentary's laserlike focus on the two older eccentrics, not only showing both Edies in their prime but also bringing in peripheral figures such as Jacqueline Kennedy Onassis and the Maysles brothers as they film their magnum opus. Ironically, this has the effect of diluting the story's power and fascination. The film sets up the false expectation that it will tell us how these two ladies managed to fall so far. But, of course, there is no satisfactory answer to that question, something the vastly superior musical stage version understood. We are left feeling dramatically unsatisfied, something that neither the musical nor the documentary does.
What does satisfy, though, is the fine work by Barrymore and Jessica Lange as they negotiate the intricate mother-daughter dance of the Beales of East Hampton. As Alessandra Stanley put it in The New York Times, "Both actresses artfully trace the arc of their characters' unfulfillment."
For this performance, Drew Barrymore was nominated for an Emmy Award and has been nominated for a Golden Globe.
—Georgina Spelvin
Ruby Dee, 'America'
It's no secret that actors love Ruby Dee. At the 2008 SAG Awards, the now 75-year-old actor beat out such favored competitors as Amy Ryan ("Gone Baby Gone") and Tilda Swinton ("Michael Clayton") to win the statuette for outstanding performance by a female actor in a supporting role for her brief but memorable turn as Denzel Washington's mother in "American Gangster." Dee proves once again that there are no small parts with her performance in the Lifetime movie "America," based on the book by E.R. Frank.
America is the name of a biracial boy (Philip Johnson) whom Dr. Maureen Brennan (Rosie O'Donnell) encounters at a youth treatment center. After enduring a crack-addicted mother and abusive foster homes, America has shut down and even attempted suicide. As Dr. Brennan gets him to open up about his life, the audience learns that the only stability he has ever experienced was at the hands of Mrs. Harper, played by Dee. The actor exudes warmth and generosity—two of her specialties—as the elderly nanny to one of America's foster families. The two share a loving bond; Mrs. Harper even seeks to adopt him. Dee is excellent opposite Michael Algieri, who plays the young America, which makes it all the more heartbreaking when the two are torn apart and America is sent back to his birth mother.
Many actors enjoy playing "bad" more than "good," as those tend to be the showier roles. But Dee excels at portraying genteel decency on screen without it ever feeling cloying or dull. Whenever the film's subject matter threatens to get too preachy, there's Dee, with her no-nonsense presence. It can be a tricky line to walk, but "America" succeeds, thanks largely to its dedicated cast. As Tim Stack wrote in his review for Entertainment Weekly, "There are enough emotionally honest moments to make America soar."
Ruby Dee won a SAG Award in 2008 for "American Gangster" and was nominated that year as a member of the film's ensemble.
—Jenelle Riley
Jessica Lange, 'Grey Gardens'
In "Grey Gardens," Jessica Lange participates in a time-honored Hollywood tradition: Beautiful, glamorous, radiant, ravishing movie star gets to play ugly, desiccated, creepy, querulous character. It's the kind of role that allows critics to swoon, as Mary McNamara did in the Los Angeles Times: "Lange, we are reminded once again, is an actress who can do anything, anything, including play a bedraggled, gray-haired woman who stands amid piles of rotting garbage and cat feces, looks Jacqueline Kennedy Onassis (a terrific Jeanne Tripplehorn) straight in the eye, and says in her most beguiling tones: 'You know, chicken, if you ever need a place to stay, you're always welcome here.' "
Fortunately for her audience, Lange embraces the opportunity with all the fervor of Bette Davis tearing into Baby Jane Hudson. Even more fortunately, Lange's Big Edie Beale is much more than just a grotesque gargoyle. Even in old age, we see hints of the beautiful, poised socialite who once reigned over a glittering world, seeming to have it all. Of course, those glimpses are immeasurably aided by flashback scenes in which Lange can actually inhabit that entrancing creature.
But it's the older Big Edie who fascinates, and Lange particularly excels at portraying her cheerful obliviousness to the squalor of her surroundings and her willful reconstruction of her life into something she can portray as entirely happy and successful. Lange is also a team player, understanding full well that the success of the story lies in its depiction of the complex mother-daughter relationship. Her scenes with co-star Drew Barrymore are finely calibrated and perfectly balanced. No focus-pulling for her.
Lange also understands something the film does not: There is no single answer to how these two women ended as they did. She hits all the right notes, never flinches from the disturbing, and uses her gleaming star power to provide the same level of fascination achieved by the raw verisimilitude of the documentary. What she triumphantly doesn't do is explain.

For this role, Jessica Lange won an Emmy Award and has been nominated for a Golden Globe. She was previously nominated for a SAG Award in 1995 for "Blue Sky."
—Georgina Spelvin
Sigourney Weaver, 'Prayers for Bobby'
Sigourney Weaver chose "Prayers for Bobby" as her made-for–TV movie debut, and it's easy to understand why. Based on Leroy Aarons' book telling born-again housewife Mary Griffith's real-life story, it's an important and serious exploration of the tragedy that can happen when religiously inspired homophobia causes a parent to withhold love from a child. In this case, the price was young Bobby Griffith's suicide; he leaped to his death from a freeway overpass because his mother cut him from her life. In a variant of the standard gay coming-out story, what we follow here is not the heartwarming and hard-earned self-acceptance of a gay person but instead Mary's coming out from her born-again blindness to become an activist for LGBT causes in an attempt to expiate her guilt.
Weaver, an actor known for her strength, was a good choice to portray this loving but rigid mother who finds herself unable to reconcile her religious beliefs with her son's sexuality. She is particularly convincing during the section in which Mary feels that Bobby is not trying hard enough to heal himself of his homosexuality. Weaver makes Mary's sense of betrayal and anger frightening, even to her equally born-again husband, who can't understand his wife's desperate unwillingness to accept their son.
When news of Bobby's death arrives, Weaver shows us Mary's emotional devastation, which finally leads her to question everything she so fervently believes. Weaver then charts Mary's journey from darkness into light with precision, even though the writing in this part of the tale seems the most formulaic and least inspired. Weaver makes Mary's speech to a Metropolitan Community Church congregation, in which she finally admits that God did not "fix" her son's homosexuality "because there was nothing wrong with him," a wrenching and powerful climax to the film, illustrating why The Hollywood Reporter called her work "dynamic" and praised her "raw intensity and passion."
For this performance, Sigourney Weaver was nominated for an Emmy Award and has been nominated for a Golden Globe. She was previously nominated for a SAG Award in 1997 for "Snow White: A Tale of Terror."
—Georgina Spelvin