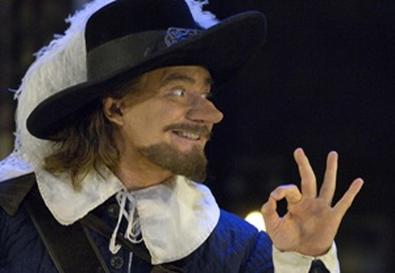 Kevin Bacon, 'Taking Chance'
In this powerful, fact-based film, skillfully crafted as a visually moving journey, Kevin Bacon stars as Lt. Col. Mike Strobl, an officer making his way across America, who unintentionally touches the lives of the people he meets while escorting the body of Pfc. Chance Phelps back to his hometown of Dubois, Wyo. A dedicated Marine, Strobl is conflicted by not being on the front lines, instead relegated to life behind a desk in a cubicle. Hoping for inner resolution, he volunteers for escort duty.
In an online interview with HBO, when asked what about the role surprised him the most, Bacon responded, "Actually, the whole process of making the film. It felt in some ways similar to what I imagined the original journey to be." Bacon is no stranger to difficult or diverse roles, collecting kudos, nominations, and awards for his broad range of characters—from a pedophile in "The Woodsman" to an astronaut in "Apollo 13." In "Taking Chance," Bacon's gestures and restraint paint their own picture and tell their own story, whether Strobl is sitting silently behind the wheel of a car or on a plane next to a stranger who is challenging his choices.
In a role in which another actor might have piled on the sentimentality, Bacon never does. He gives integrity to the officer and therefore integrity to the fallen Marine he escorts. Even in Bacon's most emotionally invested scenes, he ups the credibility of the officer-and-a-gentleman Strobl. In one of the film's more potent scenes, Strobl is told, "You are his witness now. Without a witness, they just disappear." Shoulders high, jaw locked, Bacon uses his eyes alone to deliver the knowing response.
For this performance, Kevin Bacon was nominated for an Emmy Award and has been nominated for a Golden Globe. He won a SAG Award in 1996 as a member of the "Apollo 13" ensemble and was nominated in 1996 for "Murder in the First," in 2004 as a member of the "Mystic River" ensemble, and in 2009 as a member of the "Frost/Nixon" ensemble.
—Laura Butler
Cuba Gooding Jr., 'Gifted Hands: The Ben Carson Story'
After his acclaimed performance in "Boyz N the Hood" and winning an Oscar for "Jerry Maguire," Cuba Gooding Jr. appeared to be turning into one of the finest actors of his generation. But after missteps like "Boat Trip" and "Snow Dogs," Gooding became known as more of a punch line than an actor. But his turn as the title character in the TNT film "Gifted Hands: The Ben Carson Story" has reminded people what a skilled and intelligent actor he can be when given the right role.
In this true story, Gooding plays a man who overcame many challenges—he was raised by a single mother who had to juggle several jobs and suffered at school due to his bad eyesight—to become a successful pediatric surgeon. Wisely, the film doesn't concentrate just on his early struggles but also utilizes a story line set in the present day, with Carson about to perform surgery to separate conjoined twins.
Gooding plays Carson from his early days at Yale University and his internship at Johns Hopkins. The actor projects an almost angelic calm in his character's fierce dedication to his work. But there is an anger beneath the surface, the residual effect of Carson's difficult upbringing and a problem that he would continue to struggle with. It becomes clear that Carson, while a gracious individual, is not one to be trifled with. The flashbacks also show Carson meeting his future wife, played by Aunjanue Ellis, and it's nice to see Gooding step back from the medical world and play lighter scenes. He and Ellis share a nice, easy chemistry and rapport.
But it's the medical scenes where Gooding truly shines, with Carson agonizing over his every choice and struggling to maintain his professional demeanor. It's a powerful performance; as David Hinckley said in the New York Daily News, Carson's "story speaks for itself, and Gooding, in particular, gives it an eloquent voice."

Cuba Gooding Jr. won a SAG Award in 2007 for "Jerry Maguire" and was nominated in 2008 as a member of the "American Gangster" ensemble.
—Jenelle Riley
Jeremy Irons, 'Georgia O'Keeffe'
Jeremy Irons last won a SAG Award for playing the consort of a powerful woman, Elizabeth I, in the HBO miniseries of that name. He's in the running again for another TV production about a strong woman, the pioneering and influential artist Georgia O'Keeffe. But just as his Earl of Leicester was no milksop to the Virgin Queen, his Alfred Steiglitz is no passive partner to Joan Allen's O'Keeffe.
Steiglitz first encounters her in the early 1900s, when she walks into his gallery and demands that he take down her paintings. He later employs her as a model for his trailblazing photographs. As she begins to develop her own distinct artistic identity, she chafes at his control, finally moving from New York and him to the wide-open spaces of New Mexico.
Though the spotlight is on Allen, Irons holds his own as he intensely conveys Steiglitz's frustration at being left alone. In one startlingly real scene, he angrily reads a letter from O'Keeffe and sarcastically comments on how wonderful she finds the climate and inspiration of her new environment. He goes from outrage to desperation, flinging the pages of the letter aside and crying like a lost child, "I just want her to come home." Finally he seeks refuge in the arms of his new mistress, not even realizing that his infidelity is the cause of O'Keeffe's absence.
Irons and Allen appeared together last season on Broadway in "Impressionism," and it's apparent onscreen that they're comfortable with each other. There is an easy flow in their scenes as the two progress from ardent disciple and fatherlike mentor to passionate lovers to artists who have outgrown each other. In one scene, the quicksilver transitions in their volatile relationship are handled with such finesse you scarcely notice the changes. One minute they are fondly embracing, the next they are at each other's throats.
The selfish Steiglitz could have easily come across as a one-dimensional beast, but Irons remembers that this egotistical genius does love O'Keeffe, and that emotion informs his sometimes erratic behavior.

For this performance, Jeremy Irons has also been nominated for a Golden Globe. He won a SAG Award in 2007 for "Elizabeth I."
—David Sheward
Kevin Kline, 'Cyrano de Bergerac'
Edmond Rostand's hero in "Cyrano de Bergerac"—a man large of nose and heart—was a dream role for Kevin Kline, and while playing it on Broadway he allowed cameras to film the show for a PBS presentation of "Great Performances." Playing the expert swordsman with a facility for poetry is difficult enough, but adjusting the performance for half a dozen cameras placed throughout the audience added an extra challenge—one that Kline chose to ignore.
As he told Gail Pennington of the St. Louis Post-Dispatch, "I never noticed them. I think I asked, 'Are they going to be in our faces, or can we sort of ignore them?,' because there's something antithetical to the whole theatrical experience. We were encouraged not to think about the cameras, and it was just a performance."
And what a performance. Kline plays Cyrano as an Errol Flynn–like swashbuckler (coincidentally, the actor portrayed Flynn in the film "Chaplin"), but he's also remarkably restrained. His Cyrano is less blustery than previous interpretations—such as Gérard Depardieu's Oscar-nominated 1990 turn—and less pleased with his own wit. Which makes it all the more heartbreaking when he loses his love, Roxane (played by Jennifer Garner), to the handsome but dull Christian (Daniel Sunjata). Believing Roxane will never love him because of his oversized snout, Cyrano helps Christian woo and win her. It's a beautiful, selfless act, and Kline nails the famous seduction scene perfectly.
Above all, his Cyrano is wildly entertaining, which was something Kline aspired to from the beginning. As he said to Pennington, "It's a good date movie or date play. It's very romantic, and one hopes that it will find its way to an audience of all ages. [But encouragement] sort of behooves the parents. The sadness would be if parents are not guiding their children to certain cultural events that the children won't take as painful medicine but actually enjoy."

Kevin Kline won a SAG Award in 2007 for "As You Like It" and was nominated in 2002 for "Life as a House."
—Jenelle Riley
Tom Wilkinson, 'A Number'
Though he came to film and TV stardom after age 50, Tom Wilkinson has been making up for lost time by turning in great performance after great performance. He shines in roles both dramatic ("In the Bedroom," "Normal," "Michael Clayton") and comedic ("Shakespeare in Love," "The Full Monty") and proves he doesn't take himself too seriously by popping up in popcorn entertainment like "Rush Hour."
Wilkinson is also up for a good part wherever he finds it, even if it's in a small, offbeat production like "A Number," which was made for the BBC in 2007 and aired in America on HBO last year. Based on the play by Caryl Churchill, "A Number" tells the story of a man named Bernard (Rhys Ifans) who realizes he might actually be a clone—just one of a number of Bernards. He confronts his father, Salter, beginning a tense cat-and-mouse game as the son seeks the truth.
As Salter, Wilkinson runs a gamut of emotions and expressions as he tries to evade giving answers. At times the character is shifty and nebulous; at other times he appears panicked and possibly insane.
The film is essentially a two-hander featuring two strong actors, and both rise to the occasion admirably. The pair are asked to question their entire history—one we don't see onscreen but get a strong sense of through the performances. Wilkinson even manages to eke out some empathy in the audience for Salter, as the character finds creative ways to justify his actions. "A Number" poses big questions about identity and family. But with riveting performances like Wilkinson's, it is, above all, grand entertainment.
Tom Wilkinson won SAG Awards in 1998 and 1999 as a member of the ensembles of "The Full Monty" and "Shakespeare in Love." He was nominated individually and as a member of the ensemble in 2002 for "In the Bedroom"; he was also nominated in 2008 for "Michael Clayton" and in 2009 for "John Adams."
—Jenelle Riley