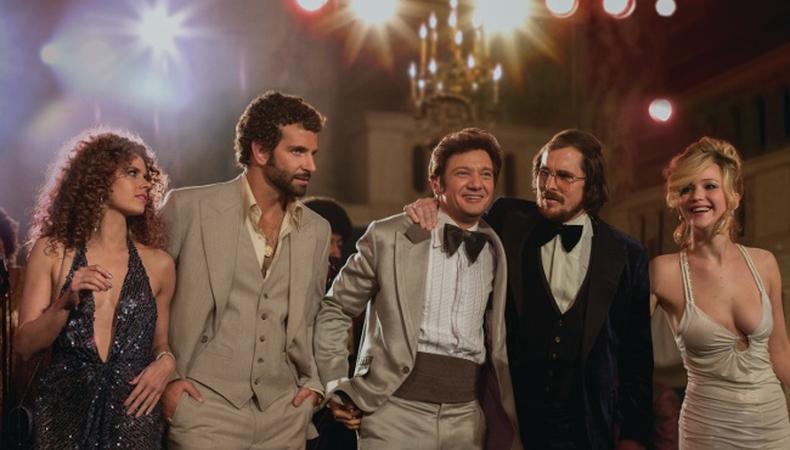 Outstanding Performance by a Cast in a Motion Picture
"12 Years a Slave"
The closest thing to a certainty this year, Steve McQueen's slavery epic is both beautiful and chilling—and perfectly cast. Eschewing sympathy for empathy and refusing to let the audience off the hook, that many of McQueen's cast made us hate them was impressive; that we couldn't look away was astounding.
"American Hustle"
David O. Russell reteamed with a lot of his former stars for this con comedy set in the 1970s, and the ease of reuniting shows in the final product. Christian Bale and Amy Adams do inspired work as a grifter couple, while Bradley Cooper brilliantly subverts his sex symbol image and Jennifer Lawrence turns in an atypically toxic performance. Getting movie stars to share the screen equally is tricky, but "American Hustle" succeeded admirably.
"August: Osage County"
An all-star cast doesn't necessarily translate to one that meshes well, but it certainly did in John Wells' adaptation of the Pulitzer Prize–winning play. Meryl Streep and Julia Roberts may be the big names, but the less famous actors (Julianne Nicholson, Margo Martindale) make the cast seem like a real (dysfunctional) family.
"Dallas Buyers Club"
Creating a tight-knit community on film requires a tight-knit community on set, and from all reports that's exactly what this labor of love had. Led by Matthew McConaughey, the ensemble included Jennifer Garner, Steve Zahn, and Denis O'Hare working to create a powerful, memorable movie about overcoming some of the darkest days in America in the 1980s.
"Lee Daniels' The Butler"
Famous people playing famous people can be an exercise in self-indulgence, but Lee Daniels kept things in check in this drama about a White House butler and the history of the civil rights movement in America. Jane Fonda, Alan Rickman, James Marsden, and others crop up as presidents and first ladies, but it's the everyday characters created by Forest Whitaker, Oprah Winfrey, and David Oyelowo who ground the film.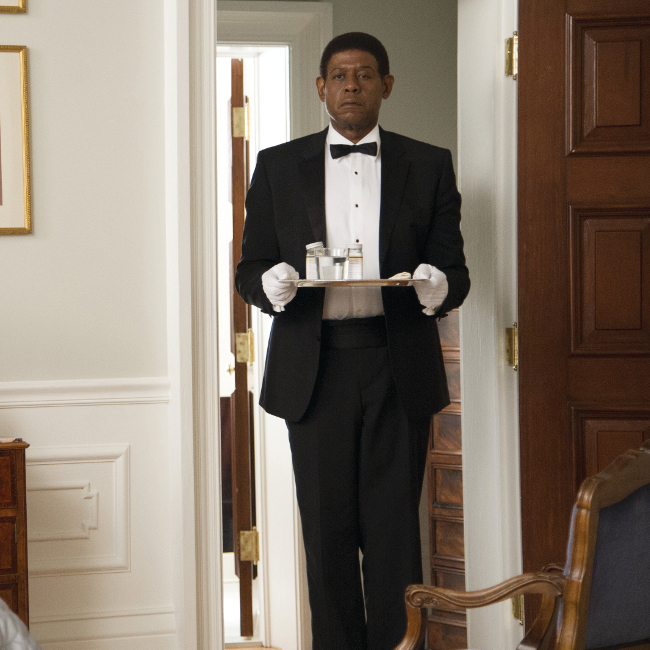 Outstanding Performance by a Male Actor in a Leading Role
Bruce Dern, "Nebraska"
As a man on a mission to leave behind some sort of legacy, Dern has been described using many words—among them grizzled, weathered, and gaunt. He is, above all else, very good. The quiet center of Alexander Payne's familial comedy-drama, Dern's work is so subtle that it's almost invisible—but don't be fooled; there's a lot going on under that hair.
Chiwetel Ejiofor, "12 Years a Slave"
As the man at the middle of what is becoming this year's most relentlessly debated movie, Ejiofor is at last getting the attention he deserves. His turn as free man-turned-slave Solomon Northup is soulful, haunting, moving, and totally worth the discussion.
Tom Hanks, "Captain Phillips"
That Hanks, the most decorated American actor of his generation, is getting raves calling his turn in "Captain Phillips" one of the best of his career, is just about all you need to know. As the skipper of a cargo ship attacked by Somali pirates, Hanks gets the chance to show a range even broader than anything previously demonstrated in his most iconic roles.
Matthew McConaughey, "Dallas Buyers Club"
McConaughey has successfully transformed himself from the king of paycheck rom-coms to a kinetic leading man in intimately made films. As a homophobic cowboy whose battle with HIV turns him into a patron saint of some of the AIDS plague's earliest victims, McConaughey is showing us something special—a long underrated actor finally revealing his full power.
Forest Whitaker, "Lee Daniels' The Butler"
Whitaker is more than just our guide on a tour of the history of the civil rights movement. He is a father and husband whose own life experiences reflect the same roiling turmoil as that of the country. Surrounded by top-notch actors cut loose to go big with turns as some of the most recognizable figures of the last century, Whitaker manages to stand out and hold our attention.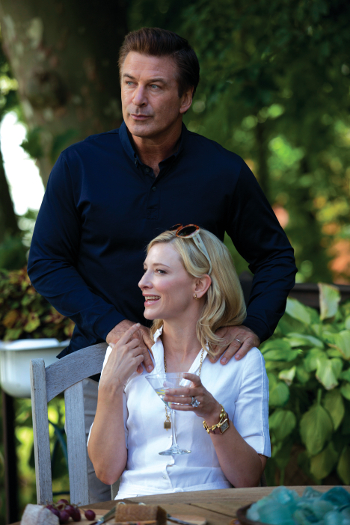 Outstanding Performance by a Female Actor in a Leading Role
Cate Blanchett, "Blue Jasmine"
A stylish nervous breakdown is always an attention-getter—but Blanchett's deterioration is so quiet and moving that the effect is mesmerizing. Many have claimed that this is a variation of her acclaimed Blanche DuBois. But this is much better than a retread of an American classic: This is watching the creation of a new American classic right before your eyes.
Sandra Bullock, "Gravity"
Bullock puts to bed those myths that an actor can only be good with a great script or opposite another great actor, like a game of pingpong. Alone in front of a green screen and frequently muttering technical data to herself, Bullock soars where other actors would flail.
Judi Dench, "Philomena"
As a now elderly woman who is searching for the child she gave away decades before, Dench does fine, nuanced work that serves as a reminder of what a powerhouse talent she was before she started cashing in on that twinkle in her eye. A welcome return to form.
Meryl Streep, "August: Osage County"
Violet Weston is a feast of a role, and Streep brought the hungry in "August: Osage County." Streep proved that she gives good villain in "The Devil Wears Prada," and she's taking that skill to the next level here as the matriarch from hell, presiding with ghoulish glee over one very dysfunctional family reunion.
Emma Thompson, "Saving Mr. Banks"
As the author of the Mary Poppins books that Walt Disney so greedily desired to adapt, Thompson is, strangely, the voice of sanity amid the Disney cheerfulness. Making a critic of a beloved family classic into someone worthy of cheering takes considerable finesse—but then, Thompson has long been practically perfect in every way.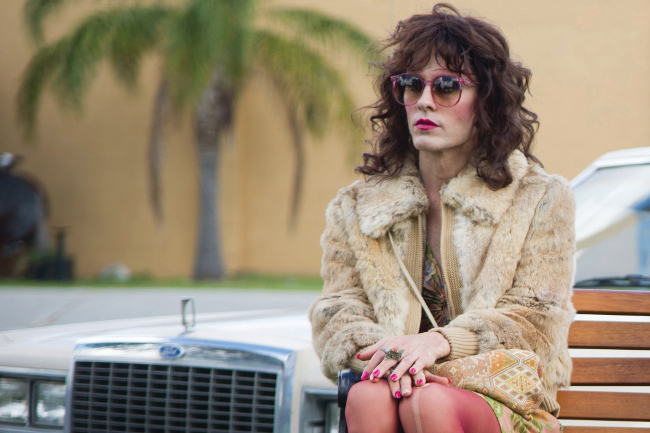 Outstanding Performance by a Male Actor in a Supporting Role
Barkhad Abdi, "Captain Phillips"
In his film debut, Abdi goes up against Tom Hanks, an unenviable position in which to be. But Abdi's Somali pirate, a loose cannon who seems capable of almost anything, is a force with which to be reckoned. And we find ourselves sympathizing with his plight even as he makes a beloved actor bleed.
Daniel Brühl, "Rush"
Brühl doesn't shy away from the less pleasant aspects of real-life racecar driver Niki Lauda. He's abrasive, cocky, and dismissive throughout the film, but Brühl also brings a powerful drive to the role, one that ultimately sets the stage for Lauda's redemption. Overplaying the smugness would have been easy, but Brühl wisely chose instead to keep Lauda flawed but relatable.
Michael Fassbender, "12 Years a Slave"
As madman slave master Edwin Epps, Fassbender plays a cruel, sadistic slave-owner without slipping into caricature. The result? A man so consumed with self-loathing for loving a black woman that he becomes near sociopathic, and another in Fassbender's growing gallery of studies in curdled masculinity.
James Gandolfini, "Enough Said"
One of Gandolfini's last roles was also one of his most surprising: the lovable lug at the heart of Nicole Holofcener's film. Sweetly infatuated by Julia Louis-Dreyfus' self-sabotaging massage therapist, Gandolfini imbues Al with soulfulness and a dawning heartbreak as he discovers the ways he's been betrayed.
Jared Leto, "Dallas Buyers Club"
As the destined-for-tragedy transsexual Rayon, Leto disappears behind big, 1980s Texas hair, Foster Grants, and killer makeup. But he also finds the tattered dignity and steely will to this bruised magnolia, locating the heart of the film at the same time.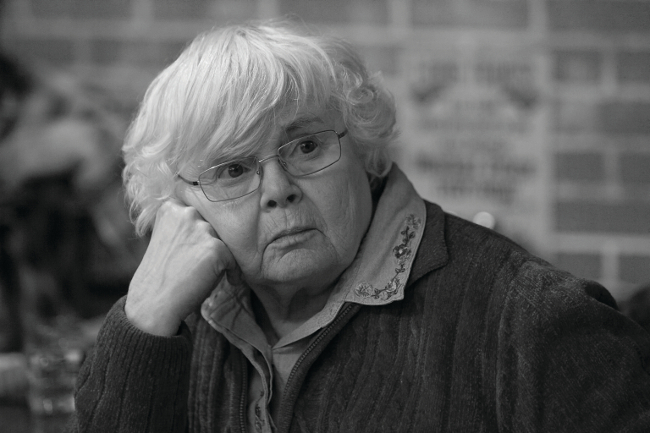 Outstanding Performance by a Female Actor in a Supporting Role
Jennifer Lawrence, "American Hustle"
Lawrence is catching fire—and not just in her latest addition to the "Hunger Games" trilogy. The Oscar winner reteams with her "Silver Linings Playbook" director David O. Russell to play the sexy wife of Christian Bale's con man. A cigarette-smoking, tough-talking bombshell, Lawrence proves she's up to whatever acting challenge is thrown her way.
Lupita Nyong'o, "12 Years a Slave"
Nyong'o's tragically honest portrayal of a young slave forced into a sexual relationship with her owner provides a chilling examination of the abuse that many endured, and the foundation for our empathy and understanding.
Julia Roberts, "August: Osage County"
Audiences see another side to America's Sweetheart as the combative daughter to Meryl Streep's Violet, and a woman terrified of turning into her caustic mother. Hurling accusations, threats, and ultimatums, Roberts lets the downtrodden Barbara eclipse her usual sunny demeanor and holds her own opposite a cast stuffed with talent.
June Squibb, "Nebraska"
In a movie based on father and son relationships, Squibb is a breath of fresh, delightful air as Kate Grant. Squibb plays Kate (the voice of reason) with brutal honesty, unmistakable fierceness, and perfect comic timing.
Oprah Winfrey, "Lee Daniels' The Butler"
Although "The Butler" was inspired by a true story, like many of the season's favorites, Winfrey wasn't bound by a strict interpretation of a real person and, casting aside her very public persona, brought emotional depth and strength of character to the butler's wife.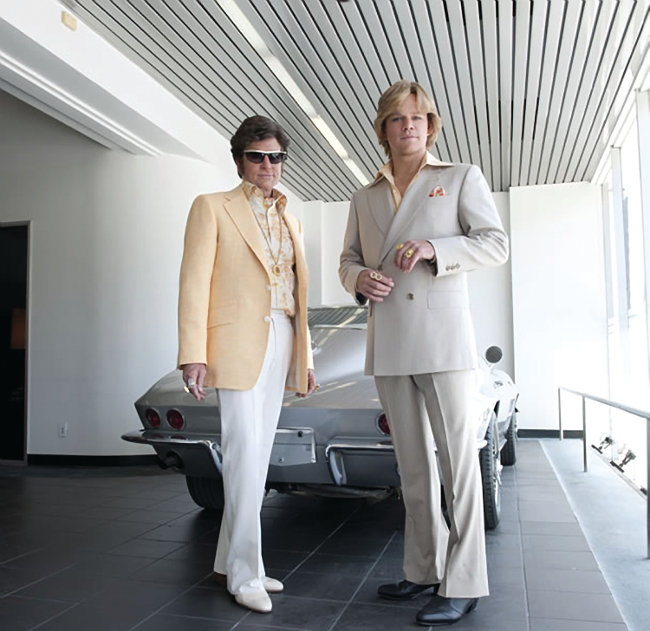 Outstanding Performance by a Male Actor in a TV Movie or Miniseries
Matt Damon, "Behind the Candelabra"
We've always suspected that Damon could play any role handed to him, but now we know for sure. As Scott Thorson, Damon brings authenticity to a very complex role as a boy toy who chafes under his lover's iron rule.
Michael Douglas, "Behind the Candelabra"
Douglas' performance as Liberace is almost uncomfortably real, as he aces the mannerisms, voice, and over-the-top nature that Liberace exemplified, plus a terrifying ego and a very real showmanship.
Jeremy Irons, "The Hollow Crown"
Irons portraying Shakespearean characters is a natural fit, but he wowed everyone as King Henry IV. With one masterful performance, Irons allowed the audience to not only understand history but to relate to it.
Rob Lowe, "Killing Kennedy"
Stepping away from his day job on "Parks and Rec," Lowe rose to the challenge of playing one of the nation's most beloved presidents, keeping JFK real without lapsing into caricature.
Al Pacino, "Phil Spector"
Forget the hair—Pacino's performance as record producer Spector, on trial for murder, is a twisty, complex turn that proves the Oscar winner isn't just resting on his laurels.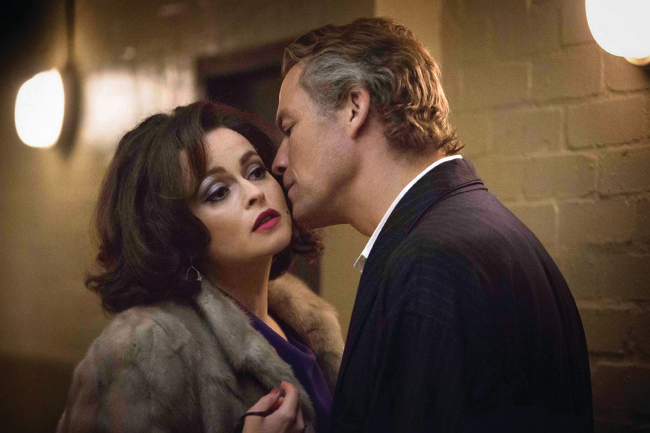 Outstanding Performance by a Female Actor in a TV Movie or Miniseries
Angela Bassett, "Betty & Coretta"
Bassett is mesmerizing as Coretta Scott King, the widow of Martin Luther King Jr., in this inspiring story, finding the real woman underneath the public persona.
Helena Bonham Carter, "Burton and Taylor"
Many have tried to capture Elizabeth Taylor, but Bonham Carter is the only one to have succeeded. Petulant, strung-out, or steely, her Liz reminds us of why we (and Richard Burton) fell in love with her to begin with.
Holly Hunter, "Top of the Lake"
As the eerie and cryptic guru GJ, Hunter's performance is a master class in how to use stillness and quiet to draw attention. In a miniseries about the sometimes violent search for a missing teen, that bold decision paid off.
Helen Mirren, "Phil Spector"
Defending Phil Spector is a tall order, but Mirren found the truth to real-life attorney Linda Kenney Baden, who begins as skeptical of her client's innocence but ends fully convinced that he didn't do it.
Elisabeth Moss, "Top of the Lake"
After years on "Mad Men," Moss busted out of Peggy's girdle, mastered a New Zealand accent, and turned in a riveting performance as a woman investigating a teen's disappearance while avoiding her own personal problems for as long as possible.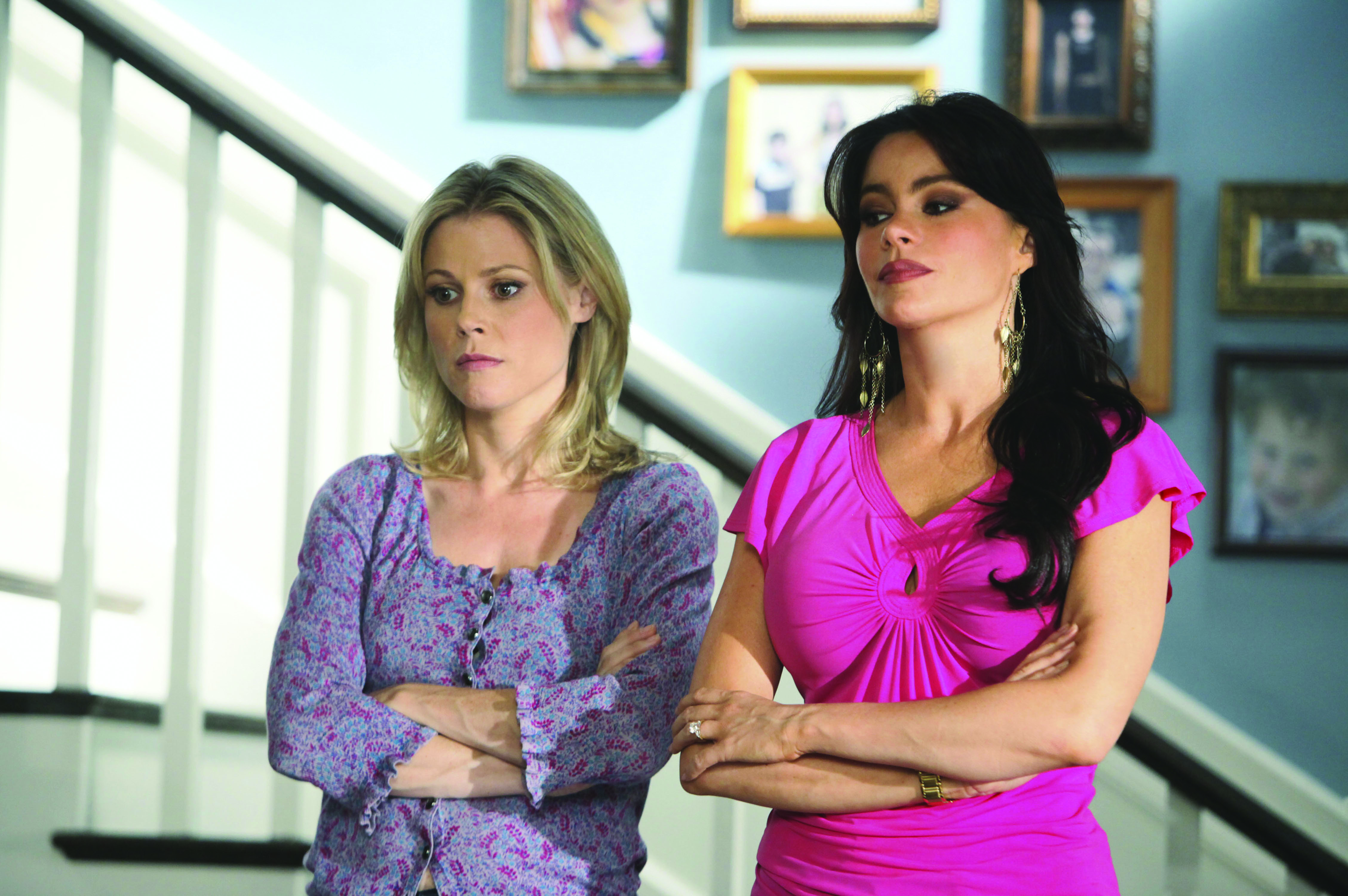 Outstanding Ensemble in a Comedy Series
"30 Rock"
Few can hit a deadpan line reading like Alec Baldwin, and creator and star Tina Fey delivered one of the most surprising, relatable female characters of all time. Blessed with every conceivable kind of joke, "30 Rock" was comedy nirvana with a cast perfectly matched to the material.
"Arrested Development"
With the release of an unexpected fourth season on Netflix seven years after the show was canceled, "Arrested Development" is an obvious fan favorite. The series was hailed as the catalyst to a new era of comedy, and with its absurd characters still together, the Bluth family didn't cease to amaze.
"The Big Bang Theory"
The quirky comedy where nerds and comic books rule is nominated for a third straight year. Wrapped in a brainiac bubble of geeked-out hilarity, the show's satirical tone takes aim at the perceived absurdity of mainstream culture.
"Modern Family"
This laugh-out-loud mockumentary-style sitcom is smartly cast, wittily written, and boasts crackerjack timing. It's a fast-paced comedy that captures all the idiosyncrasies of today's modern family and what it is to be a parent in the thick of it all.
"Veep"
A riotous "behind-the-scenes" look at just how short people in the midst of political spectacles fall. Julia Louis-Dreyfus brings that marvelous physicality reminiscent of "Seinfeld's" Elaine to a show that's dirty, cynical, satirical, and—best of all—plays up to our most beloved political clichés. Bask in the (awkward, numbing) ineptitude of D.C.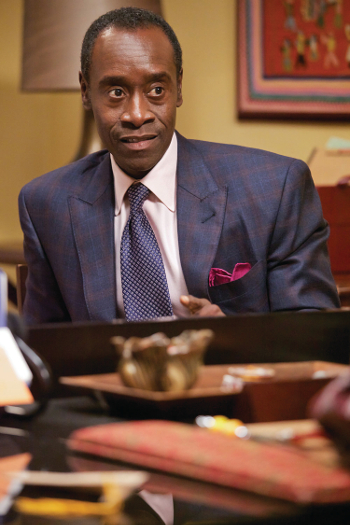 Outstanding Performance by a Male Actor in a Comedy Series
Alec Baldwin, "30 Rock"
Baldwin has won in this category seven years in a row for his portrayal of network executive Jack Donaghy. In the show's final episodes, Baldwin proved that no one does comically smug (or frantic) better.
Jason Bateman, "Arrested Development"
The grounded core to the crazy antics of the Bluth clan, Bateman picked up right where he left off as Michael Bluth, believing he's morally superior to his family but just as unwittingly confused and Machiavellian as the rest of them.
Ty Burrell, "Modern Family"
Burrell has been bringing his child-like character Phil Dunphy for five seasons now. As the self-consciously laid-back "cool dad," Burrell takes a character that could be lost in the shuffle and makes him sing.
Don Cheadle, "House of Lies"
As Marty Kaan, Cheadle is a scathing, cutthroat, self-loathing consultant, bringing believability to a character who sometimes does unbelievable things.
Jim Parsons, "The Big Bang Theory"
Parsons is convincing and truly funny as uber-nerd Sheldon Cooper, turning what could be a grating know-it-all into a lovable, witty, and charming man.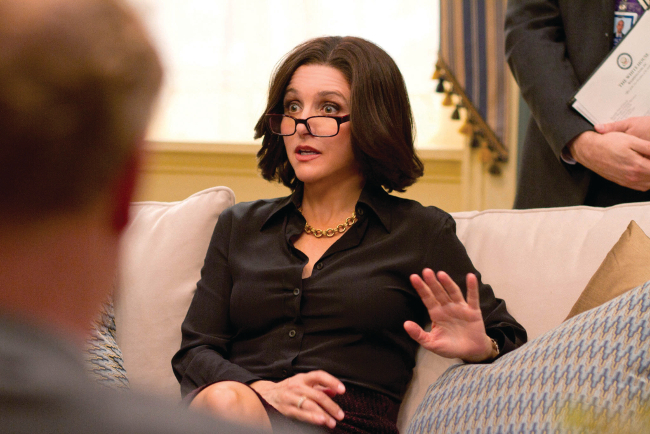 Outstanding Performance by a Female Actor in a Comedy Series
Mayim Bialik, "The Big Bang Theory"
Bialik has found the perfect home for her quirky intelligence on "The Big Bang Theory." A scientist in real life, she's smart, complicated, and deeply funny as Sheldon's "friend that's a girl, but not a girlfriend," Dr. Amy Farrah Fowler.
Julie Bowen, "Modern Family"
Bowen's Claire Dunphy is not the most relaxed of mothers, but we could never say we don't enjoy watching her delve into Claire and appreciate the layers she continues to find in the uptight mom.
Edie Falco, "Nurse Jackie"
As Jackie Peyton, Falco plays a stoic, levelheaded New York City emergency room nurse with a penchant for prescription painkillers. The forcefulness she brings to the dark comedy is probably what won her the Emmy in 2010 and consecutive nominations every year since. Maybe a SAG Award is in the cards too.
Tina Fey, "30 Rock"
The show's writer and creator has proven time and again that her talent bucket is pretty much bottomless. Fey will run through any territory in the name of getting a laugh, and it's paid off.
Julia Louis-Dreyfus, "Veep"
The four-time Emmy Award–winner just gets better with time. Her performance as the narcissistic, blundering vice president is brilliant, and she's continuing to prove that the "traditional" trajectory of longtime female actors in Hollywood is definitely outdated.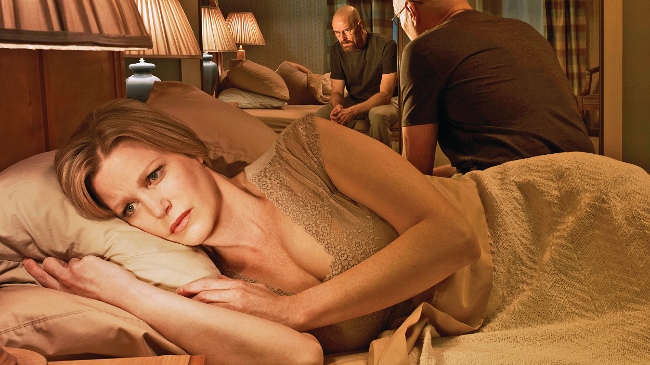 Outstanding Ensemble in a Drama Series
"Boardwalk Empire"
The dramatic period piece has had its share of shocks and shootouts, and shows no signs of slowing. HBO has renewed the series for a fifth season, so hungry fans can expect more from the boozy gangster wonderland of 1920s Atlantic City.
"Breaking Bad"
The entire ensemble of "Breaking Bad" carried their characters to the very root of their vices and emerged victorious. The AMC series has garnered a tremendous cult following over its explosive five seasons, and has all but dominated awards shows since its finale.
"Downton Abbey"
This intelligent, funny, and sumptuous drama features a captivating cast that explores the precipice of life in World War I–era England. "Gosford Park" writer Julian Fellowes brings his usual talent to the table.
"Game of Thrones"
Watching this phenomenal cast against the drop-dead gorgeous backdrop of the show's set is almost sinfully delightful. "GoT" is not found wanting when it comes to the sin department, as sex, blood, and domination run rampant. Just like Tyrion, the dark fable's got swag.
"Homeland"
This high-stakes drama never condescends to its audience and provides excellent commentary on the post-9/11 world. It's tense as a thriller and tender when looking at bipolar CIA agent Carrie Mathison's struggle to trust herself and those around her.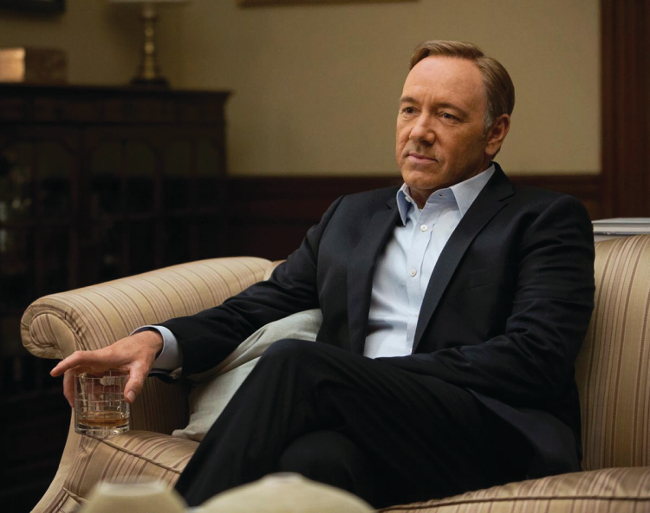 Outstanding Performance by a Male Actor in a Drama Series
Steve Buscemi, "Boardwalk Empire"
Maybe it's his eerie eyes or ashen skin that add to the complexity of Buscemi's oddball characters, but his performance as Atlantic City's ruthless, manipulative treasurer is no different—and nothing short of brilliant.
Bryan Cranston, "Breaking Bad"
Watching Walter White descend (ascend?) into the underworld of meth distribution was one of the most glorious and explosive moral disintegrations to hit television. Cranston's gravelly voice and rugged face, paired with his utterly convincing portrayal of a pathetic schoolteacher turned "Heisenberg," might nab him the award for the second year in a row.
Jeff Daniels, "The Newsroom"
Jeff Daniels seamlessly delivers show creator Aaron Sorkin's smarty-pants monologues. He recently won an Emmy for his performance, beating out fellow SAG nominees Bryan Cranston and Kevin Spacey. We're curious to see if he can beat them here as well.
Peter Dinklage, "Game of Thrones"
We know Tyrion's all menace, sex, and sarcasm, but Emmy-winning Dinklage brings his charisma, knack for delivering witty lines, and an antihero's dry sense of humor to "Game of Thrones." Much like "the Imp," Dinklage owns his kingdom.
Kevin Spacey, "House of Cards"
Calculating politician Francis Underwood is as callous as he is deft when it comes to climbing Washington's political ladder, willing to undercut anyone standing in his way. Spacey convincingly balances the chill of Underwood's demeanor with the fire of rage in this Netflix original.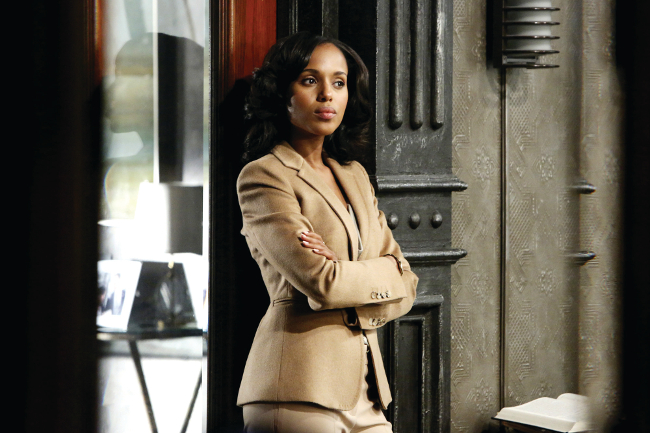 Outstanding Performance by a Female Actor in a Drama Series
Claire Danes, "Homeland"
Playing a bipolar CIA agent in love with a terrorist sounds complicated, but Danes' talent keeps us empathetic to her abrasive and impulsive character. Danes won in this category last year for her performance—not to mention back-to-back Emmys and Golden Globes, and a "favorite show" nod from President Obama.
Anna Gunn, "Breaking Bad"
It's not easy being wife to the biggest meth kingpin New Mexico has ever seen, but Gunn grabbed the role by the cojones, maintaining a spine of steel through practically the entire series. Although she received backlash for antagonizing "Heisenberg," the "bad guy" has to make us feel; love Skyler or hate her, Gunn got it done.
Jessica Lange, "American Horror Story: Coven"
Lange has been dynamic since the first season of "American Horror Story." Perhaps her self-proclaimed proclivity for the dark and tragic is what makes her characters so compelling. As the selfish, dying Fiona, Lange found both the comedy and the pathos and made it all look glamorous.
Maggie Smith, "Downton Abbey"
When Violet, the Dowager Countess of Grantham, saunters onscreen, her snobbishness is to be expected—as are Smith's impeccable delivery and grace. She gives her character heart, but that doesn't mean we don't enjoy seeing the mask slip just a bit in the face of a challenge.
Kerry Washington, "Scandal"
Washington is ever enthralling as Olivia Pope, a Washington, D.C., fixer who can't seem to fix herself. With each episode, Washington adds more layers to her portrayal, pulling audiences closer with each line.