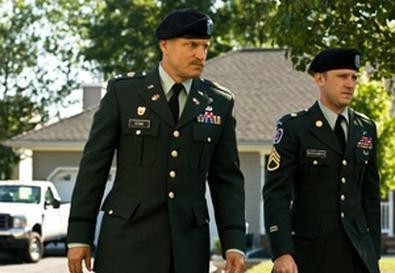 Matt Damon, 'Invictus'
Holding your own opposite Morgan Freeman is no mean feat. Holding your own opposite Morgan Freeman playing Nelson Mandela—well, that's an accomplishment that should probably be classified as Olympian, at the very least. Yet Matt Damon manages the seemingly impossible task of going toe-to-toe with one of our greatest living thespians.
The two share an instantly believable rapport, a bond that seems to strengthen as the film progresses. As apolitical South African rugby captain Francois Pienaar, Damon captures a certain kind of quiet grace. When he rallies his team, when he experiences a moment of triumph out on the field, we can't help but cheer.
And yet Damon doesn't make Pienaar a one-dimensional sports hero; he also gives the character a rich inner life. There's a scene in which Pienaar visits Mandela's old cell and takes a minute to close himself in behind bars, experiencing the miniscule space as Mandela once did. As Pienaar envisions Mandela's years in prison, Damon allows the moment to breathe, fully and completely. Muted horror plays across his face as the full weight of the now-president's journey to freedom sinks in. This scene could have been a ham-fisted moment, a bit of melodrama that beats us over the head with its message. But Damon's restraint ensures that it's anything but; rather, it's a moment of quiet revelation and realization, a moment that finally gives Pienaar a greater level of understanding and sends his entire mindset spinning in a new direction.
It's a performance that caps off a banner year for the actor, as detailed by Washington Post writer Ann Hornaday: "If 2009 had a most valuable player award for the movies, it would have to go to Matt Damon…. He has been consistently spot-on and almost breathtakingly self-effacing. He has become that most unlikely Hollywood rarity: a character actor with a matinee-idol face."
For this performance, Matt Damon has also been nominated for a Golden Globe. He was nominated for SAG Awards in 1998 both individually and as part of the "Good Will Hunting" ensemble, in 1999 as part of the "Saving Private Ryan" ensemble, and in 2007 as part of the ensemble of "The Departed."
—Sarah Kuhn
Woody Harrelson, 'The Messenger'
In "The Messenger," Woody Harrelson is stunning as a tightly wound, no-nonsense, bureaucratic military officer whose job is to notify the next of kin (or NOK) when a loved one has been killed in the line of duty in Iraq. The character's joy in teaching the rules to his young partner, returning soldier Will Montgomery (Ben Foster), is almost palpable beneath an aggressive and stoic veneer. For example, Rule 1: Never touch the NOKs. You never know how they might react, and more important, the soldier must always remain detached.
Harrelson's Tony Stone—an apt name—has turned detachment into an art form. He has forged a persona: the man who has seen it all and feels nothing. When he knocks on the door to deliver the horrible news, his face is immobile, his eyes glazed. His body language is equally suggestive as he strides across the ground, arms paralyzed at his sides, his joints rigid, his muscles taut. Even when the character is allegedly having a good time—spewing ribald jokes, womanizing, and boozing—Harrelson evokes a tortured automaton. Stone is an intensely lonely, isolated man.
Though he has nothing in common with Montgomery, Stone can't stop talking to him, even when the two are not working. But the chatter is more like a growling assault than a conversation. The bluster is camouflage for a desperate need for companionship. Stone has neither a girlfriend nor a buddy until he encounters Montgomery. He doesn't know how to connect. The most powerful scene takes place when Stone's self-destructive alcoholism causes his façade to begin to disintegrate. It's one of the most intense expressions of repressed anguish and torment erupting on screen in recent years.
For this performance, Woody Harrelson has also been nominated for a Golden Globe and a Spirit Award. He won a SAG Award in 2007 as a member of the "No Country for Old Men" ensemble and was nominated in 1996 for "The People vs. Larry Flynt."

—Simi Horwitz
Christopher Plummer, 'The Last Station'
A particularly delightful scene in "The Last Station" features Leo Tolstoy (Christopher Plummer) playfully flirting with his wife, Countess Sofya (Helen Mirren), by clucking like a chicken, arms flapping against his sides, and bounding about the room in a wild parody of a bird in heat. It's a high point in a bravura performance. Plummer joyously embraces the contradictory elements in the great Russian novelist, who, at the end of his life, renounced his title and property.
Plummer is equally plausible whether Tolstoy is denouncing the privileges of aristocracy or ordering the serfs around. His character is boisterous and jolly and also a manipulated old codger, seduced by the flattering careerists who surround him, and occasionally on the edge of senility. As the actor portrays him, Tolstoy is a neutral pawn between his trusted but slimy disciple Chertkov (Paul Giamatti) and his fiery, politically conservative wife, who is in a towering rage over his decision to leave their children without an inheritance. Plummer's Tolstoy is torn, but not that torn. He is, after all, the great Tolstoy and revels in being so.
Still, Plummer shows him adoring his wife but despairing over her politics, temper tantrums, and open contempt for Chertkov. At the end, despite being frail and ill, the novelist decides he must leave her and his beloved estate. Plummer makes clear that Tolstoy's decision has been a struggle that has left him with no option if he is to save his sanity. Similarly, even as he lies immobilized on his deathbed, you can sense his turmoil over wanting to see his wife yet not wanting her to know it. True to character, even in his final moments he wants to win.
For this performance, Christopher Plummer has also been nominated for a Golden Globe and a Spirit Award. He was nominated for a SAG Award in 2005 for "Our Fathers" and in 2002 as a member of the ensemble of "A Beautiful Mind."
—Simi Horwitz
Stanley Tucci, 'The Lovely Bones'
As George Harvey, the seemingly mild-mannered murderer in "The Lovely Bones," Stanley Tucci dons a greasy comb-over, a bushy mustache, and the shambling walk of a social malcontent accustomed to blending into the crowd. But these aren't mere affectations. Tucci uses these superficial quirks to reach deep inside the character, creating a fully formed persona of quiet menace.
As soon as George appears onscreen, we know something's off, but we can't quite put our finger on it. And as the actor builds his performance throughout the film, he slowly and masterfully reveals the twisted soul lurking within. The exterior he presents as George is deceptively soft-spoken, but Tucci ensures that every supposedly normal gesture—every furtive look, every mumbled nicety—has an underlying thread of wild danger.
In one pivotal scene, George realizes he's left a piece of evidence—a murdered girl's bracelet—in plain view during a routine visit from the cops. As he struggles to hide the bracelet, Tucci runs through a gamut of emotions, from excitement to terror to relief. Yet he also makes sure that George's excessively calm demeanor never falters; the actor's in complete control of this multifaceted performance. It's ultimately a quiet scene filled mostly with inconsequential small talk, but watching Tucci perform what is essentially the acting equivalent of a particularly perilous tightrope act makes the whole thing nothing short of electrifying.
By the end of the film, we've forgotten we're watching Stanley Tucci with a comb-over; we're simply observing a meticulously crafted monster, a fully developed character whose shell of utter normalcy makes him all the more terrifying.
For this performance, Stanley Tucci has also been nominated for a Golden Globe. He was nominated for a SAG Award in 1999 for "Winchell."
—Sarah Kuhn
Christoph Waltz, 'Inglourious Basterds'
The character Col. Hans Landa starts off the film "Inglourious Basterds" by describing the German people as hawks and the Jewish people as rats to Perrier LaPadite (Denis Menochet), a simple French farmer hiding Jews under his floorboards. But it is clear that the animal Landa has commonality with is the snake: cunning and ready to strike at any moment. Whether he's torturing Shosanna Dreyfus (Mélanie Laurent) with false kindness while devouring a strudel or lunging at Bridget von Hammersmark (Diane Kruger) to strangle her, Landa is a sadistic and unpredictable villain. And Christoph Waltz's performance, even though he is playing one of the most deliciously evil characters to ever be put on screen, leaves us wanting more.
To get a feel for the range of work that Waltz contributes to the film, one need only look at the aforementioned opening scene with LaPadite and compare it with Landa's negotiation with Aldo Raine (Brad Pitt) to ensure his postwar survival. In the former, Landa embraces his nickname, "The Jew Hunter," to seem even more imposing and accomplish his task of rooting out the hidden family. In the latter, he feigns disgust at the name in an attempt to sway the Nazi killer into agreeing to a deal. Landa is ever shifting, taking whatever action is in his best interest. Despite his strong history with the S.S. and the Nazi Party, he doesn't blink when presented with the opportunity to let the four leaders perish, so long as he benefits.
Landa may be duplicitous and mercurial, but Waltz's undeniable charisma is constant. Simply put, when he's on the screen, the audience is riveted. Waltz turns in a career-making and scene-stealing performance that will continue to be recognized this awards season. In the words of Landa, "That's a bingo."
For this performance, Waltz has also been nominated for a Golden Globe. He is also nominated for a SAG Award as a member of the film's ensemble.
—Jessica Gardner