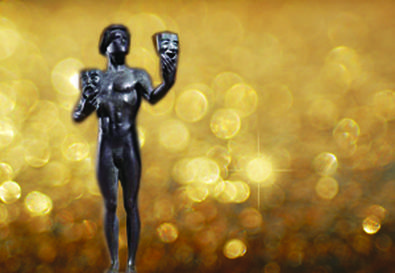 Check out Back Stage's exclusive guide to this year's SAG Award nominees in film and television and look for continued coverage of the awards on Backstage.com.
The 16th Annual Screen Actors Guild Awards will be broadcast live on January 23 on TNT and TBS.
Theatrical Motion Picture:

Lead Male Actor
Colin Firth is not without a long list of respectable credits. But we're looking at him with fresh eyes this year, thanks to his performance in writer-director Tom Ford's "A Single Man."
Lead Female Actor
Gabourey Sidibe's performance in the "Precious" draws not only tears but also astonishment that such an honest portrayal could come from one so new to the screen.
Supporting Male Actor
In "The Messenger," Woody Harrelson is stunning as a tightly wound, no-nonsense, bureaucratic military officer whose job is to notify the next of kin (or NOK) when a loved one has been killed.
Supporting Female Actor
Considering Mo'Nique's career on comedy stages, in sitcoms, and hosting reality shows, no one was prepared for the performance she gives in this unstintingly dark but ultimately hopeful indie film.
Cast in a Motion Picture
Many movies claim they deal with the realities of war, but few do so with the sincerity, lack of sentiment, and nonpartisan point of view of Kathryn Bigelow's "The Hurt Locker."

Television:
Male Actor in a TV Movie/Miniseries
Kevin Kline's Cyrano de Bergerac is less blustery than previous interpretations—such as Gérard Depardieu's Oscar-nominated 1990 turn—and less pleased with his own wit.
Female Actor in a TV Movie/Miniseries
As the title figure in "Georgia O'Keeffe," Joan Allen musters her considerable forces, allowing the great artist to overcome prejudice, sexism, and even the overbearing personality of her husband.
Male Actor in a Drama Series
In carrying "House," Hugh Laurie has become a beloved fixture in American homes by convincingly playing the most flawed television protagonist this side of "24" hero Jack Bauer.
Female Actor in a Drama Series
In the freshman drama "The Good Wife," Julianna Margulies asks us not to judge a woman we think we all know: the abiding wife of the philandering politician.
Male Actor in a Comedy Series
Steve Carell continues to imbue Michael Scott with a mix of bravura and vulnerability that teeters back and forth enough to feel alternately real and joyously ludicrous.
Female Actor in a Comedy Series
In 2009, Tina Fey the performer rocketed into the stratosphere, thanks to wildly popular appearances as Sarah Palin on "Saturday Night Live," and increasing adoration for Fey's baby, "30 Rock."
Ensemble in a Drama Series
Alan Ball's "True Blood" has hit its stride in the second season: a fun, lusty, smart piece of camp that is, in its own strange way, very much of its moment in history
Ensemble in a Comedy Series
The cast of "The Office" functions like a well-oiled machine at this point, jam-packed with gifted performers able to wring countless laughs out of dialogue.