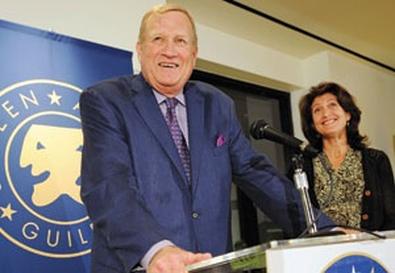 The postman cometh. On Tuesday, the Screen Actors Guild dropped roughly 100,000 ballots in the mail for what could be the last guild board and officer elections before merger between SAG and the American Federation of Television and Radio Artists is finalized. Admittedly, coverage of SAG politics can sometimes read like ancient Greek for the uninitiated. With that in mind, we present what we hope is a newbie-friendly primer, breaking down the essentials of this fall's elections—all presented in an easy-to-digest, yet unconventional, "by the numbers" format.
Some basics before we get started: This year, 57 candidates from the Hollywood division will compete for 12 seats on the national board of directors and 22 alternate seats. In New York, 21 candidates will vie for five board and nine alternate spots. All national board members and alternates win spots on their local division boards. SAG members from both major divisions and the regional divisions—where, in all but one case, the candidates for board seats are running unopposed—will also be able to vote for guild president and secretary-treasurer. New York members will vote for New York division president. (In Hollywood, the newly seated division board will vote for its chairman after the election.)
The percentage of guild members who return their ballots tends to hover in the mid- to upper 20s, so a few votes can make a big difference. Finally, the open secret of guild politics is that, of those who take the time to fill out and return their ballots, a large number tend to vote first for the names they recognize—meaning that celebrity actors, regardless of where they stand on the issues, win more often than not. But with SAG deep into merger negotiations with AFTRA, facing declines in scripted-television earnings, and still—like the rest of the entertainment industry—trying to wrap its hands around the new-media revolution, this election will be an important one.
You're welcome. Now let's get started.
Zero Candidates Endorsed by MembershipFirst
To understand why it's significant that MembershipFirst isn't endorsing any candidates this year, you need to know why MembershipFirst matters. Born from the group of actors that helped scuttle attempts to merge SAG and AFTRA in 1997 and 2003, MembershipFirst dominated SAG politics for years. Under former guild president and MembershipFirst partisan Alan Rosenberg, SAG took a combative stance against AFTRA in the middle of the last decade, sparking animosity that led to AFTRA breaking from joint bargaining with the guild in 2008 to negotiate its own prime-time TV contract with producers. SAG held out for a better deal that never materialized, finally approving a contract after MembershipFirst's rival faction, Unite for Strength, launched a boardroom coup and ousted Doug Allen, the SAG national executive director hired by Rosenberg and his team. A few months later, Unite for Strength's Ken Howard, running on a pro-merger platform, defeated Rosenberg's handpicked successor, Anne-Marie Johnson, in the presidential election, and Unite for Strength solidified a majority in the national boardroom. Last year, MembershipFirst lost its last toehold on union power, ceding its majority in the Hollywood division board to Unite for Strength.
Last month, Johnson, MembershipFirst's recognized leader, announced that her party would not field a slate of candidates for board seats or endorse a candidate for president or secretary-treasurer. "The core members decided that we are going to sit and patiently and respectfully wait to see what comes out of the respective unions with regard to a merger proposal," she told Back Stage. "We're in a crisis situation at the Screen Actors Guild. That's why we're sitting back, taking note, and waiting." Several actors aligned with MembershipFirst, however, are running against Unite for Strength's slate as independents. One of those candidates, William Mapother, told The Hollywood Reporter last month that he "would potentially support" merger with AFTRA. That tentative signal, coupled with MembershipFirst's decision to sit out the election, demonstrates just how little resistance there is to merger within SAG—something that could not have been said in 1997 or 2003.
One Strong Union
While SAG's Hollywood boardroom has long been the home of great Sturm und Drang, the New York division has been peaceful by comparison. For close to a decade, United Screen Actors Nationwide, a pro-merger group that traces its roots to the 2000 commercials strike, has dominated the New York board. The group has faced past challenges, as it did in 2009, when a number of actors aligned with MembershipFirst launched a campaign in New York, but all lost come election time. This year, however, the challenge comes from within.
Last month, a group of New Yorkers announced their candidacies for the board under the banner One Strong Union. The group consists primarily of actors previously affiliated with USAN and has endorsed Sam Robards in his challenge against current New York division president Mike Hodge. Whereas the Hollywood rivalry between MembershipFirst and Unite for Strength is rooted in policy differences, both USAN and One Strong Union favor merger. Hodge told Back Stage last month, "In terms of policy, I see no differences" between the two groups. Robards, speaking to Back Stage, framed One Strong Union's campaign as process-based. "Basically I want to make the work of the board transparent," he said. Asked for specifics, Robards said that those would be rolled out in the weeks to come.
Since then, One Strong Union has, through its website, touted a number of endorsements from actors active in union politics, including AFTRA New York local president Holter Graham and several USAN founders. USAN, meanwhile, touts the support of Howard and secretary-treasurer Amy Aquino and has added the well-known comedian Lewis Black to its slate of board candidates.
Three Challengers to Ken Howard
When SAG unveiled the official list of candidates Aug. 4, the list of challengers to President Ken Howard was notable for what it lacked: a name well-known in guild politics. In his first campaign, Howard faced off not only against Johnson but also Seymour Cassel, the Oscar-nominated actor who was once part of MembershipFirst but was exiled from the group and later suspended from SAG for two years for his alleged sexual harassment of three guild staff members.
This time, the path to victory looks much smoother for Howard. His challengers are David Hillberg, Sharon Rubin, and Asmar Muhammad—all virtually unknown within the guild, though Muhammad ran for president in 2009 on a platform that included inviting all guild members to the annual SAG Awards ceremony. He won 402 votes to Howard's 12,895.
Though it was known for weeks that MembershipFirst would not challenge Howard directly, the door was left open for an actor aligned with the group to run against him independently. That didn't happen. The lack of a serious challenge to Howard—and to his running mate, secretary-treasurer Amy Aquino, who is unopposed in her campaign for re-election—reveals, essentially, that no serious candidate believes that Howard and his pro-merger message can be beaten this year.
"Two years ago, I promised members I would do everything possible to bring SAG and AFTRA together, so performers would no longer face the serious problems that come from being divided in two unions," Howard said in a written statement from Unite for Strength. "Members have made it clear they need action as soon as possible, and I'm committed to delivering a formal merger plan by January. With an outstanding team like this leading SAG, I know it will happen."
11.1 Percent Decline in Earnings From Principal TV Session Fees
A year ago, SAG Kremlinologists (including those at Back Stage) characterized Unite for Strength's board-election drubbing of MembershipFirst as a mandate for merger. In the wake of that mandate, it's no surprise that few serious candidates are actively campaigning on an anti-merger platform. That represents a profound shift from just a few years ago, when SAG's leaders were practically engaged in open warfare with AFTRA. It also reflects the reality of performers' union politics today. If the SAG-AFTRA merger is to face a serious challenge, it will come next year, when the final merger plan goes to members for ratification.
Merger opponents have been quiet thus far this election season, but that doesn't mean they've disappeared. When SAG reported last week an 11.1 percent decline in earnings from principal TV session fees from 2009 to 2010, it provided ammunition to folks on both sides of the issue. Merger proponents will argue that SAG's continuing loss of representation in television is fallout from the Rosenberg years and illustrates the need to merge. Those opposed will argue that the decline can be blamed on AFTRA and on Rosenberg's rivals, who undermined his leadership and failed to toe a tough enough line against the sister union.
Those arguments won't likely begin in earnest until the end of this year or the beginning of next, when SAG's and AFTRA's leaders start campaigning on behalf of a merger plan and the opposition re-emerges to clamor for a minority report. But that won't happen for a few more months. For now, the number to focus on is 22. That's the day in September by which ballots need to be returned.