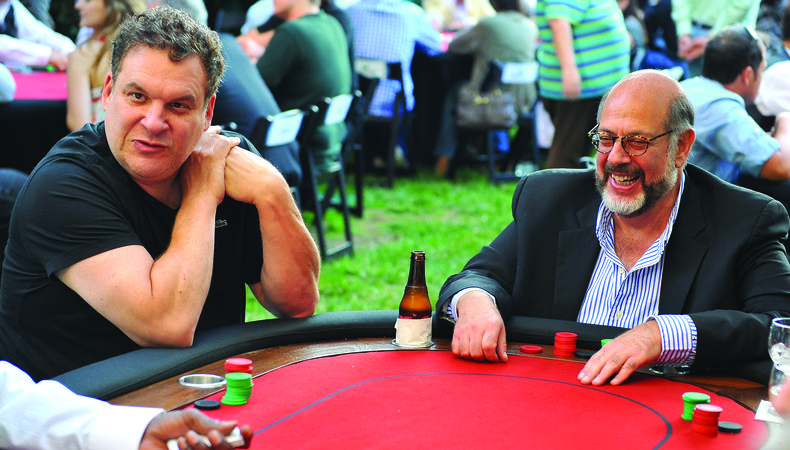 "Jeff Garlin is supposed to be sitting there," Fred Melamed told a woman who asked about the chair next to him. The first hand had already been dealt at the Screen Actors Guild Foundation's Third Annual Poker Classic. Only a few seats were still open at the 15 tables set up outside on a cool late-summer evening at the Gilmore Adobe at the Grove in Los Angeles, and latecomers were looking to squeeze in. But Melamed, flanked on one side by voice actor Melissa Disney, was doing his best to hold Garlin's seat on the other. When Garlin, co-star of ABC's new comedy "The Goldbergs," showed up a few minutes later, he and Melamed, co-star of the new film "In a World…," exchanged pleasantries. Then Garlin started taking chips from everybody and knocked the first player out of the game.
CLICK HERE TO VIEW THE SLIDESHOW
More than 130 actors and industry pros gathered Aug. 24 to play cards and raise money for the Foundation's Don LaFontaine Voice-Over Lab. The evening kicked off with a cocktail hour, during which guests bid at a silent auction on prizes such as voiceover training sessions, Angels baseball tickets, and a trip to New York for the Tony Awards dress rehearsal. Poker kicked off at dusk and lasted 5 hours and 20 minutes, with David Burchell taking top honors at the night's end. Those who left the tables early consoled themselves at the open bar and mac-and-cheese buffet, and could buy their way into side games, such as the rock, paper, scissors tournament.
But the biggest news of the night came when foundation board member Paul Pape announced that the foundation will soon be opening a voiceover lab in New York; the L.A. lab has provided high-tech facilities, training, and services to voiceover artists since 2010.