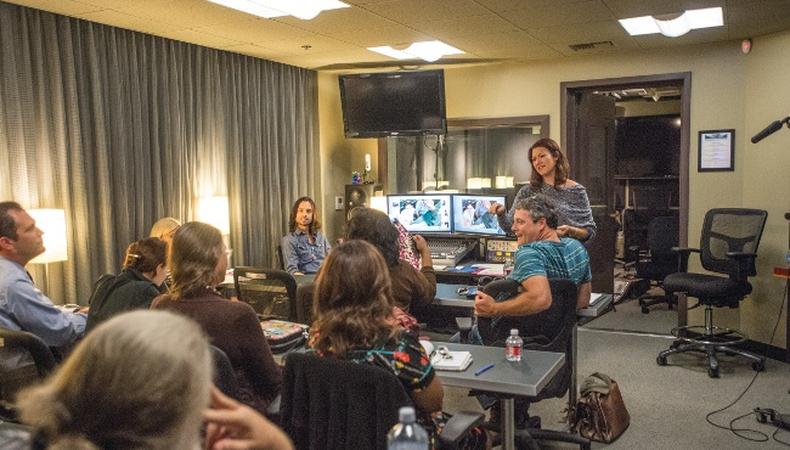 In a world where audiobooks, movie trailers, animation, and commercial spots saturate the airwaves, the demand for talented voice actors has reached an all-time high. Yet the coaches and workshops necessary to perfect the craft—plus the studio time to record—can come at a high price.
Which is why when voice actor Don LaFontaine passed away in 2008, the Los Angeles branch of the Screen Actors Guild Foundation sought to create a free-of-charge professional and educational lab as a resource for voice actors in his memory with the Don LaFontaine Voiceover Lab, which opened in 2010.
Costing half a million dollars and consisting of a small solo recording booth, a state-of-the-art main booth, and a classroom, the facility is a place for voice actors to commune, learn technique, rehearse, receive feedback, master equipment and software, and even record auditions for demos. In May 2014, New York followed suit, simultaneously opening a SAG Foundation Actors Center and its Entertainment Industry Foundation Voiceover Lab.
The voiceover industry has experienced a major shift over the last 20 years. "[The field] doesn't just require you to have a good voice and read good copy," said voiceover artist and DLF lab instructor Paul Pape. Aric Shuford, director of the DLF Voiceover Lab, explained, "The actor is really responsible for the process—how to record, edit, and send off their own auditions." Therefore, the labs on both coasts teach technological and creative skills. You have to be a part-time engineer, as well as an artist.
SAG-AFTRA union members who complete the required orientation can take advantage of these labs. (Though the DLF lab officially allows nonunion actors, union members get priority and due to demand, nonunion rarely make it in.) In both hubs, the labs are an invaluable resource for veteran and aspiring voice actors. "[Voiceover] is a way to expand their repertoire of acting options," said Shuford. "There are so many different genres of voiceover now that are becoming really popular."
The audiobook genre is booming, particularly in New York. Rose-Alma Lamoureux had done minimal commercial voice work prior to training at the EIF lab, but has since become a successful audiobook narrator. "It would not have happened if I hadn't had the EIF Voiceover Lab resource," Lamoureux said.
The lab's strength lies in its variety of teaching formats and the expertise of staff engineers. "They have a good understanding of not only the recording process, but also what it takes to coach and direct actors and give the best possible reads," said Shuford.
Aside from bookable booth sessions, each location offers free workshops. Programming ranges from technical, like Audacity 101; to creative, like All About Animation, led by Sara Sherman, director of casting and talent relations at Disney Television Animation, who oversees Disney Channel branded animated series; or Pape's five-part workshop, Finding Your Signature Voice. "[It's about] taking actors back to the essence of finding out who they are as people and how authentic their own voice is," said Pape of his class, which echoes the labs' mission.
Even the most experienced voice actors with home studios can find merit in this setting. Whether one-on-one with an engineer, in a workshop setting, or in one of the weekly peer workout groups, outside feedback is necessary to improve. "When you're doing self-directing, you can't get outside of yourself and learn your weaknesses and strengths unless you're in front of other people," said Lamoureux.
As more actors use these resources, the labs adjust to their needs: New York is ramping up in numbers, and Los Angeles is aiming to add levels to its curriculum to allow more growth for artists. No matter where you are in your career, the value and quality of this free resource is indisputable. "In a world…" was LaFontaine's signature line, but his legacy lies in these labs.
Inspired by this story? Check out our voiceover audition listings!