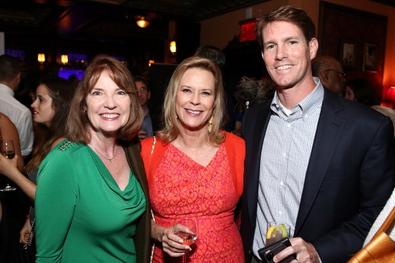 The SAG Foundation hosted "The Night Before" event at 54 Below in New York City on Sunday night. The event, affectionately called a "friendraiser" instead of a fundraiser, celebrated the debut of the first annual New York Golf Classic.
The Golf Classic has been a successful event in Los Angeles for four years, and Sunday night's event kicked off the event for the east coast. Actor and SAG Foundation President JoBeth Williams welcomed the intimate crowd to the event, and thanked everyone for lending their time and resources to supporting the SAG Foundation.
Jim Casey, president and CEO of Integrated Wealth management, one of the event's sponsors, welcomed guests after a few hours of networking and cocktails.
"I am the entertainment!" Casey joked, calling attention to the fact that a stage and a live band could be addictive for anyone. The other event sponsors were Harold Matzner and One America. Live It Up Entertainment presented the events.
After Casey left the stage, performers Eden Espinosa ("Wicked," "Brooklyn the Musical"), Laura Dickinson ("Phineas and Ferb"), Tawny Dolley, Jill Burke, Jim Graft, Terron Brooks, and Brandon Alameda sang a collection of American songs through the decades from the 1930s to the 2000s for the audience.
The entertainment opened with the group singing "Lullaby of Broadway," which was popularized in the musical "42nd Street" and closed with another group number—Adele's "Skyfall." Other popular classics included "Over the Rainbow," "Boogie Woogie Bugle Boy," "That's Amore," "Last Dance," "Footloose," "Under the Sea," "Somewhere Out There," "(I've Had) The Time of My Life," "Go the Distance," and "My Heart Will Go On."
Event attendees included SAG Foundation executive director Jill Seltzer, SAG-AFTRA Executive Director Jae Je Simmons, SAG Awards Producer Kathy Connell, and board members John McGuire and Dave Hutton.
The first annual New York SAG Foundation Golf Classic, hosted by actor Ron Perlman was scheduled to take place at Trump National Golf Clube in Westchester, New York. The inaugural SAG Foundation Golf Classic Host Committee included Alec Baldwin, Ben Bailey, Craig Burdo, Joe Favorito, Peter Gallagher, Marty Hackel, Dave Hutton, Richard Kind, Dan Lauria, Kyle MacLachlan, James McDaniel, Tom Papa, John Rider, Chris Stevens, and Chris Tarr.