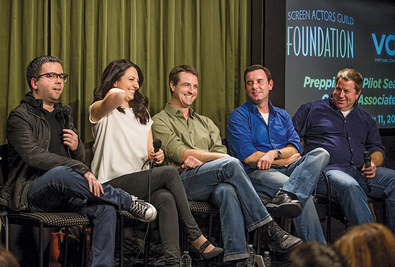 A group of actors aiming to land work this pilot season found themselves in a room with five top associate casting directors last week. While it wasn't an audition, it may have been the next best thing. As performers scramble to prepare for the crush of auditions that start each January, the SAG Foundation, in partnership with the Virtual Channel Network, is offering a series of workshops with casting directors and their associates. The events are being held in Los Angeles and streamed online.
SAG Foundation is offering them gratis to union members; non-members who can't attend can watch the online feed.
"The SAG Foundation builds an annual curriculum based on the ebb and flow of the business," Rochelle Rose, national director of actors programs for SAG Foundation, told Backstage. "This is the perfect time to try to draw great tips from the people whose rooms you'll hopefully get into the next couple months."
So what do actors need to know this pilot season? On Jan. 11 casting associates Eric Souliere of Ulrich/Dawson/Kritzer Casting, Gohar Gazazyan of Bialy/Thomas Casting, Ty Harman of Suzanne Goddard-Smythe Casting, Mike Page of David Rapaport Casting, and Troy Daniel Smith of Casting by Howard Meltzer took the stage and touched on everything from actors dropping off gifts at the casting office after landing a part (don't do it in person), to posting messages on Twitter or Facebook about an audition (don't do it at all). They also offered a few tips for performers looking to land a plum pilot role:

Do Your Homework
"The hardest thing with pilots is you've never seen the show," said Page, who noted pilot scripts can sometimes be found on websites such as screenplayonline.com. "Read the script. Do the homework on who is the writer, who is the director, who is the network, so you know what the tone is."

Don't Get Over-Coached
"It's OK to go to a coach, for sure, but you don't want to be married to those choices that a coach gives you," said Smith.

Make Sure Your Name Is on Your Reel
All five associates said they look at tapes when trying to cast roles for pilots. They were quick to note, though, that often the files don't identify the performer or are difficult to download. Their advice: Make sure your file could be downloaded by your grandmother, and always identify yourself either in the file name or on the reel itself.

Have a Sense of Yourself
"Be smart about what you're showing the business. You have to be careful about what you show to us because the casting process is an inverted pyramid. You start with everybody, and somebody ends up with a job," said Harman. "So if I see your lousy play or your lousy Web series or something you shot with your friends on a weekend and it's terrible, I don't need to bring you in."

Take Care of Yourself
"I actually love what I do for a living, and I hope you do as well," said Page. "I want you to take care of yourself as a professional. Keep studying, making your own content, et cetera. Keep growing. Take care of yourself as an artist."

The next event, which the foundation is co-producing with Virtual Channel Network, in the pilot series is on Jan. 17 and boasts five top casting directors, including Sharon Bialy of AMC's "The Walking Dead," Wendy O'Brien from FX's "It's Always Sunny in Philadelphia" and "Sons of Anarchy," and casting director Richard Hicks. Questions for the CDs can be submitted through email or the Twitter hashtag #SAGF.