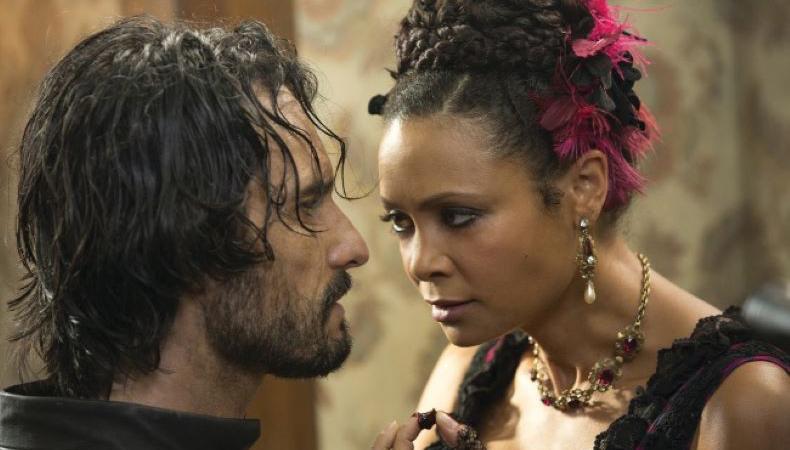 In the era of "too much TV," looking at your SAG voting ballot can feel overwhelming. There are eight categories, after all, spanning the best dramatic and comedic acting of the year. Chances are you haven't seen every series on the list. Luckily, Backstage has got you covered. Check out our guide to the TV performances recognized by the 2017 SAG Awards. Then you'll be able to vote with your remote!
Outstanding Performance by an Ensemble in a Drama Series
"The Crown" (Netflix)
There's no doubt that "The Crown," Netflix's most expensive venture to date, ranks among the year's finest freshman series, but even when compared to tried-and-true period pieces like "Downton Abbey" and "Game of Thrones," "The Crown" holds its own. Grounded by a deep bench of British stage and screen acting royalty, the series charts the early years of Queen Elizabeth II with historical precision. What could feel drab and slow in the wrong hands instead blossoms to reveal the very best that peak television can do.
"Downton Abbey" (PBS)
Julian Fellowes' upstairs-downstairs import from England captured the American imagination (and awards seasons) in ways surely no one involved on the show expected. Throughout it all the cast—led, of course, by Maggie Smith as the unforgettable Dowager Countess of Grantham—showed admirable restraint in their performances, never a discordant note in the symphony of the Crawleys' collective storytelling. In their final season, the "Downton Abbey" cast proved alternately hilarious and heartbreaking, bringing their beloved characters some of the resolution they deserved.
"Game of Thrones" (HBO)
With the White Walkers gaining momentum just beyond the wall, the Season 6 stakes of HBO's critical darling boasted series-best performances from Peter Dinklage, Kit Harington, Nikolaj Coster-Waldau, and Liam Cunningham. But it was the women who dominated. Arya Stark's journey from blind beggar under Jaqen H'ghar (Tom Wlaschiha) to reclaiming her family name offered the young Maisie Williams this season's most richly layered and emotionally engaging arc. Not to mention Sophie Turner's hardened Sansa enacting the sweetest revenge, or Cersei (the masterful Lena Headey) reclaiming something of her own: a heartless and calculating badassery, and the Iron Throne with it. Season 7 can't come soon enough.
"Stranger Things" (Netflix)
It's safe to say no new streaming series received as much buzz this year as Netflix's "Stranger Things." And the nostalgia-rich homages and Winona Ryder headlining credit weren't the only elements this '80s-set show had going for it. Child actors Finn Wolfhard, Gaten Matarazzo, and Caleb McLaughlin deliver star-making performances as a group of friends who stumble across a young girl (Millie Bobby Brown), the telekinetically charged runaway from a creepy government experiment. Factor in David Harbour as a hardened sheriff with something to prove, Natalia Dyer, Charlie Heaton, Joe Keery, Shannon Purser, and, of course, Ryder, and it's clear the Duffer brothers know how to pick a cast.
"Westworld" (HBO)
There were plenty of reasons no one could stop obsessing over HBO's breakthrough sci-fi drama this fall: its shocking twists, its preoccupation with morality and the human id, its disturbing, get-under-your-skin imagery. But much of the appeal of this dystopian world of artificial intelligence gone awry that Jonathan Nolan and Lisa Joy created was due to its inhabitants; Evan Rachel Wood, Thandie Newton, Jeffrey Wright, James Marsden, Anthony Hopkins, Jimmi Simpson, and Ed Harris each play characters that are fascinatingly, uncomfortably human—even the ones that are robots.
Outstanding Performance by a Female Actor in a Drama Series
Millie Bobby Brown, "Stranger Things" (Netflix)
How lovely a surprise Brown's SAG Award nomination is! You'd be hard-pressed to name a role as engrossingly and beautifully drawn by a newcomer this year as Brown's take on Eleven, the mysterious psychokinetic girl who may hold the secret to the Upside Down and the whereabouts of Will Byers (Noah Schnapp). Brown switches with ease between Eleven's isolation, her vulnerabilities, and her fearsome, growing strength.
Claire Foy, "The Crown" (Netflix)
In a category shared by an acting discovery, a comeback, and a pair of consistently stellar screen actors, Foy stands out as an actor who's always been great and finally got the star-making material she deserves. Her Queen Elizabeth II is a woman torn between her selfhood and the responsibility thrust upon her by the crown, and Foy expertly crafts a character of contradictions while maintaining an unerring glow and strength.
Thandie Newton, "Westworld" (HBO)
"At first I thought you were gods. But you're just men," breathes Maeve Millay. "And I know men." So says everyone's favorite whorehouse madam of "Westworld," a show in which trauma both psychological and sexual lead to suffering, yes, but also kickass feminist comeuppance. Every moment of Newton's delicious performance as Maeve, a robotic "host" awakening to override her programming and claim free will, requires your full attention. In this futuristic world of female empowerment, at least, we can say we're with her.
Winona Ryder, "Stranger Things" (Netflix)
If the last few years of her supporting roles in "Black Swan," "Show Me a Hero," and others were planting the seeds for Ryder's mainstream comeback, consider her bloomed. Her performance as Joyce Byers, the frantic, determined mother in search of her missing son in Netflix's '80s throwback sci-fi phenomenon, is more than just a meta wink and nudge to the actor's "Heathers" era. It's one of the year's most spellbinding dramatic feats.
Robin Wright, "House of Cards" (Netflix)
We knew that Claire Underwood was the driving force behind Francis, even if he didn't. Boy, did he learn his lesson when Wright's Claire beat him at his own game and made him suffer. The net result? Claire ended up on Frank's ticket as vice president, and we found more reasons to worship at Wright's feet.
Outstanding Performance by a Male Actor in a Drama Series
Sterling K. Brown, "This Is Us" (NBC)
"This Is Us" requires unflinching, gutsy performances from its actors, who with every melodramatic twist risk sacrificing honesty for sentimentality. All rise to the occasion, but none more so than Brown, bringing his natural charm to Randall, the adopted son and brother of the Pearson family meeting his biological father (Ron Cephas Jones) for the first time. When he cranks up the emotions, just try to keep your eyes dry.
READ: Sterling K. Brown Rewrites History on "The People v. O.J."
Peter Dinklage, "Game of Thrones" (HBO)
In the first season of "Game of Thrones" that outstripped its source material, we needed a reliably constant character—and performance—to ground us. Dinklage continues to make Tyrion Lannister a riveting, complex figure onscreen, suavely navigating fragile political truces without forgetting humor. The actor also has that rare ability to elevate his co-stars' performances; it seems everyone has chemistry with him.
John Lithgow, "The Crown" (Netflix)
As the single American cast member in Netflix's British prestige project from Peter Morgan and Stephen Daldry, John Lithgow had quite the expectations to live up to—and, in the role of Winston Churchill, quite the shoes to fill. Luckily, the actor rises to the challenge of this inspired casting, perfecting the beloved prime minister's domineering presence and demanding speech delivery. Duplicating his spirit while avoiding clichéd impersonation, Lithgow gives an unforgettable, award-worthy performance.
Rami Malek, "Mr. Robot" (USA)
The small screen is crowded with misunderstood genius-addict-antiheroes, but Malek's spin on the TV archetype continued in the sophomore season of "Mr. Robot." As hacker mastermind Elliot, the Emmy winner carries USA's hit on his hoodie-clad shoulders, all paranoia and inimitable intensity. The cynical drawl of Malek's narration, which transforms even the most banal statements into unmissable pearls of wisdom, gives the drama its frantic pulse.
Kevin Spacey, "House of Cards" (Netflix)
What's most terrifying about Spacey's SAG Award–winning performance is how prescient it turned out to be this election year. A charming bully who uses every tool at his disposal to accomplish his own goals and is in politics seemingly only for the sake of power? Is life imitating art?
Outstanding Performance by an Ensemble in a Comedy Series
"The Big Bang Theory" (CBS)
Families abound on the small screen. Sometimes audiences even feel they've joined the community of characters they tune in for week after week. Such is the case with CBS' monster hit about a group of geeks far more adept at math than social interactions. The cast has morphed and grown since its 2007 premiere, but the original trio of Jim Parsons, Kaley Cuoco, and Johnny Galecki keep the comedy of "The Big Bang Theory" grounded in the kind of quirky—yet familial—comedy that we crave.
"Black-ish" (ABC)
Few TV series are sillier than Kenya Barris' "Black-ish." But even when putting its spin on tried-and-true sitcom tropes, the hit ABC comedy features the most tightly knit family on the small screen. The Johnsons may be goofy, or even chaotic, but no more or less so than any other American family trying to make it work in the 21st century. Anthony Anderson, Tracee Ellis Ross, and the other actors portraying the Johnson clan are clearly a loving family, too.
"Modern Family" (ABC)
After eight seasons, it's easy to take for granted a show as groundbreaking as "Modern Family" initially was. That it manages to uphold its comedy and keep character development fresh has everything to do with the immensely talented Sofía Vergara, Ed O'Neill, Julie Bowen, Ty Burrell, Jesse Tyler Ferguson, Eric Stonestreet, and those child actors growing up before our eyes.
"Orange Is the New Black" (Netflix)
The actors portraying the complicated inmates at Litchfield women's prison were in top form in 2016, returning to the honest and compelling storylines that sometimes felt missing from Season 3. The dramedy's deep bench of eclectic jailbirds gave its central question—do actions or moral character determine criminality?—unexpected layers of depth both quirky and brutal, particularly in a shattering season finale from which we're still recovering.
"Veep" (HBO)
Has any series delivered scathing satire more consistently than "Veep"? Thanks to Julia Louis-Dreyfus, who somehow manages to up her performance in each installment of the misadventures of Vice President (-ish) Selina Meyer, plus her cabinet of supporters—Anna Chlumsky, Tony Hale, Reid Scott, Timothy Simons, Matt Walsh, Sufe Bradshaw, Kevin Dunn, Gary Cole, and Sam Richardson—the show has held a mirror up to our cynical political landscape and refracted it into a painfully hilarious fiction (-ish).
Outstanding Performance by a Female Actor in a Comedy Series
Uzo Aduba, "Orange Is the New Black" (Netflix)
Leaving the phenomenal Aduba off any awards season list wouldn't feel right, would it? New internal complexities came to light this season as we learned why Suzanne is behind bars in the first place and she struggled to suppress her anger. If you'd told us in Season 1 that we'd come to love Crazy Eyes, we'd call you crazy. But the fact that we do at all is thanks to Aduba's consistently stellar work.
Jane Fonda, "Grace and Frankie" (Netflix)
Is there anyone better than Fonda at merging funny and fabulous? In Season 2 of "Grace and Frankie," Fonda heightened the physicality in her performance as the WASP-y Grace; one episode finds the character, hungover, determinedly filling a watermelon with vodka. Later she eats cake with her hands, eyes full of comic fury. Watching Fonda use her innate grandeur in contrast to Grace's increasingly absurd circumstances is one of the many rewards of watching this hilarious show.
Ellie Kemper, "Unbreakable Kimmy Schmidt" (Netflix)
The task of balancing goofiness with the genuinely dark elements of Tina Fey and Robert Carlock's Netflix comedy falls largely to its star, who more than rises to the occasion in Season 2. Kemper masterfully portrays the cracks in Kimmy's determinedly sunny veneer; particularly, for example, when the reason for her fear of Velcro is explained. Our favorite moment of the season, though, will always be her delivery of the impromptu song "Bunny and Kitty." No one can match Kemper when it comes to sweetness.
Julia Louis-Dreyfus, "Veep" (HBO)
The perfect calibration of timing and tone in Louis-Dreyfus' portrayal of Selina Meyer reaches new levels yet again in Season 5. Just watch her hilarious attempt at prayer and the way she almost—almost!—gives in to real grief during her mother's death. Is it any wonder she has a massive shelf of awards for this amazing role?
Lily Tomlin, "Grace and Frankie" (Netflix)
Tomlin is a straight-up legend, and she proved why again this year. Rarely are older women visible in media, but here Tomlin creates a woman who at one moment could be believably grieving the loss of her life companion and at another be flailing and failing at life. No one can deliver a punch line quite like her. (Bonus: She's receiving the SAG Life Achievement Award this year!)
Outstanding Performance by a Male Actor in a Comedy Series
Anthony Anderson, "Black-ish" (ABC)
Anderson has remained consistent (and hysterical) as Dre, a father trying to maintain career, family, and his kids' sense of blackness in their lily-white surroundings of upper-middle-class suburbia. In Seasons 2 and 3, Dre faced tough issues like police brutality, and the actor playing him proved as adept at drama as he is at comedy.
Tituss Burgess, "Unbreakable Kimmy Schmidt" (Netflix)
In Season 2 of this hit Netflix comedy, Burgess proves nothing short of a revelation—sophomore slump be damned! The actor delivers idiosyncratic zingers and songs like he was born to do it while reconciling with his ex-wife after their ill-fated marriage, falling in love with a construction worker, and finally—at long last!—booking the gig.
READ: The "Unbreakable" Tituss Burgess
Ty Burrell, "Modern Family" (ABC)
You'd think the "cool dad" trope would be predictable or played out, but Burrell still proves willing and able to mine it for comedy gold. Over a whopping seven years playing Phil Dunphy—the awkward, lovable, ever-so-slightly dumb dad in the ABC show's titular clan—Burrell continues to deliver pristine pratfalls and that signature goofy grin.
William H. Macy, "Shameless" (Showtime)
Macy has continued to bring depth to the ultimate deadbeat dad. Frank Gallagher, a perpetually drunk father of seven, finds himself constantly robbed of whatever dignity he thought he had. While Frank is nearly always focused on his next drink, Macy finds a way to bring addiction to the periphery instead of the center of his acting work.
Jeffrey Tambor, "Transparent" (Amazon Studios)
It takes bravery and grace to come out as transgender in old age. In creating a nuanced character based on her own parent, writer-director Jill Soloway has provided last year's SAG Award winner with the role of a lifetime. Tambor's performance as Maura in the tumultuous third season of "Transparent" continued to be darkly comic, heart-wrenchingly vulnerable, and both brave and graceful in its own way.
Outstanding Performance by a Female Actor in a Television Movie or Miniseries
Bryce Dallas Howard, "Black Mirror" (Netflix)
Howard has been staying busy since her 2011 breakout in "The Help" (hello, "Jurassic World"!), but Lacie on Episode 301 of Netflix's buzzy "Black Mirror" is the first role since the conniving Hilly Holbrook that enables Howard to embrace and expand upon her impressive talents. Desperately wanting a better life for herself through others' validation, the increasingly hysterical Lacie acts as Howard's gripping how-to guide on playing a woman on the verge.
Felicity Huffman, "American Crime" (ABC)
As the prickly and devout headmistress of an elite private high school, Huffman fluctuates between acting in the school's best interests in the heat of a rape investigation and acting for the greater good. Weighted with the responsibility of saving face while staring down her self-endangered morality, the role of Leslie Graham gives Huffman plenty to play with. Luckily, with an actor at this level, that simply means we sit back and enjoy the ride.
Audra McDonald, "Lady Day at Emerson's Bar and Grill" (HBO)
There's a reason McDonald won her record sixth Tony Award for playing Billie Holiday. The masterful actor, usually so poised and clear-voiced, digs deep to play a woman whose pain and suffering is inherent in every part of her being. And McDonald embodies it all.
Sarah Paulson, "The People v. O.J. Simpson: American Crime Story" (FX)
Emmy winner Paulson did the impossible: She redeemed Marcia Clark, a woman who had her story seemingly written in indelible ink. The actor gave Clark strength and vulnerability, making her less the idiot the media made her out to be and more a victim of that same media.
Kerry Washington, "Confirmation" (HBO)
Every week on "Scandal," Washington floors the audience with a big, bold performance. But in playing Anita Hill, Washington was allowed to go quiet and subtle. It takes an actor of her caliber to be equally effective at both.
Outstanding Performance by a Male Actor in a Television Movie or Miniseries
Riz Ahmed, "The Night Of" (HBO)
Ahmed may not have been the most noteworthy name attached to HBO's revelatory crime and punishment miniseries, but boy, did he walk away with the spotlight. As the young Naz Khan, the actor brings to life an innocent victim of bad luck and circumstance and shows the systematic deterioration of his morality just to survive behind bars. It's not easy to watch, but Ahmed ensures you can't look away.
Sterling K. Brown, "The People v. O.J. Simpson: American Crime Story" (FX)
It seemed like Brown came out of nowhere when he took on a powerhouse cast to play Christopher Darden, a man demonized in his post-O.J. life as the guy who helped lose an unloseable case. Brown perfectly embodied the conflict Darden felt, straddling the racial lines that the famed case drew. His was one of the best performances in a series full of them. (Plus, he won an Emmy for it!)
Bryan Cranston, "All the Way" (HBO)
Cranston had already won a Tony Award for portraying President Lyndon B. Johnson by the time he donned the makeup for HBO's movie version. He was able to adapt his astonishing stage performance to the screen by working the intimacy of the close-up as he portrays Johnson's first year in office after the Kennedy assassination.
John Turturro, "The Night Of" (HBO)
In a miniseries full to the brim with brilliant, buzzworthy performances, Turturro stood out by sheer force of personality. In perhaps the best work of his career, the actor rendered down-on-his-luck lawyer John Stone a fascinating tragicomic figure, his every move both clownish and profound. We could watch him—yes, even his eczema-covered feet—forever.
Courtney B. Vance, "The People v. O.J. Simpson: American Crime Story" (FX)
Johnnie Cochran could be a caricature when he played to the cameras, so the easy choice would have been to make him a caricature onscreen. But the Emmy-winning Vance does something special with Cochran: He finds the quiet moments in a man whose persona was larger than life.
Want SAG voters to be considering your performance? Check out our TV audition listings!