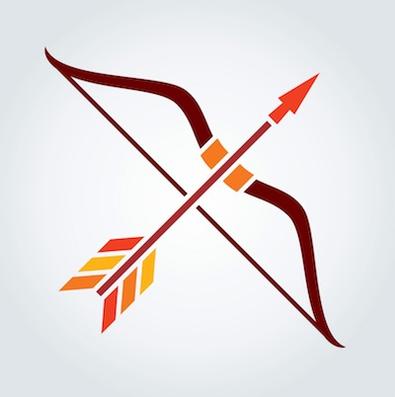 Sagittarius (November 22 – December 21)
The beginning of May culminates in an illuminating Full Moon in your sign on June 9, priming you to press the refresh button. These are exciting if unsettling days and the if you're treading out on the thin branches, give yourself some credit. It's also the same day that Jupiter goes direct in your 11th House of Hope and Dreams, and this may be a time of really coming to terms with the new game plan for your future. Sagittarians always do better with a bit of a gamble involved. They are the sign for which faith and the pursuit of freedom rules supreme. They're able to pan out enough to realize how small we all are in comparison to the great, wild world. This is what helps them to accomplish the impossible because they're a little more ok than the rest of us to fall on their face. They realize everything is ok in the grand scheme.
When Mars changes signs into moody Cancer early in the month, it's your instinctive and insatiable 8th House of sex, death, and transformation that lights up. You might feel a greater sense of urgency as your survival instinct is awoken: hunt or be hunted. You might be asked to bear some uncomfortable emotion or even some (hopefully sexy) confrontation as you're not content to wade in any gray area this month and want answers! Harmony-seeking Venus will be balancing the scales, bringing greater harmony and synchronicity to your day-to-day routines and work life as she enters the 6th House or work. So if you need a littler breather from your intense feelings and hunger for transformation, turn to your daily rituals and responsibilities which are blessing you with the sweet melody of consistency
Kelly Chambers is a writer, actor, and astrologer living in Los Angeles. She can be reached for private astrology readings through her website theastrologersdaughter.com. You can also check her out in the web series "Break Hollywood with Nice & Fargo," a comedy by actors for actors. Follow the latest in cosmic news on her Instagram and Twitter. She welcomes your comments and insights.
Ready to see what else June has in store for you? Check out our film audition listings!