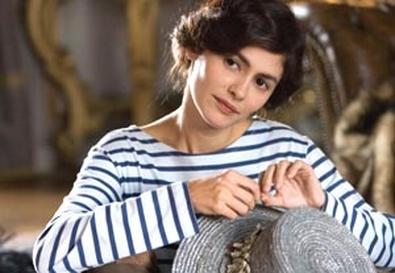 Here are some of the memorable quotes from female actors Back Stage spoke to in the past year:
"I was very surprised to realize the poverty of her family and her situation. The fact that she had no education and was able to achieve so many creations is very, very surprising."
—Audrey Tautou on playing
Coco Chanel, "Coco Before Chanel"
"My love and passion for acting has remained the same from the very beginning. Then there are other things you have to learn to deal with if you become successful. There are things that are sometimes uncomfortable. But my love for acting is always the same."
—Penélope Cruz,
"Broken Embraces," "Nine"
"I don't know how to get into a role and keep it with me, because I just don't have any real [training]. I wasn't sure about going, because I had to cut class in order to go. I walked into this audition, didn't really know what I was doing, had never auditioned before in my life."
—Gabourey "Gabby" Sidibe,
"Precious: Based on the Novel Push by Sapphire"
"I didn't have any expectations on this movie other than this is going to be fucking awesome, and whatever way Sam [Mendes] works, I am totally interested and ready and want to do it. It was such a collaborative process; we spent so much time together talking about this script that we all genuinely loved and thought was written so beautifully."
—Maya Rudolph, "Away We Go"
"You figure out how to get through life by closing yourself down in a lot of ways, and acting class is all about opening yourself up. So it was hard. I was an open wound for years, like a raw nerve. It could be awful."
—Leslie Mann, "Funny People"
"I don't know why he thought I could do this. But I thought he must know what he's doing, because he's Woody Allen. A lot of people think I'm funny, but nobody wanted to take that leap of faith on me before."
—Evan Rachel Wood, "Whatever Works"
"I never set out to be a performer. I never intend to be in another film, and then someone asks me to be, or we dream up some idea together, and I say, 'Okay, this will be the last one.' And it seems to go on and on."
—Tilda Swinton, "Julia"
"I love everything about acting. The business part I don't really enjoy a lot of. But you know, you do what you have to and try to maintain sanity through it and not get into the negative space. For me, that's a challenge."
—Catherine Keener,
"Where the Wild Things Are"
"I have to tone the real Charlyne down and make it more suitable to the audience, so they don't think I'm some broad, hacky, old-timey vaudeville actor."
—Charlyne Yi, "Paper Heart"
"I told [director Rebecca Miller], 'I really want you to just keep me in check.' Yes, we have personal rhythms that we get locked into. Then sometimes you try to infuse a character with your personal rhythm, and her rhythm needed to be like being hit with something and then taking it for what it is; don't judge it, accept it unconditionally, let it process itself, and then go, 'Okay.' "
—Robin Wright,
"The Private Lives of Pippa Lee"
"I think people aren't used to seeing men and women in these particular roles, even though gender roles are constantly changing. We're representing a new era, and I know lots of people like Summer and Tom in these situations. It's nice to represent a new archetype. But I think people aren't quite used to seeing a woman in a romantic comedy that's a self-possessed individual and not falling all over herself for a man."
—Zooey Deschanel,
"(500) Days of Summer"
"We have so many insecurities as an actor, you start thinking, 'Well, what if this is as good as it gets? What if it's not my agent and nobody wants me?' I was finally brave and changed agents, and my life changed."
—Melanie Lynskey, "Up in the Air,"
"Away We Go," "The Informant"
"I learn my lines, I turn up, and something happens, but I don't feel I have much to do with it. Sometimes I do research. Sometimes I don't do research. The end result is they say 'Action' and something happens."
—Sophie Okonedo, "Skin"
"It was a great role and a great change for me too, because mostly I was getting to play voiceless women. This one was pretty strong."
—Shohreh Aghdashloo,
"The Stoning of Soraya M."
"In film, you have to show up ready, and there's no rehearsal, so I really needed to have rehearsal [before shooting]. I did a lot of research and read a lot about the time period and what life in villages was like, the differences with the cities, post-revolution. I watched some documentaries, and then I kind of just did the character."
—Mozhan Marnò,
"The Stoning of Soraya M."