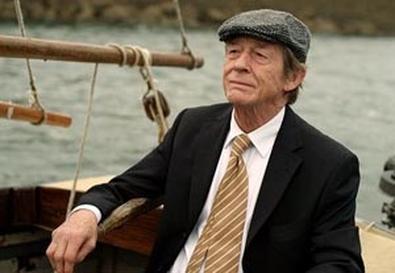 In this silent short, the filming is glorious, the acting exquisite. As for storytelling, however, answers are not to be found here. But thought-provocation is.
Writer-director Elfar Adalsteins' tribute to his late grandfather stars John Hurt as a resident of an old-age home who breaks out to have one final adventure. We meet the man as a caregiver tends to him. She is taking his pulse while he is either asleep or unconscious. She leaves. He springs from the bed, washes, and dapperly dresses himself, has a smoke, sets off the fire alarms, and escapes the premises in the ensuing evacuation. He swiftly heads for a seaside storage area, where he swipes a sailboat and other necessities and heads out to sea. The man is clearly in possession of his mental faculties, planning and executing all this with the timing of Jason Bourne. The man is clearly in excellent shape, kitting up and guiding the sailboat with the skill of a Cowes champion. So why does the film end as it does? What would prompt him to, shall we say, take the plunge? Or are we thinking too literally? Is this completely freeing oceanic voyage occurring in the mind of a sick and dying man?
Adalsteins' casting could not have been improved. Hurt, known to older generations as the jaw-droppingly kooky Caligula from "I, Claudius" and to current audiences as wand-shop proprietor Ollivander in "Harry Potter," retains the handsome looks of that unfledged boy from the 1960s. And yet Hurt can dig deep for his characters' mortal pain (watch him as Control in 2011's "Tinker Tailor Soldier Spy"). The man in "Sailcloth" is as real as one of our relatives, a neighbor, an old friend. And yet he is as big as an archetype, the wise elder who lives life on his terms.
Whatever the film is saying, it's a journey we feel compelled to stay with, clutching on to the mainsheet for thoughtful, intelligent travels all the way through the last few frames.