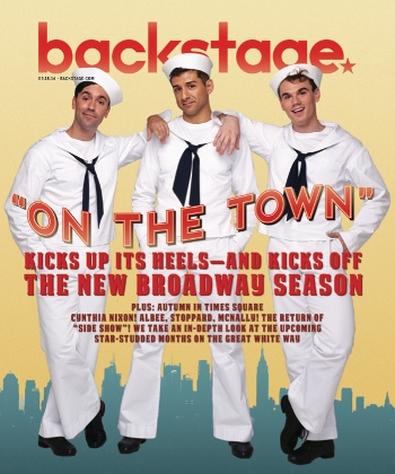 After their first week of rehearsals and having just flown in from Toronto the night before, Clyde Alves, Jay Armstrong Johnson, and Tony Yazbeck should be exhausted. But the trio brim with exuberance as they discuss the upcoming Broadway revival of "On the Town"—even before their morning coffee kicks in.
"When I do shows...if it's a little bit of a somber show, I take that somber atmosphere as a person—just to stay in the mindset of the show—and this year I get to just be joyful," says Johnson ("Hands on a Hardbody"). "The show is like a bunch of joy."
Best known today from the 1949 movie musical starring Gene Kelly and Frank Sinatra, the 1944 musical—with music by Leonard Bernstein and book and lyrics by Betty Comden and Adolph Green—returns to Broadway in a new production this fall, with previews beginning Sept. 20 prior to an Oct. 16 opening night at the Lyric Theatre.
Set in New York City ("a helluva town") during World War II, the show follows three sailors—Gabey, Ozzie, and Chip, played by Yazbeck, Alves, and Johnson, respectively—as they make the most of a 24-hour shore leave, searching for love and adventure before they embark for the war the next day. Their long journey reflects that of Tony-winning director John Rando ("Urinetown"), who's been with the show for nearly six years.
Rando's love story with the musical started when he directed Yazbeck in a 2008 Encores! concert production of the show at New York City Center, saying he was "completely taken with [Yazbeck] and his version of this part."
After helming a 2011 production of "Guys and Dolls" for the Barrington Stage Company in Pittsfield, Mass., Rando was asked to return by Barrington's artistic director, Julianne Boyd. "I said, 'Well, I've always wanted to do a production of "On the Town." The only caveat is that I really do need to have Tony Yazbeck play Gabey,' " he recalls.
With Yazbeck in and Rando and choreographer Joshua Bergasse attached, Alves ("Wicked," "Bullets Over Broadway") says he was immediately excited to audition. However, Johnson wasn't instantly thrilled. "I'd been doing 'Hands on a Hardbody' on Broadway and they were having producer meetings about not selling tickets well and our houses were small and we were in jeopardy of closing and my agents immediately sent me in for Barrington," he says. "So I was like, Oh good, my Broadway show is closing. Let's go audition for some regional theater gig."
But when the cast—including Alysha Umphress ("American Idiot") and Elizabeth Stanley ("Company")—came together, something clicked. "I was like, This could actually go to Broadway," Johnson says. And that backstage optimism was bolstered by a review from Ben Brantley in the New York Times, in which he wrote, "Normally, I wouldn't tell citizens of the five boroughs to drive three hours to be told that New York is a helluva town. But this enchanted vision of a city that was—and of course never was—is worth catching before it evaporates."
"All of a sudden we got that and a whole bunch of producers and investors were interested in seeing the show and we weren't really holding our breath…but we kind of were," says Yazbeck.
Produced by Howard and Janet Kagen (who are "killing it," according to Alves), "On the Town" will be more expansive and elaborate than its monthlong Barrington predecessor, and hopefully run longer than the show's previous revivals—the first closed after 73 performances in 1972, and the second after only 69 in 1999.
"Our [production] is just 100 percent, gajillion times better," Yazbeck says, laughing.
"Because we started at Barrington, we didn't have Broadway pressure. It was just, like, let's just have fun—just a bunch of actors in a room literally having fun, and that's what Ben Brantley saw," says Johnson. "He didn't see a show that's going to Broadway, he saw a show that's just good because we were just having a blast doing it.
"The looseness of what we created last summer—it transfers," he adds.
Aside from the joyfulness emanating from the performers, Rando's "On the Town" is technically more accomplished; its choreography is so involved that New York City Ballet principal Megan Fairchild will be making her Broadway debut as Gabey's love interest.
"This is actually the first production of [the show] where the three main sailors are dancing extensively, full out," Yazbeck explains, something Johnson calls very exciting—"bring[ing] back the triple threat: the song and dance man."
In addition to dancing and singing, Alves adds that the three are "pratfalling and doing the whole physical comedy thing," of which he says, "I'm having a great time…I'm also very spent."
"I think the three of us had a conversation the other day—an extensive one—on where we're gonna get our massages," says Yazbeck.
But beyond the slapstick, the men know the message they're relaying is an important one. "Remember that these are three sailors who are being shipped off to war, that there's a possibility of death—that meeting these girls is actually important for them, to hold on to something before they get shipped off," says Johnson.
"We do keep that in mind, even in all the comedic bits," Alves adds, noting that it's not without help from Rando, who, according to Yazbeck, is "brilliant at reminding us what the stakes are."
"I told my cast last summer before we started…this is a story about real people. Gabey meets Ivy. They fall in love. He goes off to serve, returns, marries her, has children. Those children have children. Those children have children, and that's you doing this show," Rando says.
Inspired by this post? Check out our Broadway audition listings!