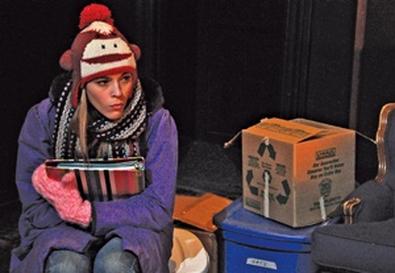 It's amazing what a fledgling theater company filled with enthusiasm and youthful abandonment can do with a black-box space, a couch that looks like it was lifted from a scene study workshop, and a little more than a dozen lighting instruments. With respectful deference to company member Eric Czuleger's audacious black comedy, written for the 2009 MFA acting class from Cal State Fullerton that forms this company, primary kudos should surely be given director Steve Julian for wrenching spot-on performances from his mostly untested players, many presumably unsullied by the discordant world they create here so authentically.
Except for one role—the mentally handicapped teenager Dizzy Hicks, deftly limned by Kirsten Kuiken—at first Julian's cast members appear not old enough and too fresh-scrubbed to take on these roles, but it is an impression quickly buried by the fearless actors willing to confidently go on Czuleger's cold and strident journey.
Meredith Schmidt is heart-rending as Mer, Dizzy's battered mother running from city to city one step ahead of her sadistic ex Hunt (Adam Navarro), whose horrific experiences when he was training to fight for good ol' Uncle Sam have helped turn him into a monster. During a blizzard trouncing Mer's cabin on the outskirts of Skagway, Alaska (where, we're told, the citizenry "ain't regular….That's why we're up here"), she's packing once again in anticipation of the arrival of Hunt, but only after sending her schlub of a suitor Jay (Joe Calarco) out into the violent storm to kill her approaching tormentor—a task that will not, as one soon suspects, end well.
Along with Jeremy Lelliott as the town's hapless sheriff desperately trying to outrun his own personal demons, and director Julian in an atmospheric turn as the progressively discouraged voice of a local radio announcer wondering if anyone is listening, these players take what could be a densely difficult play and make it electrifying. With Calarco's excellent sound design, featuring crashing thunder and a bit of scratchy Django
Reinhardt playing "Body and Soul" to help set the forsaken mood, this is a hauntingly exquisite little production, transporting that aforementioned black-box space to a place where art surpasses everything.
Presented by Coeurage Theatre Company at the Actors Circle Theatre, 7313 Santa Monica Blvd., Hollywood. Feb. 4–Mar. 6. Fri.–Sat., 8 p.m.; Sun., 7 p.m. www.coeurage.org/tickets/buy.