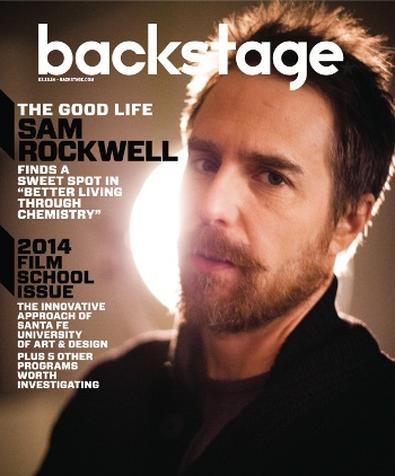 Sam Rockwell graces our cover this week, and he chats with Backstage about his roles in the upcoming "Trust Me", "Laggies" and "Better Living Through Chemistry." Check out a sneak peek from the feature below!
---
Sam Rockwell on Going Toward The Light
Remakes of classic '80s horror films are a dime a dozen now, with fresh takes on "Friday the 13th" and "A Nightmare on Elm Street" failing to supplant the originals, even with their cheesy special effects. But if there was ever a reason to be excited about a reboot of "Poltergeist," it was the announcement that the terrorized parents would be played by Sam Rockwell and Rosemarie DeWitt.
"That movie was really intense," Rockwell says. "I think it's going to be awesome. I was nervous about it because I loved the original, but I talked to Craig T. Nelson and JoBeth Williams [the stars of the original film] and they were lovely and very helpful."
In the new version, Rockwell is a former baseball player recently let go from his job as a tractor salesman; DeWitt is his writer wife. Facing financial difficulties, the couple downsizes to another house with their children where the bumps in the night and glowing television screens begin in earnest.
"But this time the paranormal is not a little woman; it's Jared Harris," Rockwell adds. "And [his character] is an Irish guy on a reality show. And Jane Adams, the other paranormal, brings him in. That's also a nice reboot of the movie. So we'll see how it goes."
For a respected "actor's actor," a horror film remake might not seem like a natural fit, but Rockwell has always responded to projects on a case by case basis. "I like horror movies; I like sci-fi," he says. "I'm a fan. You just feel a connection to something. Or maybe it's the writer, director, or actors. It either makes you want to do it or it doesn't. And it takes a while to warm up to stuff sometimes."