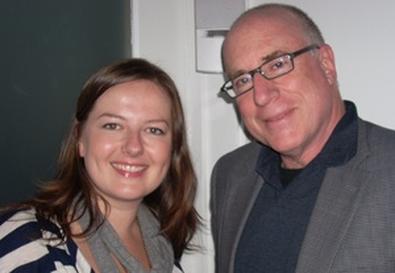 Zuzanna Szadkowski had always imagined a certain career path for herself: character parts, lots of theater, very little television. "I thought I was a theater actor and TV was for, like, 20-year-old girls who are blond and size 2," she says, chuckling. "I didn't think that was a place where I would find employment."
All that changed when Szadkowski met teacher-director Sam Weisman, who was brought in to helm one of her MFA classes at Harvard University's American Repertory Theater Institute. "He was very different from the other faculty we had," she recalls. "He has almost like X-ray vision: He can see the way that you work, and he can talk to you and make changes in your process in a very precise way. It resonated with me because he helps you see how you're perceived, gets you out of your head, and gives you direct advice."
Some of the advice Weisman gave Szadkowski opened up her mind in terms of her career. "He helped me to see a character actor's path in a different way," she says. "I had a much smaller pigeonhole for myself, and he changed the way that I perceived myself. He's the first person who ever told me that I could work in television, and he helped me to see that there was a variety of character roles. He blew open my self-perception." This ultimately led Szadkowski to her most high-profile role, as scene-stealing housekeeper Dorota on the CW series "Gossip Girl." The character developed into such a fan favorite that the network commissioned a series of webisodes centering on her.
Weisman, meanwhile, feels that the missing element he gave Szadkowski was simple: honest encouragement. "She's really enjoyed a lot of success for a young character actress because, very often, character actors have to wait 15, 20 years before they start to work," he says. "I just felt, in her case, she really needed encouragement, and the encouragement I gave her was really truthful. I think she really gets it and understands how she can create opportunities for herself when she walks into the room to audition."
Szadkowski and Weisman developed such a rapport that they ended up keeping in touch after the actor graduated from ART. "For me, it's really cool when a teacher cares about not just the work that you do in the room but the career that you're able to have," she says. "He knows the industry. When I graduated, he's the guy I called to say, 'I have this audition; how do I prepare?' "
Now the duo is cementing their bond even further: Szadkowski has partnered with Weisman to open a new acting school, the Sam Weisman Studio, in New York. "I think he has found this really big love for spending time with students, and he wants to create a new path in his life where he's doing more and more of that," she says. "I jumped all over the chance to help him out."
For his part, Weisman can't wait to encourage up-and-coming thespians in the same way he once encouraged Szadkowski. "I try to empower actors in a real way by saying, 'Look, you are your own set of resources,' " he says. "I try to paint the picture of, this is what the working situation is, and I try to get them to understand that they have to figure out how they fit into the fabric of an entire endeavor."