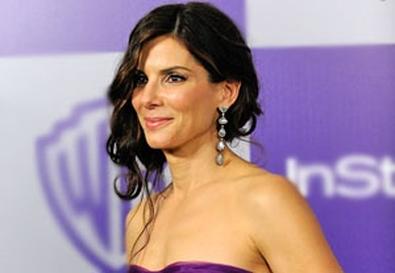 Sandra Bullock still can't believe the year she's having. After starring roles in box-office hits "The Proposal" and "The Blind Side," the actor recently received her first Oscar nomination for her performance as tough-talking Leigh Anne Tuohy in the latter film. "I'm still just sort of catching up with everything," Bullock admitted when speaking to a crowd at the Santa Barbara International Film Festival, where she received the American Riviera Award.

After being presented with the award by her "Hope Floats" director Forest Whitaker, Bullock spent a few minutes with Back Stage to discuss her career in front of and behind the camera.

Back Stage: In your SAG Award acceptance speech, you mentioned that you felt your acting changed after you met your husband. Can you elaborate on that?

Sandra Bullock: Well, I learned how to say no, because my priorities before were different. I was just working all the time, and you sort of get on a hamster wheel—I call it the New York mentality. You just keep working. And that's all I had. That was my family; that was my life. Once I met my husband, things naturally shifted. I didn't expect them to. I had stopped working for a while before I met him, and it was interesting that once I stopped doing the work for everyone else and started doing my life, the good things came into my life, like "Crash" and great projects and him. My love for him helped me be more selective, I think.

Back Stage: Does he have a say in the roles you do?

Bullock: He doesn't want to have a say. But he did tell me to do "The Proposal." I kept saying, "I don't want to go back into this romantic-comedy world." He hadn't even read it, and he said, "I honestly think you need to go back; people want to see you in this." And he was right. He doesn't pipe up much, but when he does, it's pretty accurate.

Back Stage: Going back to your early career, were you good at auditioning?

Bullock: Oh, I had bad auditions all the time. I'm sure I'm still going to have them.

Back Stage: You still audition?

Bullock: When I stopped, I offered to go back again. I said, "I'm willing to go back to the drawing board and start from scratch." It was weird, but it was so needed.

Back Stage: Do you remember your worst audition?

Bullock: There were a lot of bad ones. If the universe is off and you're having a bad day, it's hard to walk into a 10x10 room with eight people who couldn't look more disinterested. There's so many factors that are involved in having your game on. But I'm thankful for all of them. I'm just glad I got to audition.

Back Stage: Did you get better over time, or did you have certain CDs who championed you?

Bullock: There were some casting directors who were so good to me; there are some who are divine actors and give you what you need in a scene. Some just read it monotone and expect you to emote. I remember my agent tried to get me in to a casting director who said to her, "Over my dead body." That same CD, within the last couple years, did a whole exposé on all the people she was responsible for casting. Interesting how I ended up on that list.

Back Stage: You directed a short film, "Making Sandwiches," that played the Sundance Film Festival. Are you interested in directing again?

Bullock: Never again. I did it as a film school. I figured if I was going to produce, I needed to know every aspect of filmmaking. So I wrote it, directed it, was in it, and produced it. And I have no desire to do it again.

Back Stage: You've taken breaks from acting from time to time, but was there ever a point where you thought about leaving altogether?

Bullock: I thought about stopping in the beginning. I was going to quit and just work for this producer. Then I got "The Vanishing" and "A Thing Called Love." I had literally quit and called this producer and said I want to start interning, and then a couple weeks later I got both films on the same day. I think getting away from this business—not quitting but taking yourself out of it—is good. I've done it three times now, and each time it's been good to get away from the outside elements and find a passion elsewhere. It's just too much if you make your career everything. It is everything when you're doing it. But you have to find things you love just as much.