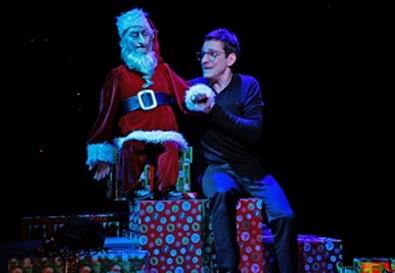 So who knew? Santa Claus is a ho-ho homosexual. When the story goes public, it rocks the world. Well, at least in writer-performer Jeffrey Solomon's "Santa Claus Is Coming Out," his newest one-man show exploring gay issues. What Solomon's really interested in is how to discuss gay sexual orientation with young children. It's a timely and important subject, particularly as the religious right's demagoguery has exploited people's fear of it to roll back legal gay marriage in California and Maine. But while Solomon—who has taught theater to children in Catholic school and written works for young audiences—has his heart in the right place, his play is a curiously muted affair.
The form is a parody of documentary theatre such as "The Laramie Project," and the story is narrated by Santa's crusty Jewish agent, Sid. At its center is young Gary, who asks for a doll for Christmas but winds up with a truck. A letter from a hurt Gary announcing he no longer believes in Santa Claus proves the trigger for St. Nick's declaration: He just can't live a lie anymore. Other characters include Gary's confused parents; his best friend, a 7-year-old African-American girl named Cheyenne; Pete, Santa's butch Elf foreman; Cecelia, a pretentious actor hired to play Santa's wife; reindeer Rudolph, an activist for "misfits"; Mary Ellen Banfield, housewife-activist and president of FAGA (Families Against the Gay Agenda); José, "a fabulous older gay man" who shows Santa the bar scene; and Giovanni, Santa's toymaker and longtime lover who's the great-great-grandson of Pinocchio. As for Santa, he remains offstage, a figure of mystery by his own choosing.
Unfortunately, the story takes too long to become interesting. Too much time is spent on familiar issues, such as Gary "inappropriately" wanting that doll, and not enough on the increasingly satiric happenings after Santa declares himself. Too many of the characters are stereotypes, and too many of the jokes play softball. The writing just isn't sharp or fresh enough to make the conceit fly.
Director Joe Brancato's smooth production presents Solomon sympathetically and incorporates slides, music, and video in support. An ingratiating performer, Solomon projects a genuine sweetness. He differentiates well among his characters, but he can't transcend the writing's flaws. Best is probably Cheyenne, who skirts caricature but is the funniest and brightest of the lot.
It's hard to know who Solomon's audience is. Material such as this needs much more of an edge to hook hardboiled New Yorkers, but if changing hearts and minds is the idea, that title alone will probably keep such folks away. "Santa Claus Is Coming Out" is unlikely either to fire up the converted or convert the fired up.
Presented by Diverse City Theater Company, Penguin Rep Theatre, Shotgun Productions at the Kirk Theatre, 410 W. 42nd St., NYC. Dec. 4–20. Mon., Wed., and Thu., 8 p.m.; Fri., 7 and 9:30 p.m.; Sat., 2 and 8 p.m.; Sun., 2 p.m. (212) 279-4200 or www.ticketcentral.com.