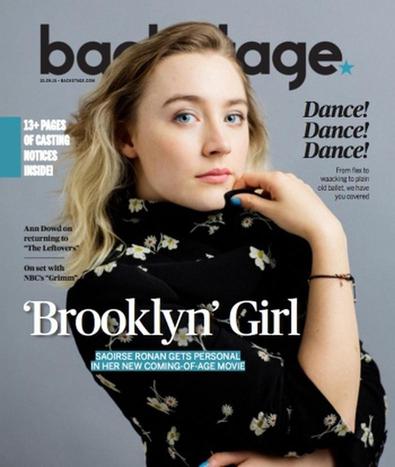 Eilis Lacey is a girl on the cusp of womanhood in "Brooklyn," director John Crowley's adaptation of Colm Tóibín's 2009 novel. Leaving behind her rural hometown in Ireland, Eilis is heading into an uncertain future in 1950s New York. And though the period setting might seem distancing, the story of growth and the nature of home spoke directly to star Saoirse Ronan.
"As you leave home, you're never able to take that step back," Ronan says. "The realization that I had is that no matter what, once you have an experience that is separate from your home life and from your family and where you grew up, you will never be the same again. You will never be the person that you'd have been had you stayed."
Sitting over hors d'oeuvres at Manhattan's Crosby Street Hotel, Ronan is referring not only to screenwriter Nick Hornby's script (which charts Eilis' move to Brooklyn; her first love; and her return to Ireland upon a family member's death), but also to her own life. When Crowley first approached her about the role several years ago, Ronan was in the midst of planning a permanent move from her parents' house in Dublin to London. Much like Eilis' emigration to Brooklyn, Ronan's move to London was her unequivocal leap into independence and adulthood—one she made just before filming "Brooklyn."
"I was scared and I felt alone and I was excited and I was doing all these things I hadn't done before," Ronan says, reflecting on her early days of life in London. "I was figuring out where I stood in the grown-up world. I would go through stages where I got severe bouts of homesickness, even though I was only across the pond."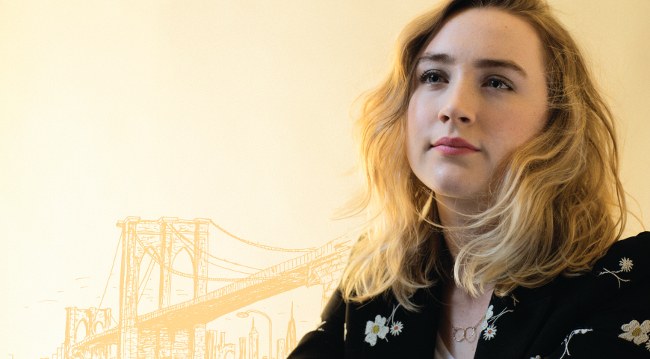 Her longing for home versus her longing for independence had a palpable influence on her performance as Eilis, the first time Ronan has played a character so close to her own experiences.
"Whenever I play a character, a huge part of it for me is to play someone whose situation and character are completely different to me in every way," Ronan admits. But Eilis, an Irish girl living in a town just 20 minutes from Ronan's childhood home, could hardly be kept at arm's length. "Some of the extras that we used in the dancehall scenes I had played basketball with when I was a kid," she says with a laugh. "To have a character that you're playing where you're literally running parallel to each other is so terrifying. It's like you're facing a mirror that's an inch from your face and you can't look away. I was an absolute wreck the whole time. Every second scene in the film had me in buckets."
Her filmography since earning an Oscar nomination at the age of 13 for 2007's "Atonement" has been varied, ranging from Joe Wright's action film "Hanna" to Peter Jackson's "The Lovely Bones" to playing the sweet, marred pastry chef in Wes Anderson's "The Grand Budapest Hotel." Each one is different than the last, but no less entrancing—and the only thing those characters share with Ronan are their baby blues. So what about "Brooklyn" convinced her to play something so close to home?
"I was always very fussy when it came to what [Irish project] I was going to do first," Ronan says. One look at Hornby's script, however, and it was clear the ship had come sailing in. "I don't know how he's been able to capture our spirit so well. It's not very often that people are really able to nail it. There's this cadence and this very specific delivery."

Authenticity in the way the disparate characters commingle onscreen is of particular importance for a film like "Brooklyn." It's a character study—a carefully paced portrait of one woman's emotional maturity. Eilis remains the film's primary charm, and it's Hornby's ability to capture her and her peers' Irish spirit that is especially enamoring.
"I let the book set the tone," Hornby says of his process. "There's a lot more dialogue in the movie than in the novel, but once I'd read it a couple of times, those rhythms seemed to come naturally. I never felt worried about it because I had several safety nets—first Colm, who read the second draft and gave me some pointers on vocabulary, then John Crowley, then Saoirse and Domhnall [Gleeson] as back-stops. There was no way anything was going to slip through."
There's also a necessary delicacy in how to handle Eilis' return to Ireland in the film's third act. She leaves behind the man and new life she loves for a temporary visit that gradually lengthens as she's increasingly tempted by the warmth of home—not to mention the warmth of childhood neighbor Jim Farrell (Gleeson). But though Eilis could seem fickle, Ronan's grounded performance lets the audience in on her complicated reasonings and excuses, something that Crowley helped Ronan discover.
"He would start you off at one place with your first take, then by take three or four, he'd completely change what he wants. He'd completely change the whole feeling of it," Ronan says. "Then it starts to revert back to what he wanted you to do originally. You'd go from one extreme to the other and land somewhere in between. It was almost like he was planting these two different seeds and then the right thing started to grow."
Crowley says he found this hot-and-cold method most effective in culling the emotional notes Hornby's script required. "[If] it sounds like it was a very conscious tactic that I was applying—it wasn't," he says. "With [Ronan], you would feel your way forward from take to take. 'Where can I take her within the scene that maybe clears some of the roadblocks out of the way?' But believe me when I tell you that she never did a bad take of any sort. It was an embarrassment of riches."
Now working the festival circuit and press rounds for what's sure to be an awards contender this season, Ronan admits that for her own sanity, she's held off on watching "Brooklyn," but says it will always have a "great effect" on her.
"The most beautiful aspect of the film is that, ultimately, it's about a woman being able to make her own choice," Ronan says. "At the start, everything had been decided for her: the job that she would have, the community that she would be a part of. By the end of this story, it doesn't matter what choice she makes, it's the fact that she's able to make it for herself."
In Ronan's decision to take on Eilis Lacey—and herself—it was a choice well made.
---
Why Saoirse Won't Do a Franchise
"[Joining a franchise] was never something I sought out to do, but I've auditioned for those things. Everyone is sent into them to audition. Everyone below the age of 30 auditioned for 'Star Wars,' even if they were just out of drama school. I think the draw to something like that is the security of knowing that someone's going to see your film. It's going to be in the cinemas for longer than a couple of days. But I think if you're going to do a franchise, it can so easily just become a moneymaking thing, and that's never been what I wanted to do. It's funny, I've been put in those situations where you do the screen tests and all that stuff, and it feels weird to me. It feels very different to actually make a film and to, like, almost have a 'Hunger Games' situation where everyone is pitted against each other. It's a strange thing, and it's not the world that I'm used to. If something like that were to ever happen, to do a franchise or something like that, you need to be ready and you need to be mentally grounded enough to know that stuff will go away and it doesn't matter. The way that it's presented to everyone is that it's everlasting and that it's easy and that fame means you can get whatever you want. And to a certain extent, that is true, but in other ways, it's so fickle, and to have so much attention on you like that and for it to go—and it can go so easily—is, I think, the real eye-opener."
Want to read more? Check out our Backstage covers here!