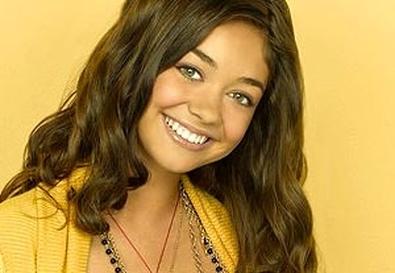 "I've always been very outspoken," says Sarah Hyland in a gross understatement.
From a family of actors, the 19-year-old currently stars as 15-year-old Haley Dunphy in ABC's smash-hit comedy "Modern Family." From her first role as Howard Stern's daughter in "Private Parts" 13 years ago to her recent stint as Brooke Shield's daughter on "Lipstick Jungle," Sarah has been a riding a steady wave of acting success.
A recent transplant from NYC to Hollywood, Sarah still exudes a distinctly East Coast attitude and edge. A gifted conversationalist with a keen sense of irony, she's not afraid to speak her mind and let you know exactly how she feels about things. She also has some wildly eclectic music tastes, and her idea of a perfect day involves watching Sunday football on the couch.
Chosen as this week's Girl2Watch, Sarah will be featured in a series or articles, fun facts and social media tweets through this week for subscribers of
Girl2Watch.com
.
A2W: What kind of training did you get and who do you study with?
SARAH HYLAND: I am not very big on the whole acting class thing. I learned acting from my mom. She was an actress when she was younger, and so everything up until the age of 12, my mom helped me with my sides and stuff like that.
And then when I was 12 I was like, "I got this mom. I can do this on my own. I think you've taught me everything I need to know." And then I can just teach myself and grow. I've worked with amazing actors from people like Christine Ebersole to Victor Garber to Kathy Bates—these amazing, amazing actors and I feel like just watching is learning.
A2W: Do you have like a really good audition story or moment?
SH:. I did this PSA for land mines where I was a soccer player, and my friend makes the winning goal and then she's blown up by a land mine. It never made television because they ran it on the Internet first to see what people thought, and it was way too disturbing to put on television.
In the audition there wasn't many lines, but they started having me do different types of screams. So you would literally have to stand there and have to pretend to watch something and go, "Woo yeah, she just made a goal" and you would be jumping up and down and screaming. And then they're like, "We say 'Boom!'and then you start screaming and start crying and stuff like that." And this is like a commercial audition.
Usually for commercials you're like, "5 dollar foot long" and stuff like that. I thought it was just going to be like some regular audition, and I go and end up having to start screaming and acting like someone was just blow up in front of me, and it was my best friend.
A2W: Do you have any tips for novices or is there anything you wish someone had told you when you first started out in acting? Just advice for other actors.
SH: Get used to rejection because no matter what, you're going to be rejected more times than you're accepted and more times than you'll book a job. I can't even tell you how many auditions I've gone on. I can't even count. Thousands of auditions, and I've booked less than 100, less than 50, less than 30. So it's like you win some, you lose some, and if you do a good job, my mom always told me and she was like, "Did you do the best you could do?" I was like, "I did the best that I could have done." She's like, "Great. Let it go now and if you get a call back, you get a call back. You worry about that. You do the call back. You forget about it and if you book it, you book it."
You just kind of have to forget about it. You can't dwell on it because if you really attach yourself to it, once you get rejected, it's really hard to bounce back, and it puts you in a really bad place. I know, I've been there, and even though it's not like I wasn't told. I was told, but I still let it happen, about getting into that bad place, but it's like you can't let rejection get to you because it's going to come no matter what.
A2W: Do you have a dream role?
SH: I actually just put on my Twitter the other day that I want to be a heroine of one of Jane Austen's books. It's already been done by like freaking Gwyneth Paltrow and Keira Knightley, who I think are both amazing, but I just love that time era, and I love Jane Austen's novels. She's an amazing writer and I would love to do something like that. I would love to play a really crazy person. I like crazy, "Girl Interrupted" kind of stuff. I kind of did that already with this "Law and Order" episode that I did, but like I would really like to go way more into it. I like crazy people. I think they're really interesting.
A2W: What's up next for you?
SH: I'm doing a movie called "Mother's Little Helpers." I believe I start filming that in a couple weeks. It's an indie film and I'm doing it with my friend Ryan Pinkston. It's very different from Modern Family. I love it because I'm playing someone who is a lot like me, just kind of quirky and awkward. If I get into a situation where I don't feel really comfortable, I just start talking and talking, and then I say something inappropriate and I'm like, "Oh gosh, I really should stop myself." It should be a lot of fun, I'm really excited.