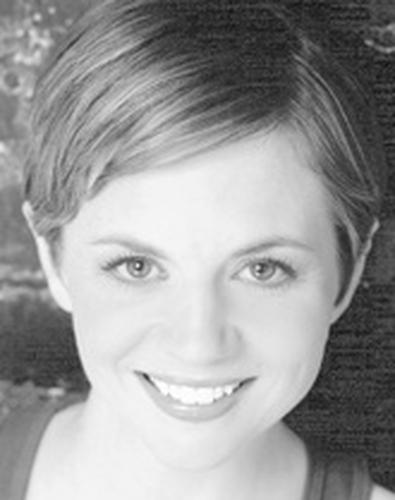 Sarah Louise Lilley -- the name commands attention. This 27-year-old, British-born actor, who moved to New Jersey in her teens, read a casting notice in Back Stage East this past August for Come and Have a Chicky Meal...Cuz You're Gonna Love This Deal, a performance-art piece derived from a commercial slogan associated with the Kentucky Fried Chicken franchise. Performed for one week this past fall in the Alexander Kasser Theater at New Jersey's Montclair State University, the one-hour show was the first public performance presentation created by American artist Julia Mandle. Come and Have a Chicky Meal... combined architecture with other visuals to make a political statement.
The small cast of women wore dresses bearing slogans such as "Imperialist Monster" and "America, Friend or Foe?" in the nonverbal, exhibitlike production, which was configured in a star-shaped installation symbolic of a target. Lilley played the role of Chicky, a character representing life's guilty pleasures and distractions. "I represent a seductive quality of the things we get drawn to," says Lilley of her work in the piece, which she says posed such questions as "How do we deal with parts of our culture that can cause harm to us or others?" and "Are we compromising America's image to others abroad?"
Lilley is currently producing, writing, and planning to star in a short film, "Sasha," about a bartender experiencing a rough night on the job. For material, she is mining her experiences behind the bar dealing with drunken customers. The film will operate under a SAG Short Film Agreement, and Lilley plans to submit the project to film festivals. "I think it's very creative to make a film within a budgetary commitment. I hired the director, made final decisions regarding the location, and I cast for the project," says Lilley, adding, "It was fun and educational to cast, but now I see how much of a crazy process it is."
Lilley, a SAG, AFTRA, and Equity actor, got her start in television doing sketch comedy on Late Night With Conan O'Brien. After receiving her AFTRA and SAG cards, she also landed roles on Law & Order.
The University of Southern California graduate offers one simple piece of advice to her fellow actors: Always remain optimistic after an audition. "Two years ago I would have been depressed for a week if I didn't get a callback. I think, in terms of acting, you start to realize every audition is not the end of the world -- and then you get over it."