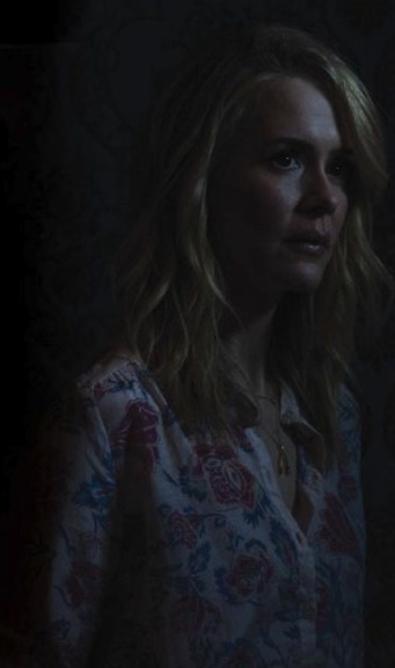 Sarah Paulson is suffering from a momentary case of career envy. "It's Amy Adams'," she says. "That's the career I would wish to have the most. She's so good, and she gets to do all these great, diverse things."
The topic of fighting for roles has been under discussion, and Paulson is simultaneously tempted by the vision of fielding offers and content with showing up for her first day of work knowing that she earned the role based on an audition. The moment passes when Paulson realizes she wouldn't even know how to triage calls from her agents about offers from David Fincher or Paul Thomas Anderson. Besides, she says, "I walk on set in a much more confident way because they saw me do it and they picked me."
Offers or no, Paulson cheerfully admits that she's also racked up an impressive number of diverse credits over the last few years. "There's been a bit of a run that's been work I've been proud of, opportunities to really act," she says with trademark self-deprecation. That "bit of a run" has included rave reviews for her performance in the Off-Broadway revival of "Talley's Folly" this past winter, back-to-back Emmy nominations—for HBO's "Game Change" in 2012 and FX's "American Horror Story: Asylum" in 2013—and roles in film festival favorites "Mud" and "12 Years a Slave."
Paulson's sitting in a suite in New York City's Conrad hotel—very un-Manhattan, we agree—to do press for the latter just days after its rapturous premiere at the Toronto International Film Festival. She's taking a break from the New Orleans shoot for "American Horror Story: Coven" to talk about her role as Mistress Epps in the Steve McQueen drama, which had filmed in New Orleans the summer before. Though her role was small, Paulson pursued it ferociously.
"We're doing this junket, and everyone's like, 'What made you want to be a part of this movie,' " Paulson says. "And I'm like, more like how did I chase the mailman down the street like a dog to try to get this movie."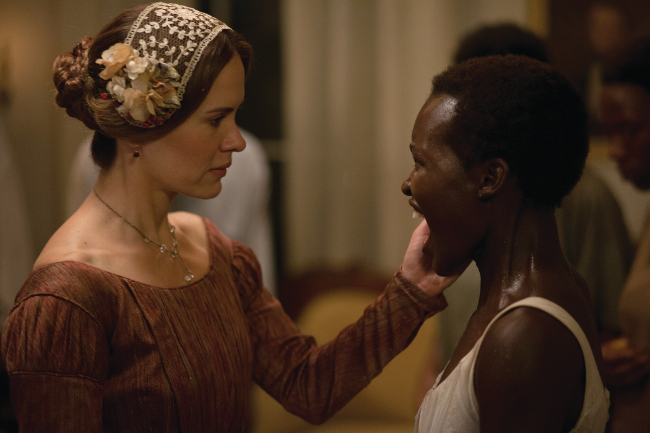 Part of the chase involved putting herself on tape, a tricky proposition because the filmmakers weren't releasing the full script and Mistress Epps' scenes are filled with cruelty and violence as she watches her husband (played by Michael Fassbender, a major draw for Paulson) allow his love for slave Patsey to humiliate Mistress Epps. But Paulson gamely pulled her hair back tight, wore a dress that gave the impression of being a petticoat—"something I actually wear, which is kind of embarrassing"—and filmed herself clawing Patsey's face. Despite being a day away from offering the role to someone else, McQueen was "intrigued" by Paulson's tape. A day later, the role was hers.
What sets apart McQueen's slavery epic (based on an 1853 memoir) is that there are no moments of redemption for the owners of slaves. Paulson isn't seen sneaking into the slaves' quarters with food; she's hurling cut-glass decanters at them or clawing a chunk out of Patsey's face. "It's a dance on the knife's edge," Paulson says carefully, "because I'm not trying to defend her behavior. But from an acting standpoint, when you have to get into the head of someone who does indefensible things, you have to find a way to make things real for you. Because nobody walks around thinking they're a terrible person. You may question yourself, but [Mistress Epps] doesn't have that capacity. That's why she's able to do those things and feel justified."
Paulson drew the line at scratching an imaginary actor's face during her taped audition, but she's an advocate for dressing for one. "For 'Down With Love,' I put a rinse on my hair because Renée Zellweger was attached and they said, 'We worry you look too much like Renée.' " She laughs. "I look as much like Renée Zellweger as I look like a field mouse! But our hair was both blond. So for my final callback I wore a wig. I would rather not get the job knowing I did everything I could to give them all the information they could possibly have about me than walk away going, 'Oh, I should have done that!' "
For "American Horror Story," Paulson had no hoops through which to leap—at least, not for any of her three roles. There was a tense moment last year before "Asylum" began filming when it seemed as if its dates would prevent her from doing "12 Years a Slave," but creator Ryan Murphy intervened. "I was really upset, and I called Ryan," Paulson says, "and Ryan said, 'Oh, lady. I'll help you figure out a way to do the movie.' I really credit him with helping to make that happen."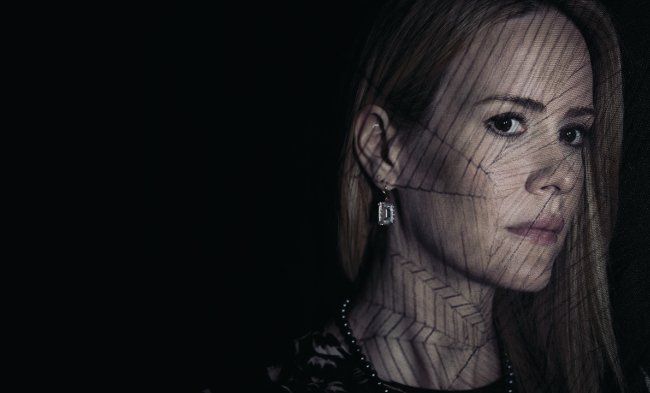 Now Paulson and Murphy are reteaming on "American Horror Story: Coven," which finds Paulson playing Cordelia, the daughter of Supreme witch Jessica Lange, in present-day New Orleans. (Lange, a frequent co-star of Paulson's, calls Paulson over email "intelligent and inventive. There is no artifice. Her work is organic and true. It is always honest.") In addition to the "AHS" alums returning to the fold for another season (including Paulson, Lange, Evan Peters, Denis O'Hare, and Taissa Farmiga), this season includes a bumper crop of women actors. "It's every actress anyone could ever love," Paulson says, name-checking Angela Bassett, Patti LuPone, Kathy Bates, and Emma Roberts, a list that barely puts a dent in the roster of bold-faced names on board. "This year it's a much bigger show in scope, many more stories." Does this mean that after playing the heart of "Asylum," Paulson gets a little bit of a rest on "Coven"? She pauses. "I would love to tell you things, but I'd be killed in a back alley somewhere."
The show's plots are tightly guarded secrets until its Oct. 9 premiere, but what has been revealed is that Cordelia runs Miss Robichaux's Academy for Exceptional Young Ladies, a training ground for witches (including Farmiga, Roberts, and Gabourey Sidibe) to harness their powers and learn survival. Though "Asylum" found Paulson's character in the middle of the action—usually on the verge of or actively being harmed—Cordelia is more of an observer. In some ways she's similar to Mistress Epps—both sitting on a powder keg of emotions—but Paulson points out that Cordelia is more emotional. "One would hope," she adds dryly. "One would hope."