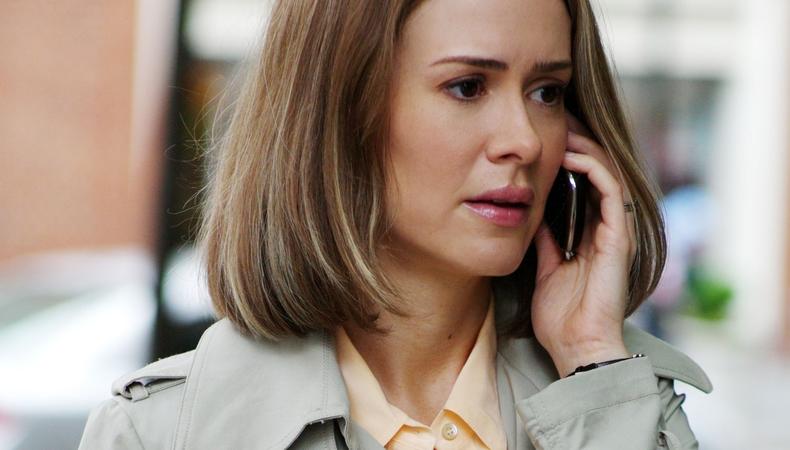 Sarah Paulson has had a busy year. In addition to stealing scenes from no less than Jessica Lange on FX's "American Horror Story," she also co-starred in HBO's "Game Change," about John McCain's appointment of Sarah Palin as his running mate in the 2008 election. Emmy nominated for her turn as campaign advisor Nicole Wallace (opposite Lange, as it happens), Paulson is now at work on the second season of "American Horror Story: Asylum." We spoke to her about not lampooning Republicans, well-intentioned friends, and finding herself caring about Sarah Palin against all odds.
First, I just have to say that I'm excited about "American Horror Story: Asylum," but I was disappointed that the second season wasn't about your Season 1 character, the psychic Billie Dean.
Sarah Paulson: I wouldn't have minded that either! But I think you'll be pleased about this year. I have a little more to do.
As for "Game Change," I assume that, like Kelsey Grammer, you are a Republican working in Hollywood and that's why you got the script?
Paulson: That's funny. No, I'm not a Republican working in Hollywood, I am a Democrat. And I didn't get the script the way that fancy movie stars do. I'm very flattered that people think I get a pile of scripts that I pilfer through, but I had to audition.
What drew you, as a Democrat, to Nicole Wallace?
Paulson: I sort of felt protective of her. And there was a way into the Republican thing because she was questioning Sarah Palin a lot and pushing her to be smarter and more informed. So I think that part of it was easy for the Democrat in me and the viewer in me who had been watching the whole thing.
Because she questions Sarah Palin, Nicole is kind of a way in for the audience.
Paulson: That was [director] Jay Roach's thing. Because I would turn to him often and say, "Are you sure I can't reach across and grab her by the throat in this scene?" And he would smile and say, "No, the way into the movie for the audience is through Nicole because she's the one who starts questioning." And Nicole Wallace took her job seriously and wanted this to work. And at the beginning of the movie, you can see she's energized by this. And as Sarah Palin's intelligence and lack of political prowess is revealed, you can see she's up against it.
And now you're Emmy nominated! Was it a surprise?
Paulson: I had heard the chatter about it, but that has happened to me before and I thought, "I'm really afraid to get too invested in the outcome." It sounded a little bit to me like playing with fire. And people very innocently come up to you! At the opening night of "The Lyons" on Broadway, producer Liz McCann came up to me and pointed at my stomach and said, "You have an Emmy in your future." Those kinds of things. And people don't know when they say those kinds of things that it makes you excited and hopeful and you might be disappointed. I just thought, "I'm the only person in this ballot who doesn't have an enormous body of work behind me." To be singled out in a group of such five incredible women!
Well, you've also had a pretty incredible year opposite some of those women.
Paulson: Jessica and I have a long relationship together because we did "Glass Menagerie" together. We've been friends for a long time. And on "American Horror Story," we got to work together again and all of my scenes were with her.
And then to work with Julianne Moore on "Game Change."
Paulson: That performance to me is so astonishing because I never thought anyone could make me care about Sarah Palin. Julianne Moore does an incredible job of making you feel that there's a person in there. And I do know it was important for her to find a woman behind the projected image, projected from a media perspective.
What's remarkable about "Game Change" is that it's filled with so many lampoon-worthy people and moments, but everyone avoids easy spoofing.
Paulson: Danny [Strong] wrote such a beautiful script! It was very important to Jay [Roach} and to Woody [Harrelson] and to Ed [Harris] and to myself that we don't judge them. I think it's very important for people to not judge the people you're playing. You have to find a way to love them because their story is theirs. I just don't think there would be any use in that.