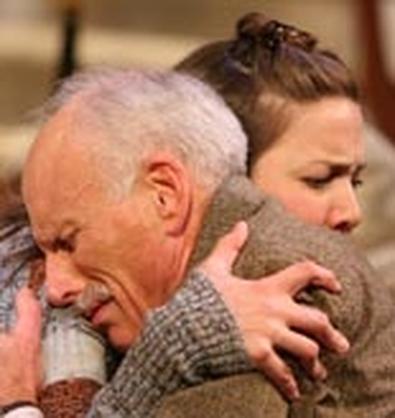 It's always heartening to encounter a playwright who makes you think, "I know people just like that." Noah Haidle is relatively new to me, his only previous major New York production being Mr. Marmalade, presented by Roundabout Theatre Company in 2005. Lincoln Center Theater is now staging his Saturn Returns, and while the work is somewhat slight and overly tricky, it does display solid characterization and a moving situation.
The short play — it's a little more than 70 minutes — comes across as too much like a writing exercise. We're in the living room of Gustin, a lonely elderly man. He cracks jokes about mortality and illness with the new home-care worker, as all old people in plays do. He remarks that she bears a striking resemblance to his late daughter. After she agrees to stay even though he's healthy enough not to need her, we travel back in time to meet Gustin at 58 and then 28 — played by other actors — at turning points in his relationship with his daughter and wife, both limned by the actor playing the visiting aide. A program note explains that this is where the title comes in: The planet Saturn completes its orbit approximately every 30 years and in astrology is associated with crucial moments in a person's life.
Despite the gimmicky nature of the script, Haidle penetrates to Gustin's heart and shows how our actions and habits can echo across the years. Director Nicholas Martin elicits sterling and sensitive performances and avoids Hallmark-card sentimentality creeping into the proceedings.
As the eldest Gustin, John McMartin is neither the crotchety old coot nor the lovable old rascal you usually get in these parts. Instead, he gives us a desperate man simultaneously hiding his isolation and struggling to end it. James Rebhorn is equally moving as the middle-aged version of the protagonist. Robert Eli is given less conflict to play as the youngest Gustin — his wife is too needy, that's about it — but makes the most of his moments.
Rosie Benton creates three distinct personalities as the women in Gustin's life and endows each with a refreshing vitality even when Haidle is soft on her motives or falls back on cliché. For instance, it's just not believable to have Suzanne, the nursing aide, bang on the old Gustin's door in the middle of the night after a fight with her boyfriend — especially given the tentativeness of their earlier scenes. Yet Benton and McMartin vivify this potentially forced scene.
Ralph Funicello created the homey set, transformed by Peter Kaczorowski's lighting into varying degrees of age.
Presented by Lincoln Center Theater
at the Mitzi E. Newhouse Theater, 150 W. 65th St., NYC.
Nov. 10-Jan. 4. Tue.-Sat., 8 p.m.; Wed. and Sat., 2 p.m.; Sun., 3 p.m.
(212) 239-6200, (800) 432-7250, or www.telecharge.com.
Casting by Daniel Swee.