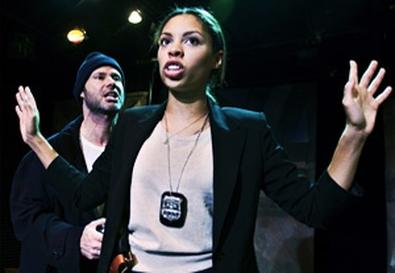 To fashion his 80-minute one-act play, currently being given its world premiere by the Negro Ensemble Company, author Raymond Jones drew upon his own 25-year experience as an officer with the Bronx District Attorney's office and his interviews with African-American female police officers. Unfortunately, his research shows. The result is more term paper on stage than engaging drama. Rather than creating whole characters out of a composite experience, Jones has offered separate incidents from several lives that never comprise a fluid narrative or seem organic to his heroine, Savannah. It doesn't help that this title character (an appealing Ciera Payton) seems to narrate her story as much as she and the rest of the cast of nine enact it.
Savannah was an only child in the 1970s, a latchkey kid raised by a working single mother (a solid Thyais Walsh) and entertained in her absence by period cop shows such as "Cannon" and "Barnaby Jones." But Savannah's through-line from the projects to New York City policewoman is unearned. Too many of the intervening events are almost passive: a pregnancy by her first high school boyfriend (Ohene Cornelius) that is aborted, an early marriage to him, an aimless college career leading to an unsatisfying teaching job, and then an improbable gig giving out parking tickets for the city. Even her entry into the police academy seems accidental rather than the result of a real passion to join the force that has been festering since childhood. Her issues with her husband regarding her career (especially a dangerous one) versus family should get more attention before she takes the job.
Though some of the entrances and exits in this production are awkward—more the result of the fact that this venue is a studio rather than a theater than from anything director Charles Weldon has done or failed to do—a few performances are good enough to wish for more of them in a fuller play. Tomike Ogugua as Savannah's absentee but loving dad is both touching and credible. Jamie Patton as Savannah's relatively grounded best friend is affecting, and Cornelius nicely conveys the macho/sensitive ambivalence of the boyfriend/husband. But other, minor characters are clichéd, as is their dialogue. A too-young Kimberlyn Crawford is saddled with the role of a grandmother loaded with clichés, possibly a joint failing of author and director. She actually tells Savannah, not once but twice, "When life hands you a lemon…." You finish it. Grandma's advice about landing a man is also reiterated for emphasis: Feed him macaroni and cheese.
Unlike that mythical man, we in the audience need a bit more substance to sustain us.

Presented by the Negro Ensemble Company in association with Raymond Jones Productions at Shetler Studios, 244 W. 54th St., NYC Nov. 7–22. Thu.–Sat., 7:30 p.m.; Sat. and Sun., 3 p.m. (No performance Sun., Nov. 15; additional performance Wed., Nov. 18, 7:30 p.m.) (212)279-4200 or www.ticketcentral.com.