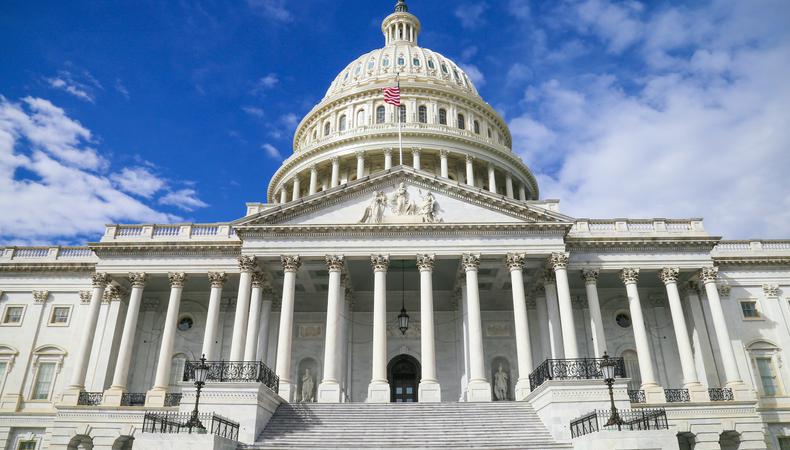 Congress has passed the Save Our Stages Act (SOS), a $15-billion bill that will provide emergency funding to venues focused on live performances as well as movie theaters. SOS was passed as part of the $900-billion Coronavirus Response and Relief Supplemental Appropriations Act, which also includes an extension in unemployment benefits and $600 stimulus checks. It passed as part of the $2.3-trillion Consolidated Appropriations Act of 2021, which contained both COVID-19 relief and a $1.4-trillion omnibus spending bill. Both SAG-AFTRA and Actors' Equity Association applauded the legislation, while saying it doesn't go far enough. President Trump signed the bill Dec. 27. Here are the details working artists should know.
SOS will allow performing arts venues, movie theaters, and talent agencies to apply for relief grants if they've lost at least 25% of their revenue. The maximum amount awarded will be $10 million. Smaller venues will also be given space, with $2 billion of the fund specifically allocated to entities that employ fewer than 50 people full-time. The money can go towards business expenses such as payroll, rent, utilities, and insurance.
The COVID relief bill also extends Pandemic Unemployment Assistance to March 14, 2021. PUA, first passed as part of the CARES Act in March, enabled freelance artists and independent contractors to receive unemployment benefits for the first time.
The new Appropriations Act also provides an additional $300 a week in unemployment compensation, until March 14, 2021. And it increases the weeks that an individual can claim unemployment, from 39 to 50 weeks. In addition, mixed earners (those who earn money from a mix of traditional and freelance income), will receive an additional $100 a week if they earned more than $5,000 in freelance income in 2019.
There will also be a $600 direct payment to Americans who made under $75,000 in 2019. For those who made more than $75,000, the payments will decrease by 5% for every $100 of income and people who make above $87,000 will not receive the payment at all. The $600 is only half of the $1,200 that was originally distributed as part of the CARES Act.
Equity has said that the relief bill doesn't go far enough in helping unemployed artists. The $900 billion is a step down from the $3 trillion that was originally proposed by the House of Representatives in May.
Beyond SOS, the $900-billion Appropriations Act has other provisions that apply to entertainment professionals. It contains copyright protections for content producers, making it illegal to operate a streaming service for pirated works—including film, television, and music. Those who operate such platforms, and make money off of them, will be subject to penalties, including fines and up to 10 years in prison.
In addition, copyright holders will be able to pursue redress within small claims court, instead of federal court.
"As we near the holiday season, I want to thank Congress for remembering SAG-AFTRA members, with the acknowledgement that there is more to do. The effects of the pandemic will be with us for a long while, and I hope the federal government continues to offer aid to all Americans," said SAG-AFTRA President Gabrielle Carteris in a statement. "I also want to thank members who contacted their elected representatives and let them know the importance of protecting copyrighted works. I have no doubt that members' voices were instrumental in getting this legislation passed."
SOS was first introduced in the Senate by Senator John Cornyn (R-TX) and Senator Amy Klobuchar (D-MN), and Representative Peter Welch (D-VT) and Representative Roger Williams (R-TX) in the House. It was also championed by Senator Chuck Schumer (D-NY), with 230 bipartisan cosponsors.
It was a priority in the lobbying effort by multiple arts groups, including the Broadway League, National Association of Theatre Owners, the National Independent Venue Association, as well as Actors' Equity Association and SAG-AFTRA.
"Senator Schumer himself said, 'We can and should do better,' and I agree," said Equity President Kate Shindle in a statement. "This bill does indeed contain valuable provisions that will extend unemployment for those in the live arts. And it offers a down payment on funding for vaccinations, which will create a shorter path for us to get back to work. Unfortunately, our industry will not yet have recovered when this new round of unemployment provisions expire, creating uncertainty for millions of middle-class Americans who make our living in the arts and entertainment sector. The package also fails to provide COBRA funding for arts workers, who are losing their health insurance through no fault of their own during the industry shutdown. We look forward to working with President Biden and the new Congress next year to improve upon the steps taken in this important bill."
Despite the increasing number of COVID-19 infections, many entertainment professionals are looking towards the rollout of the coronavirus vaccine as a promise of impending normalcy. But in an interview with the New York Times, Dr. Anthony Fauci cautioned against being too optimistic.
He said that if "everybody" is vaccinated "within a period of a few months," then by fall 2021, "you could likely go to movies, go to theaters, do what you want. However, it's unlikely, given what we're hearing about people's desire to get vaccinated, that we're going to have that degree of uptake. If it turns out that only 50 percent get vaccinated, then it's going to take much, much longer to get back to the kind of normality that we'd like to see."
In the meantime, arts advocacy groups are not letting up on lobbying for more aid. Be an Arts Hero, a grassroots advocacy organization created by actors, released a statement saying, "This win must be recognized as a beginning, not a conclusion, to the long road ahead for relief and recovery. We urge the Biden administration to move swiftly to create additional relief legislation to address the financial crisis facing the millions of Americans who have been catastrophically impacted by COVID-19."
On Monday, President-Elect Joe Biden said that the Appropriations Act is "the first step, a down payment, in addressing the crisis, crises, more than one, that we're in. There is a lot more work to do." He promised that he will prioritize more COVID-19 relief, including more stimulus checks, when he enters the office in January.