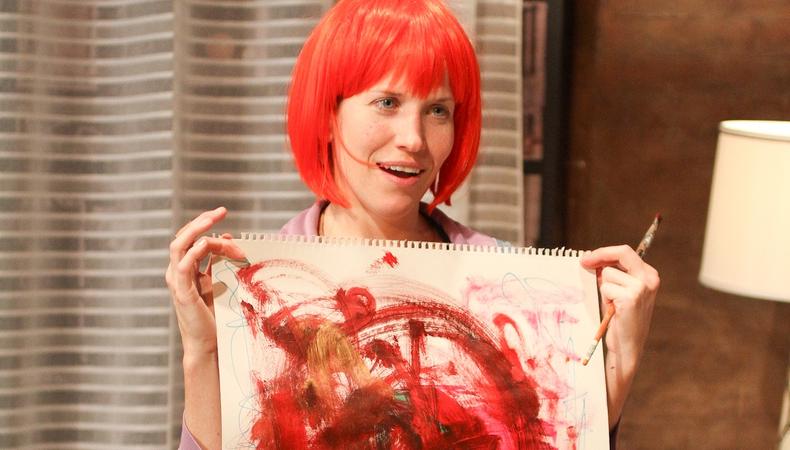 When you walk into the Barrow Group's intimate Studio Theatre for Stefanie Zadravec's "Save Me," you may feel that you've taken a wrong turn into somebody's living room. The production design by Eric Paeper—depicting a somewhat sterile-looking Manhattan apartment—is meticulously naturalistic. Lee Brock directs with a hyper-realistic style that is both engrossing and initially a little off-putting. The first scene, between a young New Yorker named Caroline (Alyson Schacherer) and her gay neighbor and confidant Martin (Porter Pickard), drags somewhat. Though Martin regales Caroline with tales of his latest sexual escapades—sprinkling in some campy wisecracks—you wish the actors would pick up the pace, so that Martin's zingers would really zing.
But there's a reason for the initial enervation. Caroline, unbeknownst to Martin, is very sick. She has a brain tumor requiring immediate surgery. She has reached out to her sister Beth (Christina Denzinger), who soon arrives by bus from Virginia with her teenage daughter Rachel (Chloe Levine) in tow.
Beth is a chirpy born-again Christian whose view of life is miles apart from that of the apparently agnostic Caroline. Upon arrival, Beth takes immediate control, donning rubber gloves and scouring the apartment. She gives Caroline Bible verses to recite, claiming, "If you speak the word of God out loud, you will testify." Is Beth there to help save Caroline's life or to redeem her soul?
Martin scorns the idea that Beth—a nurse by profession—values superstition over science. The shy but rebellious Rachel, who seems always to be on the verge of a subversive giggle, says, "Jesus doesn't solve all the problems in the world." But while Caroline at first scoffs at Beth's Southern-fried religiosity, she finds herself grasping at whatever miracle might be available.
Zadravec straightforwardly examines a splintered family facing a sudden crisis. While leavening the story with humorous touches, she takes a clear-eyed look at stark elemental matters while providing bountifully rich roles for a quartet of effective actors.
Schacherer acts unsentimentally, exposing Caroline's suddenly ravaged psyche. She zigzags from fearfulness to lethargy to a manic upswing of hope that seems miraculous. Denzinger endows Beth with appropriately smug righteousness but doesn't let her become a cartoon, providing small glimpses of Beth's vulnerable side. Pickard's Martin is a court jester who seems to recognize with sadness the limits of his snappy quips under grim circumstances. When he encounters the flurry of horrible abstract paintings that Caroline has feverishly dashed off, he can only look on with heartbreakingly sad eyes. Levine (a young screen performer in her stage debut) makes Rachel slyly enigmatic. Yes, she mumbles a few of her lines, but she has both an easy manner and a riveting presence.
There are few clever plot turns in "Save Me." There is no heroism and no treachery. It's a story we all could find ourselves swept into, a slice of life no one wants to find on the menu. Yet there's something strangely rewarding in watching it all play out.
Presented by and at the Barrow Group, 312 W. 36th St., 3rd floor, NYC. Jan. 18–Feb. 10. (212) 868-4444 or www.smarttix.com.
Critic's Score: A-