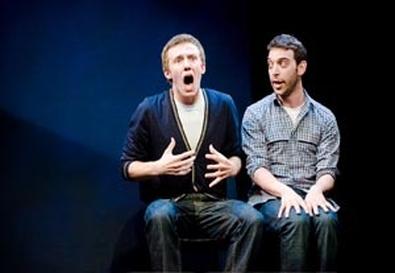 Perhaps we're too scarred by personal experience with hideous bridesmaid dresses or drunken post-reception hookups, but it doesn't take a reality-show bridezilla to tell you that those who enjoy weddings the most are usually the ones getting married rather than the ones watching.
Sadly, the same can be said of
Sax & Dixon
:
We Thee Wed
, a full-length nuptially themed trifle from sketch-comedy duo John Dixon and Matt Sax. The writer-performers yuk it up as they play more than a dozen broadly drawn characters involved in an increasingly surreal wedding at a Midwestern megachurch. Plot quickly takes a backseat to gags as a mentally unstable ex-boyfriend, a deceased priest, and a limp-wristed Grim Reaper wreak havoc at the ceremony.
But jokes alone aren't enough to carry
We Thee Wed
. While Sax and Dixon manage to provide more laughs than groans, they simply can't sustain the piece for a full 90 minutes. They and director Peter McNerney, who also collaborated on the script, fall victim to their sketch-comedy background. The gimmicky scenes and oddball characters (a grotesquely maimed wedding band, anyone?) start to resemble a night of improv that's gone on too long. When the time finally comes to tie up the multitude of plot lines, the team is strangled by all the loose ends.
That's not to say
We Thee Wed
isn't without a certain winsome charm. Sax and Dixon serve up high-energy performances and flit between characters—sometimes a dozen in rapid succession—with precision and commitment (except, noticeably, when it comes to kissing each other as man and wife). Unfortunately, even these accomplishments can't keep the jokes from wearing thin. Before this couple can tie the knot, the honeymoon's already over.
Presented by and at Ars Nova
,
511 W. 54th St
.,
NYC
.
June 17
–
27.Wed
.–
Sat
.,
8 p.m
.
(
212
)
352-3101
, (
866
)
811-4111, www.theatermania.com, or www.arsnovanyc.com
.