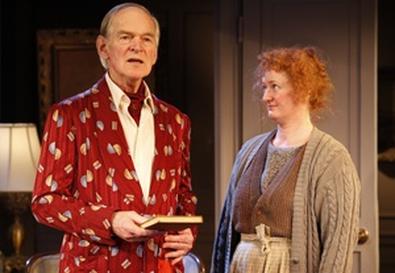 Thomas Kilroy's "My Scandalous Life" places Lord Alfred Douglas, the infamous lover of Oscar Wilde, center stage; the effervescent Oscar is forced to take an unaccustomed back seat. And for quite a time it seems that Lord Alfred, or "Bosie," as he was known to family and friends, is interesting enough to be spotlighted. But as the play proceeds—and as Bosie proves, even in his own words, to be an unreliable witness and a rather miserable human being—the wish for Oscar to brighten the proceedings becomes a heartfelt one. Unhappily, what was once the play's strength becomes its burden. Nevertheless, that Kilroy is able to make Bosie sympathetic even for a time is some kind of achievement. In the assured hands of actor Des Keogh, this is a portrait that Oscar enthusiasts will relish.

The setting is Bosie's wife's cozy flat in Hove, a town on England's southern coast, near Brighton. It is 1944 and German bombers fly overhead on their way to London. Bosie is downstairs, attired elegantly in a dressing gown and speaking directly to us, while upstairs his wife, Olive, is slowly dying. The only other person we meet is Eileen, the Irish maid (Fiana Toibin), who is everything Bosie isn't: lower-class, disheveled, practical, and bluntly honest. Bosie speaks lovingly of his wife: how they met, wrote poetry, and then "lived tragically ever after." This telling of a detail of his life, giving it a lyrical glow, and then admitting the ugly truth becomes a pattern.

"All lies!" Bosie suddenly shouts and then goes down on his knees into a Catholic prayer. We learn of his damaged son Raymond, who has been certified schizoaffective and institutionalized. He rails against Olive's father, Major Custance, and Robbie Ross, Oscar's devoted friend and executor. He speaks of his many libel cases ("Going to court was just like going to the races"). Then Olive dies.

Once the funeral has taken place, Raymond replaces his mother upstairs. Bosie is now dressed in a dark suit and tie, and the sleeping Raymond comes to dominate his guilty thoughts. We learn that, just like Oscar, Bosie spent time in jail and saw a vision of Christ there. Then it's back to the present and pleasant: the young men who drop in for tea. One of them is actor Donald Sinden, who in his book "A Touch of the Memoirs" gives a moving account of these meetings. The last mention of Oscar concerns his funeral and comes in yet another denunciation of Ross. For a final image we have the Douglas ancestors and an unspoken reminder that madness has always haunted the family line.

Keogh, under John Going's meticulous direction, delivers this compilation of contradictions with easy conviction. Toibin's Eileen is like a force of nature, a strong wind blowing through the accretion of lies, the dust of yesterday.

Presented by and at the Irish Repertory Theatre, 132 W. 22nd St., NYC. Feb. 6–March 6. Wed.–Sat., 8 p.m.; Wed., Sat., and Sun., 3 p.m. (212) 727-2737 or www.irishrep.org.