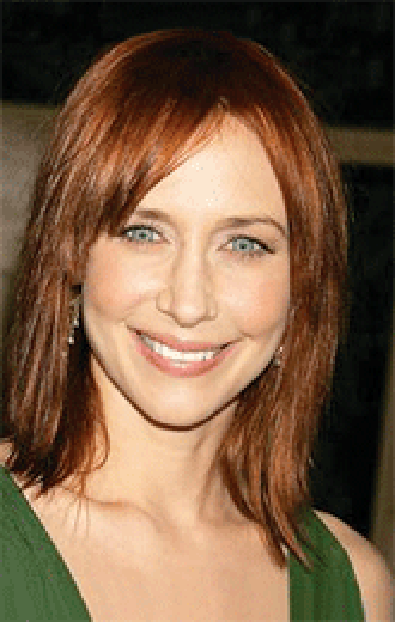 Someone at Fox Television clearly has an eye for talent. The network's 1997 fantasy series Roar may have been short-lived, but at least two of its stars have fared well in the past decade. One, Heath Ledger, is a recent Oscar nominee for Brokeback Mountain. The other, Vera Farmiga, is on her way to similar accolades. Hot off a surprise best actress win from the Los Angeles Film Critics Association for her portrayal of a cocaine-addicted housewife in the gritty indie Down to the Bone, Farmiga landed an actor's dream: plum roles in films from Anthony Minghella and Martin Scorsese. Currently she's stealing scenes amid bullets and bloodshed with a steely turn as Paul Walker's supportive spouse in Wayne Kramer's violent crime thriller Running Scared. She has come a long way from her TV debut in Roar, in which she played a dreadlocked Celtic warrior. "That was my first job in front of a camera," she recalls with a smile. "And I was terrified. I was so scared."
Farmiga never had what she calls "a grand desire" to be an actor; in high school she planned to become an eye doctor. "I think it occurred to me in my senior year in high school when I was benched in soccer," recalls the New Jersey native. "I didn't want to sit there, so I auditioned for the school play and got the lead." She enjoyed performing in the piece--a melodrama titled The Vampire--but even as an undergraduate in drama at Syracuse University, she had notions of leaving acting. "I'm not an attention seeker; I wasn't looking for fame and fortune," she notes. "I wasn't sure while I was there." But over time, she began to feel more at home with calling herself an actor. "I found I was really comfortable taking on a different personality," she continues. "It saved me from myself, in a way."
After a couple of years onstage performing in classics such as The Glass Menagerie and The Seagull, Farmiga began making the TV guest-star rounds (she has the obligatory Law & Order credit) and was a regular on the 2001 series UC: Undercover. "That title always bewildered me," she says with a smirk. "It was so redundant." But her biggest break came after being cast by writer-director Debra Granik in Down to the Bone. "It was a breakthrough in the sense that this was the first time I was given an opportunity to play such a fully dimensional, complex character," she notes. "I've always worked steadily in projects that either came in under the radar, weren't successes, or were flat-out not good." Farmiga was so taken by the script that she almost didn't go into the meeting with Granik--certain the part was out of her reach. "I thought I had no chance; I thought it would be the same old story--one of the Kates [Cate Blanchett or Kate Winslet] would get it," Farmiga notes. "But I met with Debra, and, I don't know, my vision and her vision of it clicked. It was pretty incredible of her to cast me despite [my] having no box office clout."
Her searing portrayal of addiction was hailed by critics and won Farmiga a Special Jury Prize at the 2004 Sundance Film Festival, but the film was given only limited distribution in late 2005. While she wishes it had found a bigger audience, the film served as a great calling card--though she wasn't instantly flooded with offers. "I looked quite haggard, so I found a lot of people saying, 'She's not pretty enough,'" Farmiga recalls. "People don't have much imagination. It's amazing what a coat of foundation and running a comb through your hair will do."
In the end the film was seen by the right people. Kramer, who had read her for a role in his debut feature, The Cooler, saw it and offered her the part in Running Scared. Scorsese asked her to come in for a chemistry read with Leonardo DiCaprio, and she earned the female lead in the director's upcoming The Departed. Minghella saw it, too; she won a part in his new film, Breaking and Entering.
Perhaps the strongest testament to Farmiga's success was that Kramer didn't make her audition for the pivotal role in Running Scared, a film that requires its actors to go to very dark places. While flattered, Farmiga admits to having qualms about this new luxury. "There's a terror that comes with not having to audition for a role," she says. "If you're just given a role and you show up to set, you're not quite sure if you're capable. At least when I had auditioned, I knew I earned it."
Of course, for those who've caught Farmiga's recent work, there's little doubt she's earned all of it.