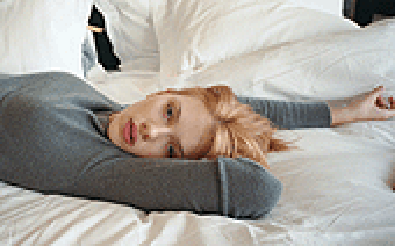 I am toasted--totally toasted," Scarlett Johansson said in her characteristically raspy voice, sprawled out on the Four Season's luxurious carpet in vintage turquoise pumps, a coiffed new mane, and looking anything but, well, toasted. "I got off work at 11:30 last night and I have to be at work at 6:30 in the morning on Monday. That's the glamorous profession," she said with a sigh.
If she is toasted, it's because this girl loves to work. Johansson co-stars with Bill Murray in writer/director Sofia Coppola's second film, Lost in Translation. Set in Japan, the film is a reflective, absorbing piece about two American tourists making sense of their surreal experience by exploring Tokyo together and forming an unexpected friendship. Johansson recently completed director Brian Robbins' standardized-testing caper The Perfect Score, and she just wrapped Girl With a Pearl Earring, a period drama with Colin Firth. Currently she's shooting A Love Song for Bobby Long in New Orleans alongside John Travolta. And this week her performance in Lost in Translation won her the Upstream Prize for Best Actress in the Venice Film Festival's Upstream Competition. So it's safe to say that at a mere 18 years old, she has a head start, and we ain't seen nothing yet.
Johansson broke into the mainstream with her stunning portrayal of the young girl in Robert Redford's The Horse Whisperer, and although she received an "introducing" credit, it was not this native New Yorker's first film. She had appeared in six films prior to that, most notably Lisa Krueger's 1996 indie Manny & Lo, about two fugitive sisters on the run from foster care, which earned Johansson an Independent Spirit Award nomination. If Manny & Lo was the movie in which she recognized her own budding acting instincts, The Horse Whisperer marked her transition from child performer to full-blown actor.
"I was really doing that work," she said, her face glowing with pride. "I was face to face with those actors, and Bob [Redford] was so amazing with me in that film. He was so gentle with me and would literally take me through the entire story to get where I was supposed to be in that scene, no matter how long it took. It was the first real direction I had gotten."
In response, Redford has said, "Scarlett understands acting and she can do it, which is not always the case. As soon as she got it, you could see it register like a branding iron on her mind. Then she just did it. She could do it again and again and again--quite interesting."
Redford has admitted that it was her tough New Yorker independence and self-confidence that gave her a combative strength when up against Kristin Scott Thomas, who played her mother. Johansson won the Hollywood Reporter's YoungStar Award in 1998 for her work in the film.
If Johansson seems to have played so many smart, normal, down-to-earth girls, it might be because she appears to be a watcher; she has a cat-like awareness of everything in her environment. She credits this alertness to always knowing what she wanted to do.
"I don't know if it's just [growing up around sets]," she said. "I find that people who are passionate from a young age just sort of get it. It's a different level of awareness. I've always been very aware of what was going on around me and aware of... vibrations is the only way I can put it, or relations between people and how they interact with one another and all those things that help you when you're acting."
Many industry folks see an old soul behind the starlet's glistening gaze. Said Lost in Translation producer Ross Katz, "Scarlett has a worldliness, a sense of having lived a life well beyond her years. She embodied the role of Charlotte, and she's playing a young woman in her 20s, which people haven't seen her do."
When asked why she wrote the role of Charlotte, a grad student and newlywed, specifically for Johansson, Coppola told Back Stage West, "I like her low voice, and she seems able to convey feeling and depth without doing much. I liked her from Manny & Lo, and she was the right age for this character--kind of on the verge of adulthood but not quite in her skin yet. Also, she has a kind of coolness. She doesn't have that hyper energy that some more extroverted people have but that I wanted the character to have."
"She's a terrific actress," Terry Zwigoff, director of Ghost World, has said of the young star. "She's funny, bright, and wise beyond her years. What I liked most about her for her part in Ghost World is that she's a little bit eccentric. She's got her own highly developed persona, which is very unusual for anybody that age." Johansson was 15, playing a high school grad in the film, and won the Toronto Film Critics Association Award for best supporting actress in 2001.
American Rhapsody director Eva Gardos has said, "When I met her, I just felt there was something very solid and strong about her. I didn't want someone who was eternally cute. I think she has a really interesting face and interesting responses. I like watching her."
A Child Star Is Born
Johansson said that she always liked to perform and that her mother, Melanie Johansson, who is also now her manager, was not an overbearing stage mom.
"I remember my mom saying, 'We should wait until you get older. This is a lot of work,'" recalled Johansson. "But I wanted to do it, and I didn't have any other hobbies. My brother played baseball, and I wanted to try acting. My parents were always very nourishing with that kind of thing."
She first tried commercials. "They never liked me, because of my voice, and I would have these huge temper tantrums afterward," she recalled. "My mom and I were in the subway once, and I was having some temper tantrum, and I'd just come from this commercial. She was like, 'You know what? We're not going out for commercial auditions anymore.'"
From then on, Johansson auditioned for film, TV, and theatre roles only. She made her professional acting debut, at age 8 alongside Ethan Hawke, in Sophistry at New York's Playwright Horizons. For the following four years Johansson trained at the Lee Strasberg Institute.
"I was working in the younger class for half a semester, and then I ended up in the young adult class. I did all the young stuff with the older actors. It was fun. I was the youngest one there," she remembered.
Having no other formal training since age 11, she relies on her keen instincts when taking on a character, although she does not consider her methods Method, exactly.
"I find that a lot of times actors' first instincts are stifled by directors, or stifled by dialogue, or by where they have to put the camera, or how much time they have," she observed. "But often when I am able to just be instinctual without the restriction of anything else, I always find I'm most satisfied with [my performance]."
Not Meeting Cute
Aside from learning how to ride horses for The Horse Whisperer and learning how to play piano for the character of Birdy in the Coen Brothers' The Man Who Wasn't There, Johansson abstains from any real preparation.
"I've never had tons and tons of training before a role, and I don't sit in my trailer and not shower for weeks," she said. "I don't need too much preparation. I like to find things in the moment. I feel like you can do so much preparation, and then when you're shooting it, it can completely change in that instant."
The only preparation involved for Lost in Translation was just a spot of rehearsal with her on-screen hubby. "Sofia really wanted Giovanni [Ribisi] and I to meet and have a couple days because we had to establish a marriage, and that kind of thing is not just, 'Hi, hop into bed with me,'" she said.
Johansson also admitted to using music as a tool to remain in the mood of a character on the set as well as in auditions. "You can throw the sides away and just say, 'OK, look there's only so much you're going to figure out before you get there,' and you can just put on a CD and do it," she said. "Like when we were shooting Lost in Translation, we would not roll sound. At the time [Beck's album] Sea Change had just come out. We would just play it, and I would stare out the window and clip my toenails and stuff. It really gave a mood to it."
An avid script reader, Johansson feels that in a good screenplay the character will come out of the dialogue and their actions naturally.
"When I read Girl With a Pearl Earring, it was a beautiful, beautiful script, and then we started making it, and I realized that my character was so desperately in love with this [Dutch painter Johannes] Vermeer character, which comes across, but it wasn't as apparent as when we were shooting it. Things like that happen all the time. That's what makes great movies, I guess, or great moments, anyway."
Johansson was wise enough to avoid playing a lot of the cutesy, "sweet-ass roles" many young actors are forced into as they mature.
"A lot of the actresses I was competing with for roles when I was younger just totally disappeared," she said. "It's a very bizarre, tough transition. A lot of people don't make it through. I didn't have to grow out of the 'cute,' luckily."
She has chosen her roles wisely. "It's hard to weed through it," she admitted. "Luckily, my mom is very much on the same page, and even if she doesn't like something, she'll hand it to me and say, 'I hated it but I think you're going to like it,' which is great. And sometimes things come to me and they say these people are attached, and you have to take that into consideration. Instinctually I go for the actual meat of it, for the script, for the words."
But sometimes it's not in the words. On a first read she found Ghost World "very plain, boring," she said. "There was nothing to it. Then I met Terry [Zwigoff] and read with Thora [Birch], and Steve [Buscemi] hopped onboard, and I got the whole picture. With our production design and wardrobe and the comic book, everything came together. I knew exactly what we were doing."
Actress or Star?
Johansson recalled sitting next to her Just Cause co-star Laurence Fishburne on an airplane. She was 9. He asked her if she wanted to be an actress or a star, and she said both.
"'Well, that's something you're going to have to decide when you get older,' he said to me, and it was good advice, because it still keeps my head straight when I talk about that. I'm in this to build a career," Johansson told Venice magazine. And after watching Coppola shoot Lost in Translation, she is itching to get behind a camera herself.
"It was very inspiring to see this girl who had this story she wanted to tell, and she damn well did it," she said, laughing. "It's like, you mean your movie doesn't have to be shelved for five to seven years? You just have to do it relentlessly. I'm going to try to make a movie as soon as I get some time to sit down and plan it all out. Of course acting [is something] I could never give up. I'd never direct myself, but just the idea of directing is so appealing to me that I can't hold it in anymore. It's the most frustrating thing in the whole world. Especially when you know you can, and you haven't done it yet."
If confidence is what makes a star, Johansson is already on the A-list and ready for her closeup. BSW