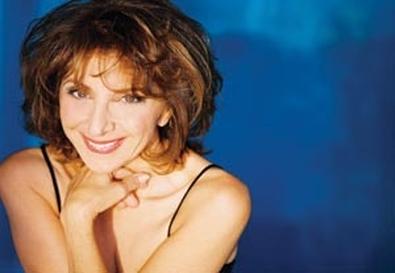 "Take classes, work with other actors, create your own material, and stop blaming your agent," Andrea Martin advises all actors who are frustrated with the roles they are getting -- or not getting. "You can change how people see you. It all lies with you, but that takes a lot of work, and it's endless." That said, the Broadway and
SCTV
veteran concedes, "Yes, I believe in luck. Some people are luckier than others. I've worked hard, but I've also been fortunate."
Nowhere more, she says, than in her current gig: playing the beleaguered house servant Juliette in Ionesco's absurdist existential play
Exit the King
. Aside from sharing the Broadway stage with Geoffrey Rush, Susan Sarandon, and Lauren Ambrose, she has the chance to embody the tragic clown. The character evokes for Martin shades of her icons Giulietta Masina, Charlie Chaplin, Stan Laurel, Oliver Hardy, and even the quirky buffoons in Cirque du Soleil. "I've always loved the real true clown," says Martin. "It's a great art form, and I'm living my dream, my silent dream." Still, the character is not without its complexities: "to play a clown and find the humanity in it, to play an absurd piece and find its accessibility." But the key to a well-rounded performance, Martin emphasizes, is "not to play for comedy but for truth."
Set in no particular time or place,
Exit the King
tells of a monarch (Rush) who is slated to die because the time has come. This is not an execution, just extinction, and everyone knows it -- including Juliette, who continues to be loyal to the King, is enraged by the indifferent Queen (Sarandon), and feels overwhelmingly burdened by all the chores she must contend with. Martin's Juliette is a joyless, yet comic, court jester.
Martin has tackled many humorous figures on stage and screen -- most notably
SCTV
, on which she created an array of kooky characters. Yet she insists she has never played anyone like the multilayered Juliette. "The role that has most prepared me for Juliette is life," the actor contends.
She says she always researches her roles, and Juliette was no exception. Indeed, Martin spent hours in the library, boning up on Ionesco and his universe. She read biographies and critical works and essays. "He was a great fan of Punch and Judy and the circus," she notes. She talked with actors from earlier Ionesco productions and studied such Fellini films as
La Strada
and
The Clowns
because, she says, they bring to life the world of Ionesco-like clowns: the sad, wise truth-teller. An additional task in
Exit the King
, she adds, is playing extremes -- of despair, exhaustion, sadness, which in Ionesco's world border on farce.
Unlike many actors, Martin doesn't hesitate to watch the work of other actors who've played a role she is about to tackle. Before taking on Aunt Eller in Trevor Nunn's American production of
Oklahoma
!, she studied the film adaptation of the West End version; similarly, with Frau Blücher in
Young Frankenstein
, she soaked in Cloris Leachman's spin in the Mel Brooks movie. And when Martin played Serafina in
The Rose Tattoo
in Boston, she reviewed Anna Magnani's film performance repeatedly for inspiration.
"There's always something you can garner from someone else's approach," Martin says. "I'm not proud at all. I may have missed something, and I'm not worried about copying anybody. Despite my years at
SCTV
, I'm not a good impersonator. It's hard to play someone else. It always comes from me. It has to. I work really hard every night. That's why I don't like long runs."
In preparation for any role, Martin works with her coach Larry Moss. She also combs the script, examining every thought for literal meaning and subtext. She lists the character's intentions and writes a series of adjectives to describe the character: "For Juliette I write 'truth-teller,' I write 'unadorned,' I write 'harried,' I write 'exhausted,' I write 'innocent.' And I go back to these words every single performance, though I focus on something different each time. But there's always the basis of the character, its through-line. For Juliette that through-line is 'If I didn't have this job, I wouldn't exist.' "
Turnign Points
A native of Portland, Maine, Martin always wanted to act. She performed in children's theatre and summer stock before heading to Emerson College in Boston, where she majored in theatre and speech. After graduation, she arrived in New York, bought a Back Stage, saw an open call for the first national tour of
You're a Good Man, Charlie Brown
, auditioned, and landed the role of Lucy. Martin toured for six months, earning her Equity card along the way. Her next stop was Toronto, where she performed at Second City, which paved the way for her eight years with
SCTV
, where she developed a large following and became identified with a broad-stroke improvisational style. Though she continued to work steadily — including landing a featured part in the Broadway musical
My Favorite Year
, which earned her a Tony Award -- she acknowledges typecasting became an issue. "I got to a point where I realized I had to change that," she recalls. "I was already established, but I stopped taking roles for a couple of years. Instead, I worked with my acting coach.
"There are always going to be people who see me a certain way, but that's not important," Martin continues. "What's important is that I began to see that I could do other things. The minute you believe you can do other things, you'll convince others as well. Then you can go into an audition without fear but with excitement because you can't wait to show all you can do. If you feel you have limitations, that will come across."
Martin says a major turning point was writing and performing her own solo show,
Nude, Nude, Totally Nude
, which played on both coasts and garnered a 1996 Drama Desk Award nomination for outstanding one-person show. Martin says one of her goals was to see what it was like to be on stage in her own persona. "I played many characters, but I was also myself, and it was pretty frightening," she says. "I realized that I was enough, that I was interesting without all kinds of adornments; and once I accepted that, I no longer needed to work so hard for people to like me or even play certain parts that would bring me recognition."
Currently, Martin says there are no roles she is dying to play. As she tells it, "Life unveils the opportunities." Nonetheless, looking back she admits, "I wish I could have enjoyed it more. Fear stood in the way."
Exit the King runs through June 14 at Ethel Barrymore Theatre, 243 W. 47th St., NYC. (212) 239-6200 or www.telecharge.com.