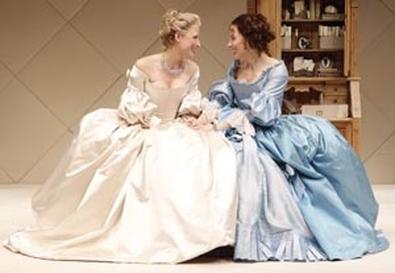 Moliere, the brilliant author of "Tartuffe" and "The School for Wives,"
Gets a tasty, tart updating from David Ives.
The witty playwright takes the Frenchman's "The Misanthrope,"
Keeps its original setting, yet gives it many a modern, rhyming trope.
Keeping Moliere's verse template and basic satiric plot,
Ives infuses contemporary cultural references to what's hot.
Mocking celebrity and gossipmongers is as relevant now as then,
And no self-righteous prig or fawning hypocrite escapes Ives' poison pen.
He also parodies Moliere's plot devices absurd
And on every occasion finds just the right rhyming word.
Playing at Classic Stage Company, just like last season's "Venus in Fur,"
An Ives play benefits again from Walter Bobbie as director.
The staging is smart and just the slightest bit slapstick-odic,
And the cast makes me wax rhapsodic.
As the brutally frank curmudgeon Frank is Hamish Linklater,
Whose finesse with the intricate, sparkling verse couldn't be greater.
His equal is the bewitching and bewildering Mamie Gummer.
From Chekhovian sorrow to souffle-light fare, she's the perfect mummer,
Plus she never looked lovelier than in William Ivey Long's sumptuous gown.
The rest of the company is equally deserving of renown,
From Alison Fraser, as a hard-bitten harridan twisted by Cupid,
To Matthew Maher, hilarious as a fop who's proud of being stupid.
Frank Harts and Rick Holmes, as two vain cads, simper with glee.
The secondary lovers are given primary attention by Jenn Gambatese and Hoon Lee.
Doubling as a pair of snarky serving men of humble means,
Steven Boyer artfully steals all of his scenes.
He takes a running gag about dropping trays
And riotously litters John Lee Beatty's all-white set with canapes.
So for putting a modern spin on a classic of weight and size,
You won't find a play more enchanting than "School for Lies."

Presented by and at Classic Stage Company, 136 E. 13th St., NYC. May 1–29. Tue.–Sat., 8 p.m.; Sat. and Sun., 2 p.m. (212) 352-3101, (866) 811-4111, www.theatermania.com, or www.classicstage.org. Casting by Calleri Casting.