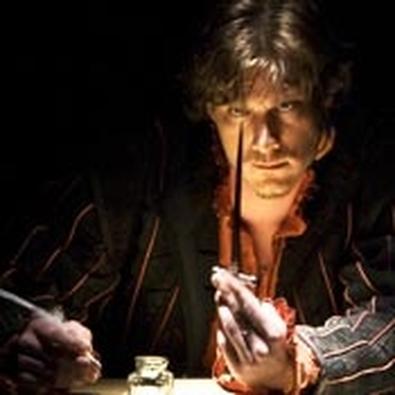 Playwright Christopher Marlowe (1564-93) is the mystery man of the Elizabethan era. Almost all that we know about him, aside from the facts of his birth and death, must be gleaned from his surviving works, his criminal record (fairly extensive), and things written about him by enemies eager to put him down. But the popular image of him is likely the true one. He's literature's bad boy: a street fighter, homosexual (though the record never links him with a single lover), spy for Her Majesty's government, counterfeiter, divinity student, and the greatest poet and playwright before Shakespeare. The facts of his death have always been shrouded in mystery, and even The School of Night may be imaginary, mentioned only in passing by Shakespeare in Love's Labour's Lost. But the biggest mystery of all remains: When, in such a wildly eventful but tragically short life (he died at age 29), did he ever find time to write?
British playwright Peter Whelan attempts to harness his play to Marlowe's dazzling falling star. He succeeds admirably — for a while — in presenting us with the literary glamour boy of myth, aided and abetted by actor Gregory Wooddell as a handsome, dashing, gleefully blasphemous Marlowe. But ultimately the production resembles a gorgeous galleon, fully rigged but going nowhere in particular. There's too much potted history, too many court intrigues and conspiracies, and too many diversions. And Whelan seems uncertain of where he wants his play to go. For a while he seems to be traveling down the familiar road of "Marlowe wrote Shakespeare" but then veers off into many confusing side-paths. A plethora of plot leaves little room for developing characters and relationships. The richest of these is the rivalry-friendship between Marlowe and Shakespeare (John Sloan).
Director Bill Alexander provides a lavish and beautiful production, with a handsome wood-paneled set by Simon Higlett, spectacular costumes by Robert Perdziola, and a wonderful commedia dell'arte interlude which gives us a hilariously convincing picture of what the commedia's lazzi might have looked like, expertly directed by David Bridel and splendidly acted by Nick Toren and Jon Monastero. Though the huge cast is packed with fine actors, the odds are against them. Whelan hasn't given them scenes and situations that can move us or make us care.
Presented by Center Theatre Group at the Mark Taper Forum, 135 N. Grand Ave., L.A. Nov. 9-Dec. 17. Tue.-Fri., 8 p.m.; Sat., 2:30 and 8 p.m.; Sun. 1 and 6:30 p.m. (Additional performance Mon., Nov. 24., 8 p.m.; no performances Wed.-Thu., Nov. 19, 20, and 27, 8 p.m.). (213) 628-2772 or www.centertheatregroup.org.